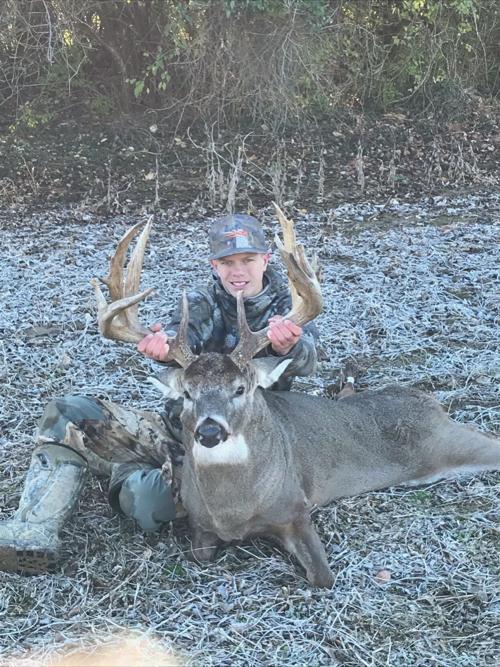 Nah, there wasn't any time.
It was nearing sundown Nov. 17 when a big deer walked in front of Gage Boucher's deer stand in Jackson County. Boucher, 15, who has been hunting deer since he was nine, let the instincts he's honed over six years take over.
He took his time. Waited for the deer to present a perfect shot. Then, he pulled the trigger on his crossbow.
The results surprised even him.
"As soon as I saw him, I thought I was moose hunting at first," Boucher said. "That's what his rack looked like. It was crazy."
The description isn't much of an exaggeration. Boucher's quarry was a 17-point non-typical buck that field dressed at about 170 pounds.
It has been a relatively uneventful afternoon in the deer stand until that point. Boucher got to his stand at about 2:30 p.m. In those two hours he had passed on a six-point buck, but his luck changed quickly.
"It was pretty close to dark," he said. "He just walked out perfect for a 15-yard shot. I was about to start grunting a little bit …"
Several days after harvesting what could be the deer of a lifetime, Boucher got excited telling the story. His voice got louder and raised in pitch as he recounted the details.
"The first time I saw him, I hunt a field, I'm like 10 yards in the woods," he said. "I looked to my left and he was standing about 30 yards away. I couldn't shoot him because there was too much stuff between us. I just let him walk. He took the perfect route right to me.
"He looked at me like once or twice and just walked straight up to me. He probably saw me shaking."
While he may have been shaking on the outside, Boucher didn't panic.
"I was using a crossbow," he said. "As soon as I clicked it off safety, I knew something was about to happen."
The shot was true, dead true. He watched the deer run about 40 yards then topple over. What happened in the next few minutes is more of a blur for Boucher.
"It all happened in less than a minute or two," he said. "After I watched him fall. And I called my dad. I took a video of me shaking. The whole tree was about to fall over.
"I don't even know. I was just jumping up and down in my stand. I called my dad instantly, letting him know I shot a monster."
Boucher said he has taken about 10 deer prior to this one, the largest being "just a little eight-pointer."
When he got his father on the phone, Boucher had a difficult time relaying just what a big deer he had taken.
"Whenever I called him, he believed I killed a big deer, but he didn't think it was going to be that big," Boucher said. "He was more excited than I was."
As happens during deer season in small town America, word of the big deer spread rapidly through Murphysboro. Boucher said friends and other hunters dropped by their home to see the deer until about 11:30 p.m.
Although Boucher knows this may be the deer of his lifetime, he's not about to slow down his hunting.
"I'm going to just keep hunting every day, keep trying, don't give up," he said.