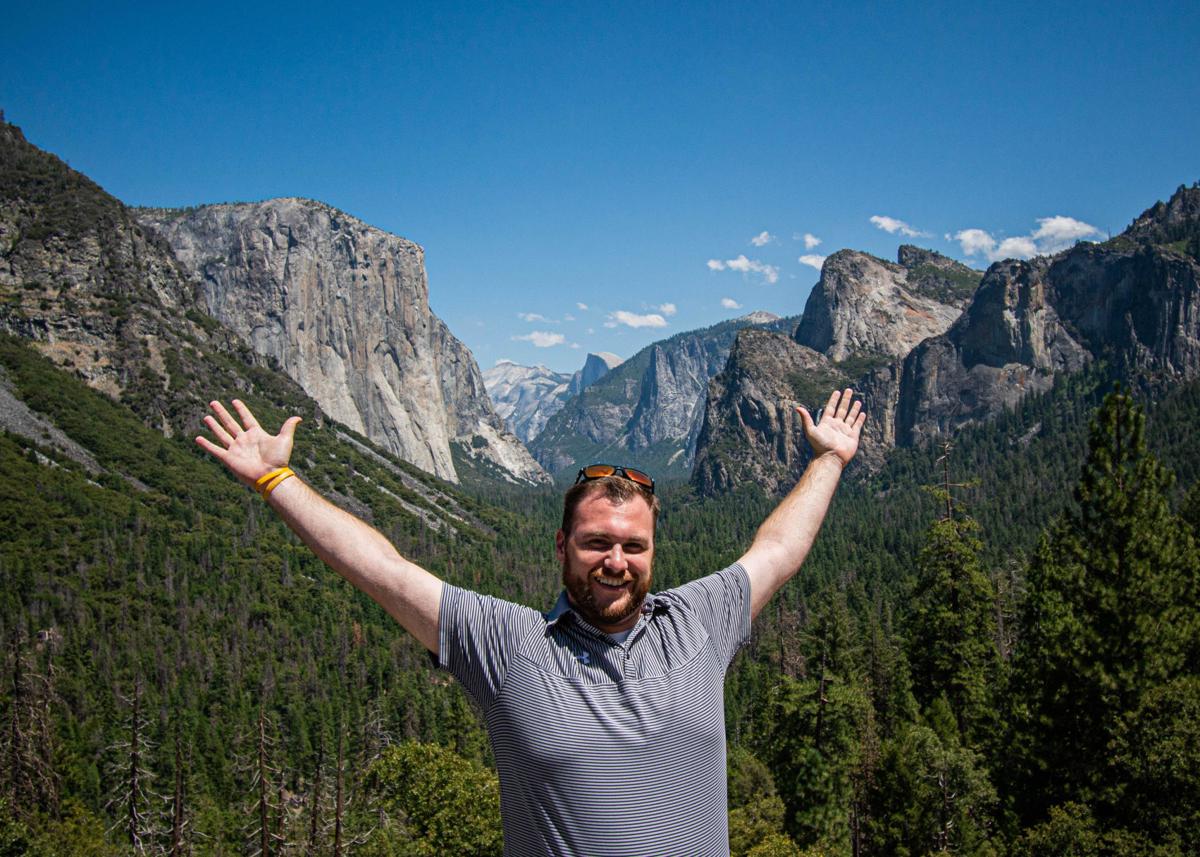 Just a couple years ago, Tony McDaniel was an assistant in Southern Illinois University's sports information department. A typical view from his perch in the Charlotte West Stadium included SIU's Brush.
Now, as communications manager for Yosemite-Mariposa County Tourism, McDaniel frequently works in the shadow of Half Dome and El Capitan at Yosemite National Park.
McDaniel has found the transition from ballpark to national park to his liking.
"I was working at the University of the Pacific for the past year," the Belleville native said. "The fit wasn't right. I started looking for other jobs. Toward the end of my time at Pacific, I was getting burned out on sports. I really didn't want to leave California. I saw this posting for this job for Yosemite. I thought heck yeah."
Although his work at SIU centered around athletic events, McDaniel has always loved the outdoors. He applied for the job, but then didn't hear anything for a month. Finally, he got called for an interview and landed a job most people dream of.
"People think you go to a softball game or a football game, you watch the game and you go home," McDaniel said. "You're at the stadium four hours before the game to make sure everything is going ok. You're at the stadium three hours after the game. It's a great job, don't get me wrong, but it wears on you.
You have free articles remaining.
"When I was a kid my grandparents did a really good job of getting me around the country seeing the national parks. I didn't see Yosemite until I moved out here. I fell in love with the place. When I was at SIU, I hiked every off day I could."
Now, McDaniel spends time in Yosemite National Park while working. The job took him to the park five days in the past week.
"The park, I love the park," he said. "It's just gives you this calming feeling when you're there. It makes you feel small when you look at Half Dome. It puts things in perspective. It's such a big park you kind of find your own little corner of it. Sunday, I found this nice little grove of trees, I put up my hammock and took a little nap."
It is a big park, and McDaniel has yet to explore all of it. He has yet to visit Tuolumne Meadows, high above the floor of Yosemite Valley.
In the meantime, the journalism courses he took at SIU helped pave the way for his current position. Several of his classmates from the SIU journalism school have transitioned into similar occupations. The art of talking to people and asking the right questions is vital in most occupations.
"My experience at SIU was topnotch," he said. "I did the sports side of it. It brought me to California. When I got to California I wanted to change. I'm not a park ranger, but I'm working alongside park rangers. I would never have thought this path would open up for me when I went back to SIU. Our skill set can be applied to anything, any industry in the world. It's really a great career to get into.
"Definitely, it's been a transition for me, going from sports to tourism. It's going to be a growing process. I've loving it, the opportunity to travel, I'm not in any hurry to leave by any means. I can definitely see myself working here for a long, long time."
618-351-5088
On Twitter: @LesWinkeler​