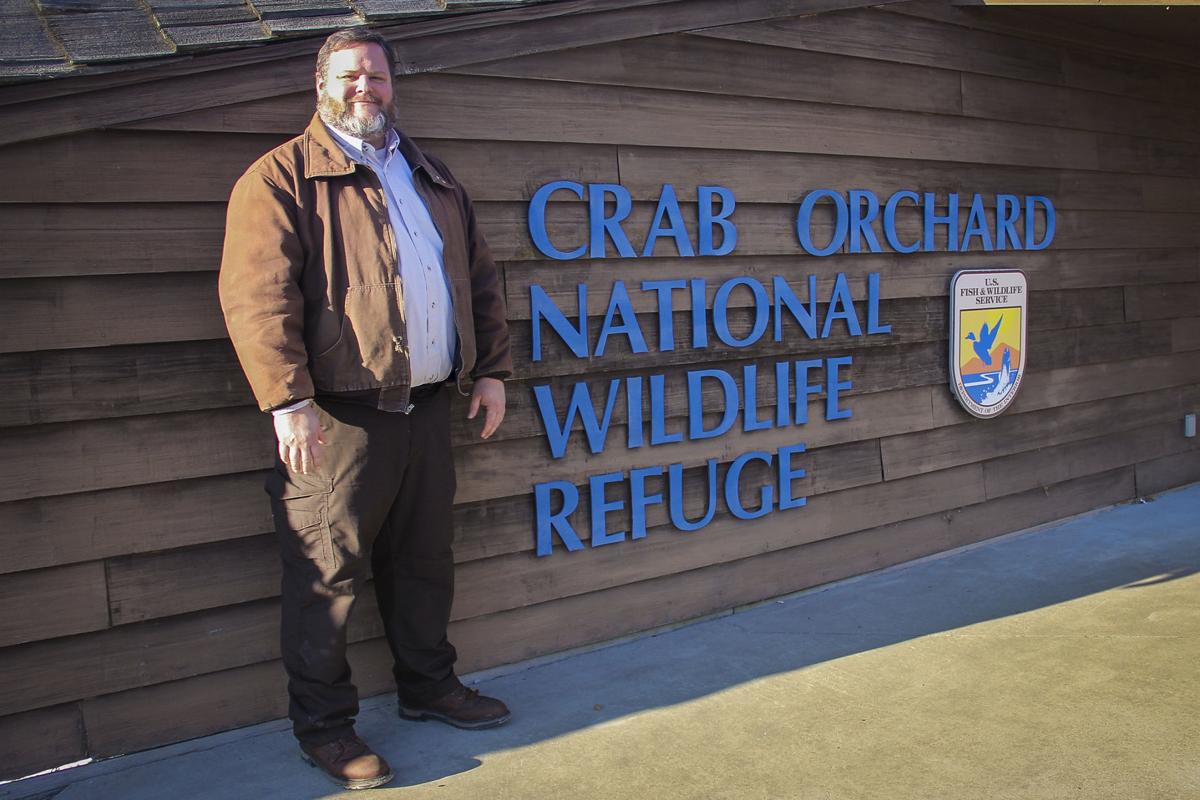 MARION — "Why not Crab Orchard?"
That was Justin Sexton's reply when he interviewed for the position of refuge manager of Crab Orchard National Wildlife Refuge.
His counter question apparently proved the point. The Alabama native was named Crab Orchard's manager three weeks ago. He comes to Crab Orchard after a five-year career in the U.S. Army Corps of Engineers and stints as refuge manager at Yazoo National Wildlife Refuge (Mississippi) and Two Rivers National Wildlife Refuge (Illinois).
"I see Crab Orchard as a really unique resource in the refuge system," Sexton said. "There is a lot of potential here, a lot of opportunity for a variety of different management, everything from wetlands to uplands. The diversity of the job is just so unique in the refuge system.
"High visitation, it's got a really big recreation program, visitor services program. When I was at Two Rivers we were considered a Tier Two Urban Refuge so we did a lot with the City of St. Louis and the mayor's office in looking at Outreach. Crab Orchard has a little bit of everything that makes it so unique. I was excited to come to Crab. I see it as a wonderful opportunity to work with a very high level staff, very knowledgeable staff. I hope I can lead us all in a direction to improve things on the refuge."
Sexton's previous work experience seems to make him uniquely qualified to manage Crab Orchard. As manager at Crab Orchard, he will also oversee the Cypress Creek National Wildlife Refuge based in Ullin.
"Crab Orchard, based on my Corps of Engineers background working in the operations division, on these big rec areas and my experience with the refuge system, it's kind of a combination of both," he said. "Working with the Corps of Engineers, we had marinas, so that's not uncommon to me. We had campgrounds, so that's not uncommon to me. Working with the refuge system, I've obviously managed areas for waterfowl. Crab Orchard has that as well.
"To me, it's a combination of my experience. Hopefully, I can put that to good use and serve the people who use the refuge. That's how I see myself and my role, a public servant to create opportunities for people, for hunting and fishing, recreation and we have industry and the agriculture program as well."
Sexton takes over the refuge at a busy time. There are pending projects involving spillway repairs and the construction of a new refuge headquarters. He hopes the new headquarters building will be ready for use in early 2021.
"We've got a pretty major construction project on the spillway which we'll be undertaking this year," he said. "There will be minor impacts to the public, but it's a job we need to get done. We look to begin construction early this summer. Part of that will be drawing down the lake. We'll try to minimize those impacts. I think that will be later this summer. It takes a significant amount of time to draw the lake down."
An avid hunter and fisherman, Sexton wants to use the next year to acquaint himself with the recreational opportunities the refuge offers.
"My first year here I hope to spend a lot of time getting to know the refuge, getting to know specific areas and how we can make improvements to those," he said. "I'm a dreamer. I try to dream big and think big and then bring it back to reality. I like to look at big picture type things."
618-351-5088
On Twitter: @LesWinkeler​
Be the first to know
Get local news delivered to your inbox!