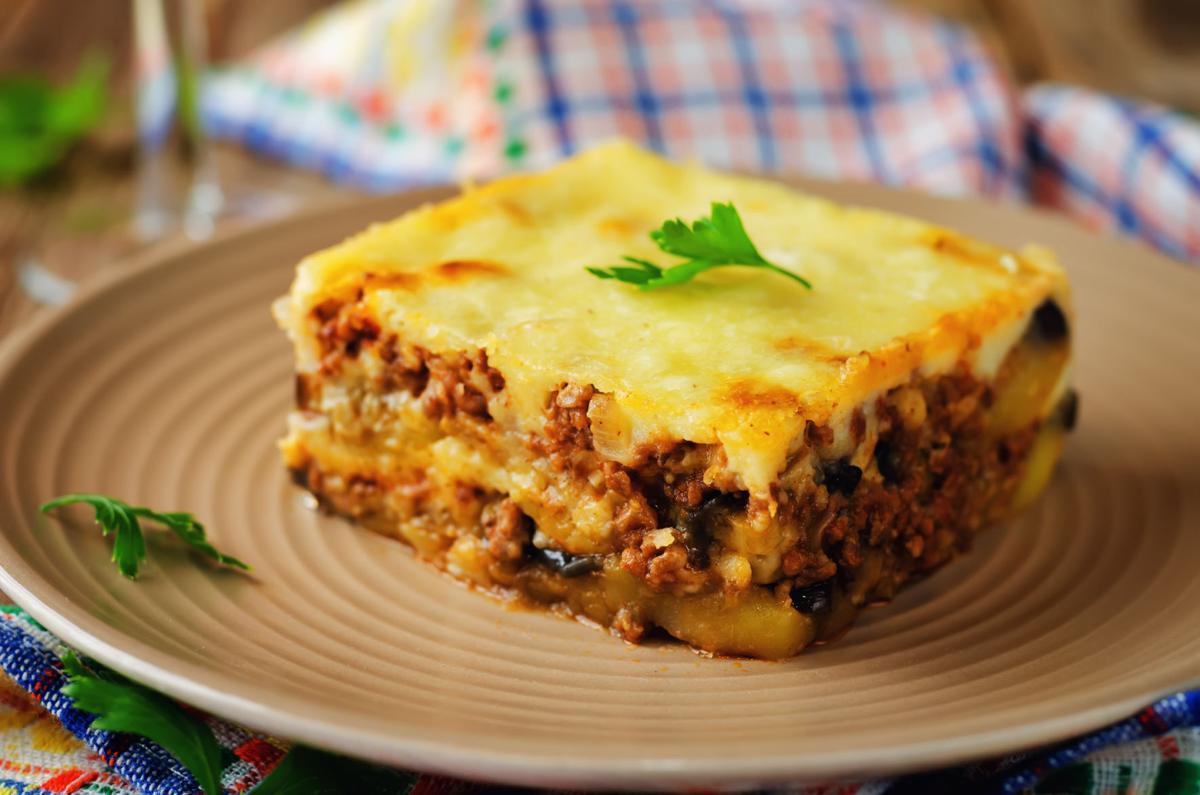 Ingredients
1 pound eggplant (about 2), peeled and cut crosswise into 1/2-inch thick slices
1 pound ground beef or lamb
1 large onion, peeled and diced
2 tablespoons tomato paste
2 teaspoons dried oregano
1/4 teaspoon ground cinnamon
1 can (28 ounces) crushed tomatoes
1/4 cup all-purpose flour
1/4 teaspoon white pepper
1/4 teaspoon ground nutmeg
1/2 cup plain Greek yogurt
1 cup crumbled Feta cheese
Directions
To prepare the eggplant, season each slice on both sides with salt. Heat the olive oil in a large skillet over medium-high heat and fry the eggplant slices until golden brown and tender. This will take 5-7 minutes. Work in batches if you have a small skillet. Transfer the eggplant to a plate and set aside.
To prepare the meat sauce, cook the ground beef, breaking up the meat, and onion in a skillet over medium heat until the onion has caramelized. Stir in the tomato paste, garlic, oregano and cinnamon and cook for about 5 minutes. Deglaze the pan with the red wine, scraping up any brown bits from the bottom of the pan. Pour in the tomatoes and simmer until the sauce reduces by one-quarter, about 25 minutes. Remove the sauce from the heat and set aside.
To prepare the white sauce for the topping, melt the butter in a large saucepan over medium heat. Whisk in the flour and cook for about 3 minutes until a light-colored roux forms. Whisk in the milk, salt, pepper and nutmeg and let cook until the sauce thickens, 5-8 minutes. Remove from the heat and let cool. While the sauce is cooling, mix together the yogurt, Ricotta cheese, and eggs. Mix this into the white sauce after it has cooled.
To assemble the moussaka, preheat your oven to 350°F. Place the eggplant on the bottom of a baking or casserole dish and cover with the meat sauce. Spread the meat sauce into an even layer. Pour the white sauce over the top in an even layer then sprinkle the crumbled Feta over top. Bake the casserole for 45 minutes or until the top is light brown and bubbly.
Be the first to know
Get local news delivered to your inbox!