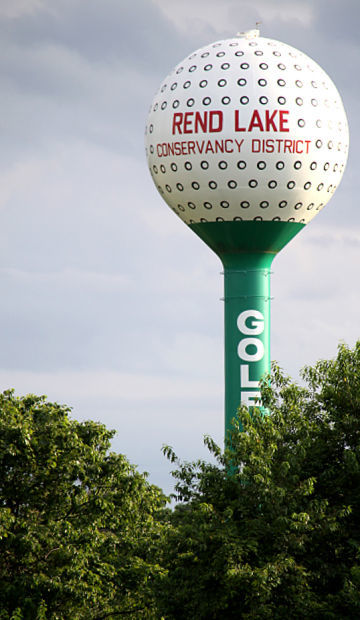 A familiar marker for frequent drivers of Interstate 57 and a roadside novelty for vacation travelers, the Rend Lake Conservancy District golf ball water tower materializes on the horizon as a welcoming oasis, bringing 9, 18 or even 27 holes of relief from endless miles of pavement for avid golfers.
Painted with a green base to resemble a golf tee and a white tank decked in red circles to mimic the dimples on a golf ball, the tower is a proverbial siren song, with an irresistible call to duffers and scratch golfers alike to Rend Lake Golf Course's zoysia grass fairways and Bent Grass greens.
Rend Lake Golf Course, with its long fairways, large contoured greens, numerous sand traps and picturesque water holes, is given a 4 1/2-star rating by Golf Digest magazine and has the reputation of a challenging course for proficient golfers and a manageable one for beginners.
The tower, which has graced the interstate since 1974, stands 141 feet above the championship course and serves as the standard for the Gun Creek Recreation Area, heralding not only the course but also the Seasons Lodge and Condominium Complex, a manor house and 77 campsites.
The tower is also a practical symbol of the Rend Lake Conservancy District's commitment to provide drinking water to more than 160,000 residents and businesses in nine Southern Illinois counties.
The 250,000-gallon Horton Watersphere tank, built by the Chicago Bridge and Iron Co., is sporting a fresh coat of paint and has been placed on Tnemic Paints' ballot for Best Water Tank of 2014. You can vote for the tower at www.Tnemic.com/WaterTanks.
The city of Mount Vernon's water tank won last year's contest and is featured on this year's Tnemic Paint water tank calendar.