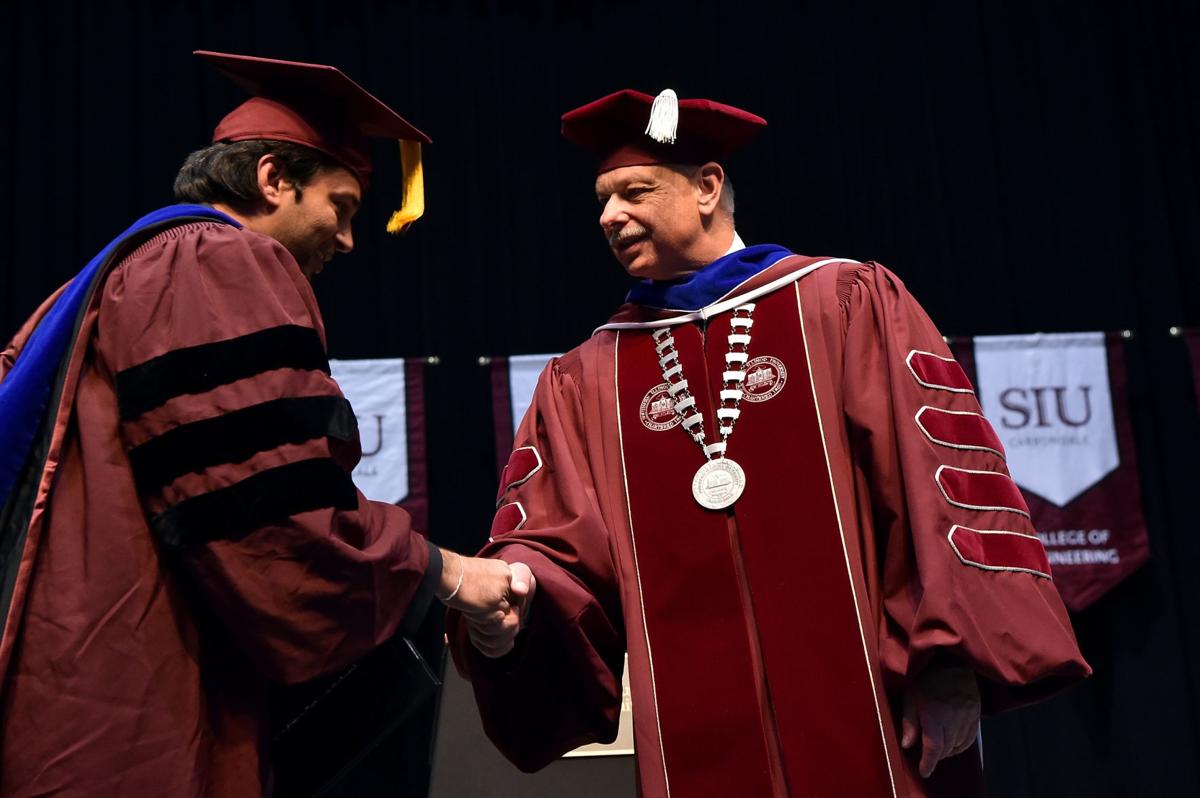 CARBONDALE— Late Chancellor Carlo Montemagno's signature plan to reorganize the academic structure of Southern Illinois University Carbondale will continue, despite his passing last Thursday, university administrators indicated.
"We're going to continue the same process of collaboration," between faculty and administrators, to advance the reorganization, said Meera Komarraju, SIUC's interim provost and vice chancellor for academic affairs, who was appointed by Montemagno to lead the project, in mid-April.
If eventually enacted, the reorganization will reshape the university and its 42 departments.
Some departments may be moved into new colleges, and others may be eliminated in favor of schools — a different, often broader, administrative grouping.
Administrators hope SIUC's potential new look will foster cross-departmental collaboration, encourage the creation of multidisciplinary degree programs, and help the university get prospective students excited about the careers and possibilities at SIUC.
Proposals for seven new schools have been approved by the SIUC Faculty Senate and the SIUC Graduate Council, bodies that represent SIUC professors in matters related to academic freedom and faculty welfare, and graduate and research activities, respectively.
The approved School of Earth Systems and Sustainability, for instance, will bring together the Ecology, Geology and Geography and Environmental Resources programs, Komarraju said, encouraging collaboration between related professors and students.
About six more school proposals have been rejected and returned to the administration, which will meet with faculty and consider their desired changes, said SIUC Faculty Senate President Jonathan Bean. Another third of the proposed schools have not yet been provided to the Faculty Senate and Graduate Council for a vote.
Independent of the administration, faculty members have also taken initiative to design and propose two new colleges, which would bring together fine arts, liberal arts and communications and other programs in new combinations, while preserving the department-based structure that the university has used for decades, Bean explained.
"I met with the chancellor in the last weeks and summer and he encouraged those faculty initiatives," Bean said.
None of the changes become official until they are approved by the Illinois Board of Higher Education, Komarraju said, which is still some time off.
And there are still concerns among faculty, Bean said, particularly around the proposed elimination of many departments in favor of schools.
"Our faculty and students are based in disciplines. They have an identity there, and many believe that requires a department chair to serve between the faculty and administration," Bean said. "It's one thing that inspired the faculty to come up with their college-level proposals, which maintain departments."
Faculty also want greater clarity about how department chairs — or the "school directors" who would replace them in the new schools — would be compensated for the extra administrative work, Bean said, since many department chairs are currently compensated with a month or two of extra pay.
Some on campus are also skeptical that shuffling around the university's programs will really lead to improved enrollment and retention, as Montemagno promised.
"Critics feel the reorganization is disruptive," Bean said.
Before he passed away, the Chancellor had projected the reorganization would enter into effect next July, and had promised that freshman enrollment would also improve next year, following this year's 11.9 percent decline.
In Montemagno's absence, Komarraju said she and other members of the SIUC leadership team are working together to help cover the chancellor's many engagements, and are receiving direct support from SIU System President J. Kevin Dorsey to try to continue Montemagno's work.
In a Friday visit to the Carbondale campus to meet with faculty and administrators, Dorsey stated support for the reorganization, Komarraju said.
For their part, several Carbondale-based members of the Board of Trustees, which appoints the SIUC and SIUE chancellor's, said they continue to believe in the project, in spite of the loss of its visionary.
"Over the last few months there has been a resurgence of enthusiasm and collaborative thinking and positive momentum on campus, and it is of paramount importance that that not be lost in this transition," said Dr. Marsha Ryan, appointed to the Board last year. "I am very interested in seeing Dr. Montemagno's work carried on."
Tom Britton, a trustee since April, agreed.
"I think unless there's sound reason not to, we should pursue the plan," Britton said. "It's thoughtful, and it emphasizes the right things."
The trustees have not yet set a date to name an interim chancellor to replace Montemagno at SIUC.
An earlier version of this story incorrectly stated that the Southern Illinois University Carbondale Graduate Council represents graduate students. The SIUC Graduate Council in fact represents faculty who are active in research and graduate education. The Graduate and Professional Student Council is the official representative body of graduate and professional students at SIUC. The Southern regrets this error.