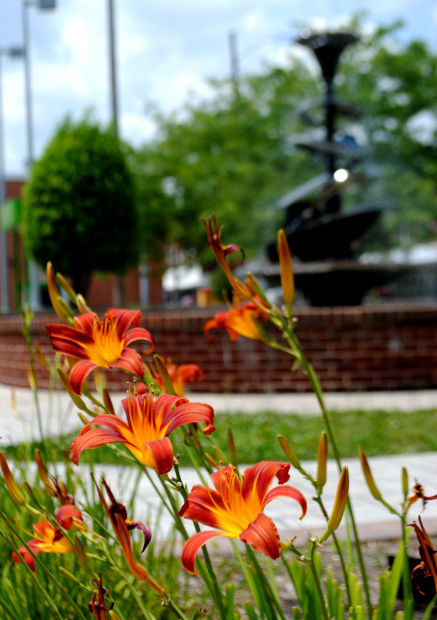 Smysor Plaza is a focal point of Murphysboro's downtown area, providing a relaxing, serene spot to enjoy a break from shopping, play or work.
The area has become an instrumental part of the community by hosting long-running local events, including car shows, clothesline projects, art exhibits, concerts, dances and other family-friendly occasions.
One of the most popular events has been Murphysboro's Smoky Hollow string Band presenting their tunes with banjo, guitar, fiddles, mandolin, percussion and washtub bass. With great views and plenty of room for large groups, the plaza serves as the perfect spot to take in some live music.
The plaza also hosts popular educational seminars and demonstrations during the annual Apple Festival. And post-show receptions are routinely scheduled at the plaza after events like the Southern Illinois Music Festival.
Providing a space for friends, family and community members to gather was the main driving force behind the construction of the plaza and fountain.
As part of its efforts to beautify its downtown area, Murphysboro's Main Street organization commissions works of public art showcasing talented local artists. Smysor Plaza fits this bill perfectly.
The plaza surrounds the breathtaking fountain that was created by longtime local sculptor John Medwedeff. The fountain -- initiated by Main Street and funded by the Elizabeth A. Smysor Trust -- stands 27 feet tall and weighs more than 6,000 pounds.
Medwedeff, a metalsmith by trade, has designed many works of art that have been placed in public places throughout his career.
Other works by Medwedeff can be found in collections throughout the United States, including the Millennium Plaza Fountain in the Courthouse Square in Clarksville, Tennessee, the Halfside Jack archway adjacent to the entrance of the Illinois Artisans Building in Springfield, and Whirl, commissioned by urbanArt, a division of the Greater Memphis Arts Council.