CARBONDALE – Calvin Scott doesn't shy away from the fact that, from the time leading up to serving in the Vietnam War and until he got home, he was he was scared.
Scott, 71, has lived in Carbondale at the same address for the past 63 years. He was born in Tamms, but moved to the home of Southern Illinois University with his family at age 8.
After graduating from Attucks High School in 1962, he worked at the Jackson County Rehab and Care Center for six months and then worked at the former Holden Hospital in Carbondale.
In 1965, at 21, Scott received a letter in the mail telling him that he had been inducted into the U.S. Army. He said he didn't know what to think at first. He said he knew there was a war happening, but he didn't even know where Vietnam was.
"At that the time, the war was starting to get bad and the biggest thought in everybody's mind was what was going to on over there," Scott said. "I was scared."
"When I got the letter I wasn't anxious to go. I really didn't want to go, but I didn't have a choice."
He said he can remember his father driving him to Murphysboro to meet his service officer and then, moments later, a bus showed up and took him and other drafted soldiers to St. Louis. He did his basic training at Ft. Leonard Wood, Missouri and went to Fort Sill, Oklahoma for more training.
After eight weeks at Fort Sill, he came home for two weeks and was shipped off to a base near Oakland, California to prepare for his trip to Vietnam.
"While on the plane leaving California, I was even more scared," Scott said. "We didn't know what the situation was going to be. We were just hoping and praying to make it back. We wanted everything to go well."
His tour in Vietnam was from December 1965 to November 1966. He was part of a gun crew in Phuc Vinh, about 37 miles south of Saigon. He maintained and fired a 105mm Howitzer to provide support for the 127th Infantry.
Although Scott typically was on the behind the front line lines, he still recalls a close call or two.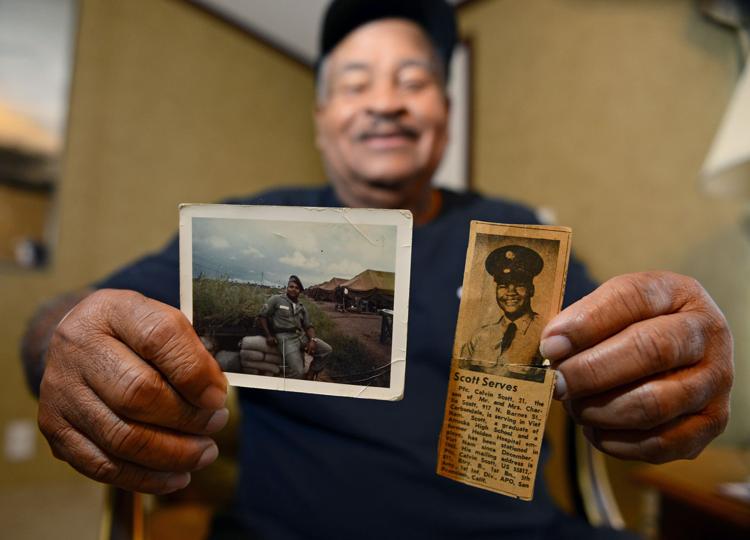 He said his crew was supposed to go out one morning, but the situation changed, and his sergeant told him and another solider they didn't have to go.
"I was scared, so I wasn't going to argue with him," Scott said.
The next day his crew got hit with a strike, Scott said.
"We lost our sergeant," he said. "I have seen his name on the wall."
The stories have been well documented about how American soldiers were treated upon their arrival back from Vietnam. Scott said he knew guys that were spit on, had thing thrown at them and cussed at. But Scott's arrival home wasn't a terrible experience, he said, because he had his family and his church waiting on him.
"I have heard some of my colleagues were treated terrible, but I wasn't," he said. "Maybe that was because of the small town."
He said he wished there was a better reception for the soldiers returning for Vietnam, but he is glad to see they are starting to get the recognition they deserve.
"I don't have anything against that," Scott said. "However, I am glad to do that for the guys who have served now. Anybody who has served and has come back deserves to be treated well."
The impact of the war is still something he sees on other soldiers who served in Vietnam.
"It affected many guys in many ways. I don't know how I would have acted if I would have come under fire," he said. "But, I know the impact of just being over there, and I still get emotional just talking about it."
He said he is thankful for recent veterans who fought in Iraq and Afghanistan because they now have places where they can talk about what happened and help is available.
"They didn't have that when we came back from Vietnam," Scott said. "We had to rely on one another."
After a short time of relaxation after the war, Scott went to work for the city of Carbondale. He worked in the Public Works Department for more than 30 years. He retired from the city in 2003.
Scott can be found regularly playing the bugle at memorial events throughout Southern Illinois.