If Rocky Morris had served in a different war, maybe there wouldn't have been so much mud. But in Vietnam, he spent so many nights in the mud. 
He's 67 now, but on most days, Morris can still feel the mud and the ground and the rain. That's what his mind travels back to, when it suddenly switches back to the jungles of Vietnam in 1968. The mud trickles back into his boots and his hands and sprays in droplets across his face. His body is horizontal again, plunged in the gooey brown substance and his fingers are clinging around his machine gun, gripping the metal tight, like not wanting slip from a set of monkeybars.
During those nights in the mud, Morrris prayed. He made deals with any higher power that would listen, trading in his soul to make it to the next morning. Some days, it was hot and muggy, so he prayed for rain. And when the moonsoons rolled in, he prayed for the sun. 
"Sometimes, when you pray for something, you don't what's going to come out the other side of it," he said. "But that's all I knew to do."
Morris thinks about his 13 months in combat with the tint of an old John Wayne movie. He thinks about firing, shooting, killing — over and over.
And he finds himself in the mud, when it was dark and he could hear his buddies taking short breaths between the tall, thin grass. On those nights, he couldn't stop thinking: Why this war? What is our purpose? Why are we here?
When Morris landed in Vietnam, it was October 1967. His family couldn't afford college, but he never imagined spending his post-high school years anywhere other than in the thick of a war. That's what his father and grandfather had done. That's what most boys his age were supposed to do. If you didn't serve, Morris says, someone would flash you one of those unspoken nods of disapproval in the grocery store.
"In our minds, we couldn't wrap our head around why people wouldn't want to go," he said. "It was the tradition of it. It was our job."
So he went. He was 17 years-old when he left his home in West Frankfort behind. His chin could barely sprout a beard.
"One day, you're in high school and it's all fun and glory, and then six months later, you're in war," he said. "No one prepares you for that."
As a squad leader, Morris ran patrols around the clock. He was always watching his steps, always ready for a fight.
"It was like the being in a car wreck or being broken up with, it was like repeating the worst day of your life over and over again," he said.
Guys lost their hair, lost weight, lost their minds. They ate boxed meals. They were talking to you, and then they'd they take a step and get blown up.
"You have to stay focused. You were always in search and destroy mode. You were always looking," he said. "You were chasing the next thing."
After the Tet Offensive in January, it got even worse.
"Everything was backwards. They had the wrong dates and the wrong times, but we didn't question it. We did what we were told," Morris said,
Some days, they didn't know what, or who they were chasing.
"There was the face-to-face war. Then there was the culture of America is the land of plenty. We had to be schooled on that."
"We thought these people want to be free," he said. "That's what we were fighting for, because that's what we do."
Being a soldier meant getting up from the mud, and moving forward. So he put his boots back on. And he kept going. For 13 months, he kept going.
"We still couldn't put the pieces together," Morris said. "What are we chasing? What are we looking for?"
You have free articles remaining.
Keep reading for FREE!
Enjoy more articles by signing up or logging in. No credit card required.
During the stretches of time he wasn't in combat, his unit would sit in a dry spot and take out their boomboxes. They blared music to forget about the blood. They sang along to the Beach Boys and Barry White.
"You had to really try to get out of that mindset, it took a lot to even enjoy a moment like that," he said.
In handwritten letters from his mom and dad, Morris would read about the protests and American flags burning and Kent State University. He read about draft-dodgers.
"We were thinking we were doing the right thing, and we didn't know all these thousands of people thought we were doing the wrong thing," he said.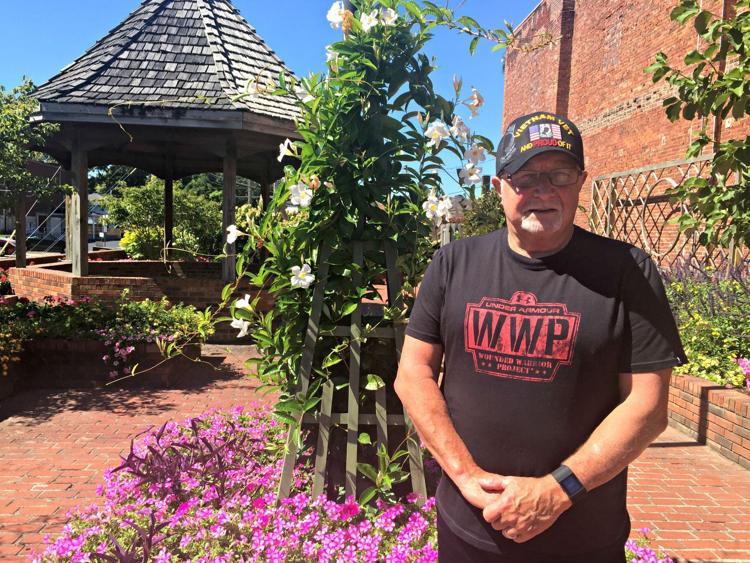 They'd sit around and wonder, what's really happening in the States?
When Morris landed in a California airport, he could hear the chants of the protestors. One guy threw something at him, so he chased him down the terminal.
"Soldiers were the enemy," he said. "The war was brought straight into the living room. Everyone was in it and everyone had an opinion."
So he wasn't sure what to do when he got back home to Southern Illinois.
He worked in the mines and did drugs and drank a lot. He traveled and ran away from girlfirends. He didn't know what to say, and no one knew what to say to him. His temper kept everybody at arms length.
"You see your buddies ripped to shreds, and that's in your mind the rest of your life," he said. "I don't think a mind can ever comprehend it and I don't think a mind is supposed to deal with that."
He was suffering from the elements of Post Traumatic Stress Disorder, but he didn't have the words for it. Why did some people not make it and he did?
Six months ago, he found out he has Agent Orange disease from the chemicals sprayed on the forests he worked so hard to fight through.
"I wish there was a button you could erase it," he said. "I wish the images weren't right there, like an old song where you hear it and you go right back to it."
When Morris looks back on the last 45 years, he still can't fully understand the war that so many Americans hated.
"It's hard to make sense of, it's not something we really ever understand and that's hard," he said.
Living in Benton now, Morris doesn't get out much. He goes to the gym, and attends city meetings and spends time with his five grandchildren. On the 40-year mark of the end of the war, Morris will celebrate his birthday. 
"No matter what, I'd want a Vietnam veteran on my side. They don't run and they don't hide," Morris said. "That's what an American soldier is."
Still, he thinks about tens of thousands who were killed in Vietnam. The friends he saw die. The years he has spent, and perhaps lost, grappling with a messed-up mind.
"What's scary is that wars never end," he said. "Once you start it, you can never stop it again."