HERRIN — Forty-seven years after he said goodbye to many of the young men he'd spent a year fighting alongside in the mud and jungles of Vietnam, Mike Gunter said 'hello" to them again.
The 66-year-old met up with a handful of them Sept. 1 in Washington, D.C., during an annual get-together of warriors from the Hotel Company 2nd Battalion 26th Marines. In previous years, every time he'd considered going, he talked himself out of it, not wanting to deal with the range of emotions that he was sure would emerge.
But seeing the five men from his rifle and machine squad of about 20 was good. The highlight of the reunion was a ceremony honoring the 73 Marines from the 2nd Battalion Hotel Company who were killed during the war.
"For the most part, these guys have done really well" in life, Gunter said of the group he met in D.C.
They are far from what some might think they'd be: mentally ill or psychotic, homeless or desperate or drug-addicted or in any other socially undesirable state.
That latter perspective of the Vietnam War vet, he says, was created almost single-handedly by the media and then perpetrated by Hollywood movies. He said the Vietnam War was the first major war fought on televisions in America's living rooms.
"The media portrayed us to be these drug-crazed, long-haired hippies," Gunter said. "The media portrayed us to be something that we weren't."
Everything that the media projected grew larger than life, fostered upon a group that felt very vulnerable when it returned, Gunter said. The alienation they felt only added to the trauma some of them were forced to deal with quietly, for years, alone, he said. He said the first time he felt that it was OK to say he was a Vietnem Vet was 15 years ago, after a disagreement with his son, who confronted him about some of the issues he'd faced in the war. The next day, Gunter said he went to the VA and found that for the past 30 years that maybe everybody else didn't have issues — maybe he did.
Then, there were those like his wife of four and one-half years, Sheri, who told Gunter she was part of that "silent majority," the ones who did not oppose what was being said or perpetrated because of the unpopularity of the war.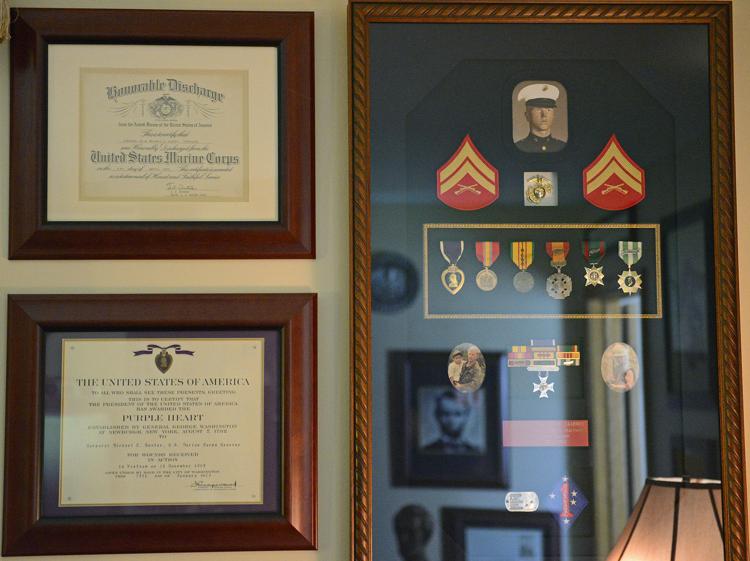 "We didn't say anything because we didn't want to rock the boat," Gunter said his wife told him. "We just wanted to fit in."
In fact, Gunter recited several bits of information about the Vietnam War veteran:
• In 1994, the Vietnam veteran was 3 percent of those unemployed in the United States.
• The Vietnam vet actually spent longer in active combat, averaging 240 days compared to 40 days for the WWII veteran.
• African Americans were 12.5 percent of the Vietnam War population, comparable to their numbers in the larger U.S. population during that time (11.1 percent in 1970, according to Census data).
• The average income for a Vietnam veteran tends to be higher than their non-veteran counterpart.
• Vietnam War vets are represented in Congress and in other elected offices and have served locally as sheriffs, police officers and owned and led businesses. They have been pillars of their local communities, holding down jobs for long stints of time and taking care of their families.
One of those Gunter points to is Harry Spiller, a former Williamson County sheriff, whose job as a Marine recruiter included informing parents and other family members that their loved one had died in the war. Spiller writes about that in his memoir "Death Angel: A Vietnam Memoir of a Bearer of Death messages to Families."
You have free articles remaining.
The recruiter looked at their innocent faces and went numb, realizing then he could no longe…
After returning from the war, Gunter worked for 33 years for the U.S. Postal Service and was a representative with the American Postal Workers Union.
"So the Vietnam vet melded into society better than most people think," he said.
These days, Gunter has taken on a different fight, that of ensuring his all vets receive the government benefits they should, especially for PTSD and "presumptive illnesses" associated with Agent Orange. Agent Orange was a defoliant sprayed by the U.S. forces to destroy Vietnam's dense jungles; it was later tied to a host of physical and psychological problems. 
It was when Gunter retired from the U.S. Postal Service, he said, that he was able to effectively face his Post Traumatic Stress Syndrome.
"It's been a lifetime ago — but it's also been last night," he said.
One perception that several veterans seemed to agree on, however, was that they felt a slight cold shoulder from some older vets who had fought in previous wars.
Bill Rice, senior commander of VFW 1301, one of the largest in the area, said he hasn't encountered any stereotypes from his Vietnam War experience. He did several tours, about four months at a time, aboard the U.S.S. Princeton in the waters off the coast of Vietnam.
He was a 21-year-old when he was drafted by the U.S. Army, but opted instead to enroll in the U.S. Navy. When he was discharged in 1969, he went to California, where his wife and three children were, and they drove back cross-country to Southern Illinois.
"I've never had any problem with them calling me baby killer or anything like that. I come home to Southern, Illinois, and everybody welcomed me back."
It would be more than another two decades, though, before he joined his town's Veterans of Foreign War.
"When we first come back, it was kind of the deal where we weren't (involved with the VFW)," Rice said. "The World War II and the Korean War veterans, they didn't really try to pull us in to join, which we kind of felt like we were being shunned."
"Well, they just didn't seem like they were real enthused about getting us to join," Rice said. 
"The Vietnam vet was not looked upon as a true warrior," not the same way that fighters from WWII or the Korean War were, Gunter said. "In my opinion, America has never had a better warrior."
Gunter is adamant that the type of treatment he and other Vets experienced will not happen to another vet. He leans forward a bit in his chair to make that point.
"No longer will American abandon another generation of warriors, 'cause we won't allow it," he said.
But, Gunter added, "Who am I to say someone's war was worse than mine or mine was worse than theirs?"