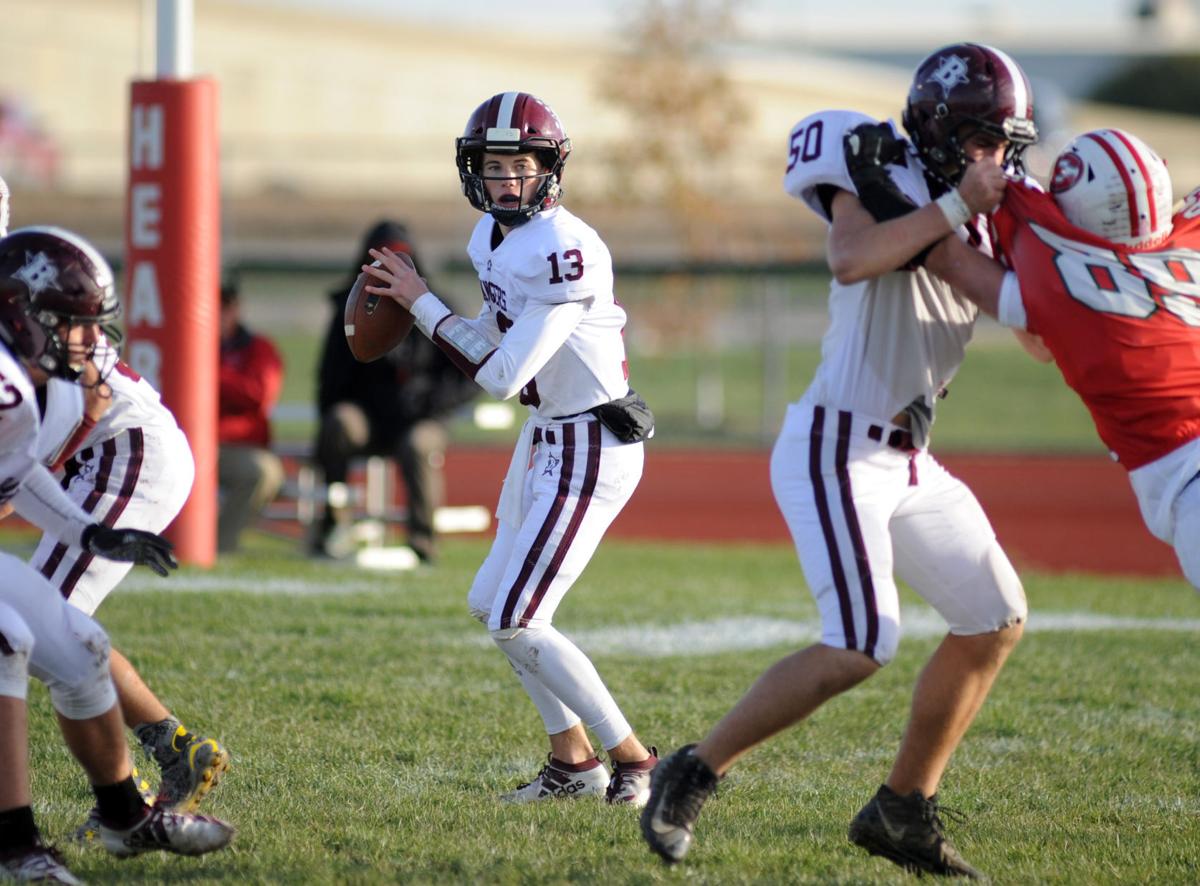 Benton's Tabor Field on Friday night will host two football teams that have outscored opponents 191-0 in their last five combined games.
The 3-0 Rangers host the 2-1 Murphysboro Red Devils in a Southern Illinois River-to-River Ohio matchup with important conference standing ramifications based on the winner. Benton matches Herrin undefeated through three weeks, while Murphysboro sits at third hoping to crack into the upper echelon.
"Our motto from Day One has been to get better," said Red Devils coach Gary Carter, whose team has pitched 27-0 shutouts in back-to-back weeks. "The challenge is right there in front of us, Benton hasn't surrendered a point this season and it comes down to can our kids make plays."
Carter's referring to the 137-0 point differential that Benton has slapped on opponents like West Frankfort (53-0), Harrisburg (42-0) and most recently Massac County (42-0) through the first half of a six-game schedule.
The Rangers are outperforming opponents to a point where coach Justin Groves is resting his starters in the second half to get his underclassmen more varsity experience. His teams' leads at halftime have gone: 28, 28 and 35, but what kind of challenge does Murphysboro's run-first offense present?
"(Carter's) going to have us well scouted," Groves said. "They'll have some creative ways using their speeds at the skill spots and try to do everything on defense to keep the QB in the pocket and make us run the ball."
Benton's quarterback, junior Keegan Glover, enters against Murphysboro with a 77% completion rate averaging 271 total yards with 11 passing touchdowns and four rushing scores. Two of his weapons are 5-foot-10 senior running back Peyton Swigonski and 5-11 senior wide receiver Ayden Newcomb, who set a new BCHS record for receiving touchdowns in a career at 14 with two in the opening week of the season.
Second-year starting quarterback Ryan Finke, a 6-2 senior, is tasked with keeping Murphysboro's offense on the field utilizing a plethora of running backs. The Red Devils have a team of brothers, sophomore Ethan Finke runs the full back position, while sophomore Devon Clemons and senior Calvon Clemons earn carries alongside 5-11 senior Payton Austin.
Groves believes the game will come down to which team can control the lines of scrimmage.
"Our goal this week is to win, shutting out opponents every week is not a stated goal of ours," Groves said. "It'll be a game of two teams that want to win. The Benton Rangers are prepared and practicing hard this week, so we'll be ready."
Murphysboro shocked Benton at home last season in a 42-0 shutout. Carter admitted that was a different team playing in different circumstances. The Red Devils have since graduated 20 kids from last season, which is why Carter's motto is to get better one week at a time with plenty of underclassmen getting experience this year.
Carter expects Groves to stick to his game plan of spreading the ball around with Glover.
"(Groves) likes to use spread concepts to put defenders in tough situations," Carter said. "We do the same thing and defensively, they have good players that fly around and hit you.
"As for Glover, he can hurt you with his arm or his legs. When they're running four or five receivers wide, that creates run space and he'll hurt you if he gets loose in the open field."
Both teams enter completely healthy outside of normal wear and tear through three weeks. For Groves, blowing opponents out and having an undefeated record doesn't mean as much as it does being able to play.
It's a glimpse of what Benton could have accomplished in a normal season.
"It's not really about the records or scores as much as it is about getting to spend time with seniors and coaches," Groves said. "We put the work in regardless of the situation and it's been really satisfying to watch them have this success."