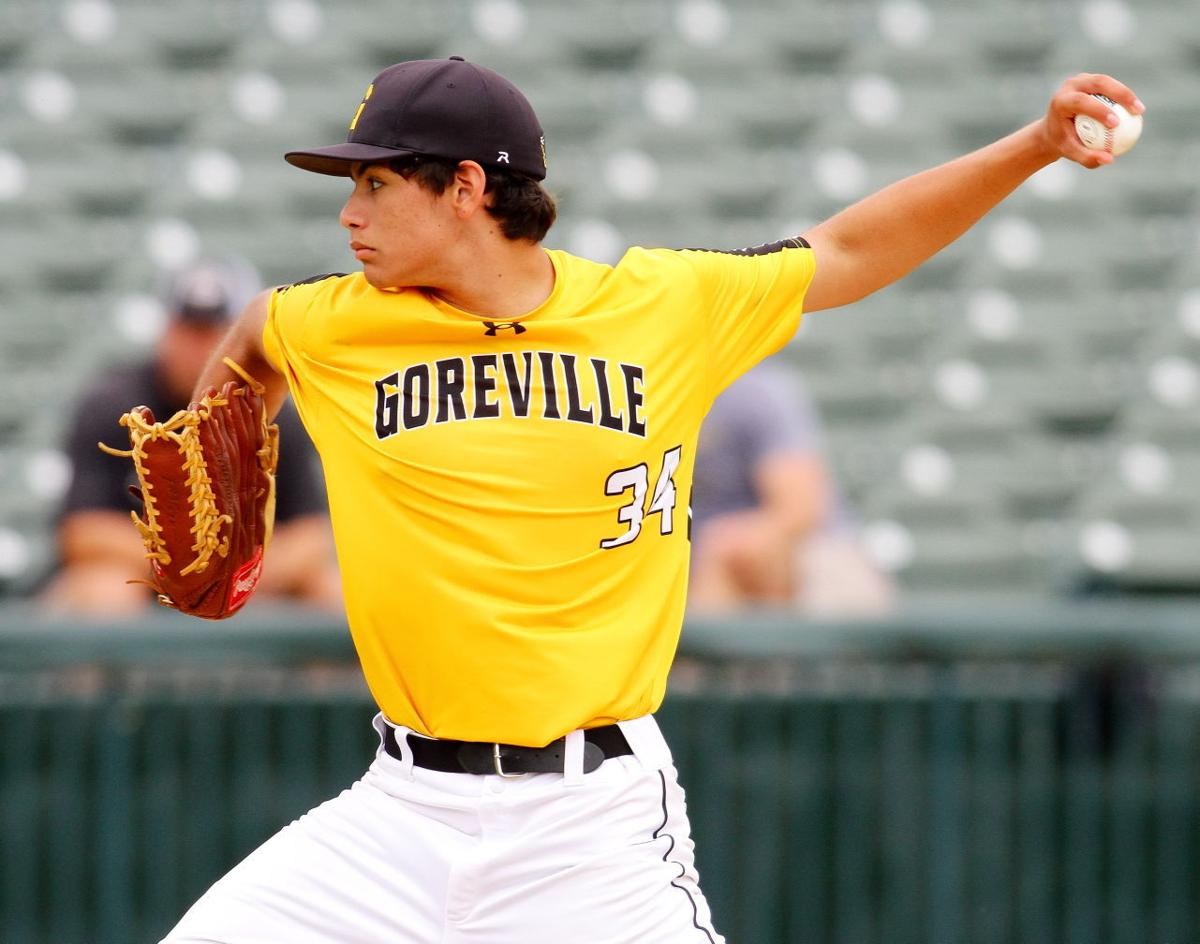 The Goreville baseball team is off to a fast start, and it's no surprise that Brodie Lenon is right in the middle of it.
Lenon, The Southern's 2016 Prep Baseball Player of the Year, is 2-0 so far with victories over a couple of good teams, Massac County and Trico.
In Goreville's 1-0 victory over Massac County, Lenon threw five innings with 11 strikeouts against Noah Farmer, who will pitch for SIU. The Patriots also feature J.T. Weber, who will suit up for the Salukis as well.
"I was just extremely lucky that my slider was working that day because nothing else was working," Lenon said. "It's not something that many people could say that they did, to beat two D-I commits like that."
Last season, Lenon batted .505 as a sophomore, so he's a well-rounded player. But his pitching is what sets him apart from other players.
"I've been hitting, and that's really the only thing I was working on over the summer, and I played basketball," Lenon said. "I didn't really have time to do hitting and pitching. But I'm hitting 86 early in the year, and I think I'll hit 88 to 90 toward the end of the year. That will be a really big improvement for a junior."
As Lenon's velocity goes up, his interest from colleges will continue to rise. He's already receiving plenty of attention. At 6-foot-3 and close to 200 pounds, he's got the typical physical attributes of a dominating hurler.
You have free articles remaining.
"The biggest thing is that he's stronger, and he went to the weight room a lot over the summer and the fall," said Goreville coach Shawn Tripp. "Just getting bigger and stronger has helped him a lot. Playing basketball helped with his footspeed and footwork. He got up to 210 pounds before basketball."
Even though there is a new pitch count rule for high school baseball in Illinois, Tripp is being extra careful with his star player. Lenon pitched three innings during a victory over Seneca and six in Goreville's key win over Trico, 2-0, on Tuesday. The junior fanned 14 batters and allowed just three hits in that contest.
"It's a very big deal and always has been for me," Tripp said. "We need him later in the season more than we need him now. We're just building him for that. But as an overall pitcher, he's got a career in college. You've got to take care of his arm. That's going to pay for his college tuition."
As for Lenon, he knows plenty of college coaches and other scouts will show up to watch him pitch. He thrives on the pressure of performing when important people are watching.
"I kind of like the pressure and knowing that I can get out of certain situations," Lenon said. "I'd rather not have the pressure, but I like putting it on myself. I just do my thing, and they're there to watch. If I don't do well, that's on me."
This season, Lenon has pitched 14 innings and has not given up a run. He has also struck out 31 batters.
Tripp believes the sky is the limit for Lenon. He is also batting .385 with a home run and four RBIs this season.
"His ceiling is unlimited, and he's special," Tripp said. "I think he'll touch 90 once we get that warm weather going. I think we'll see that this year."
The Blackcats are 5-1 and host Trico at 4:30 p.m. today.
618-351-5086
On Twitter: @SIPrepSports