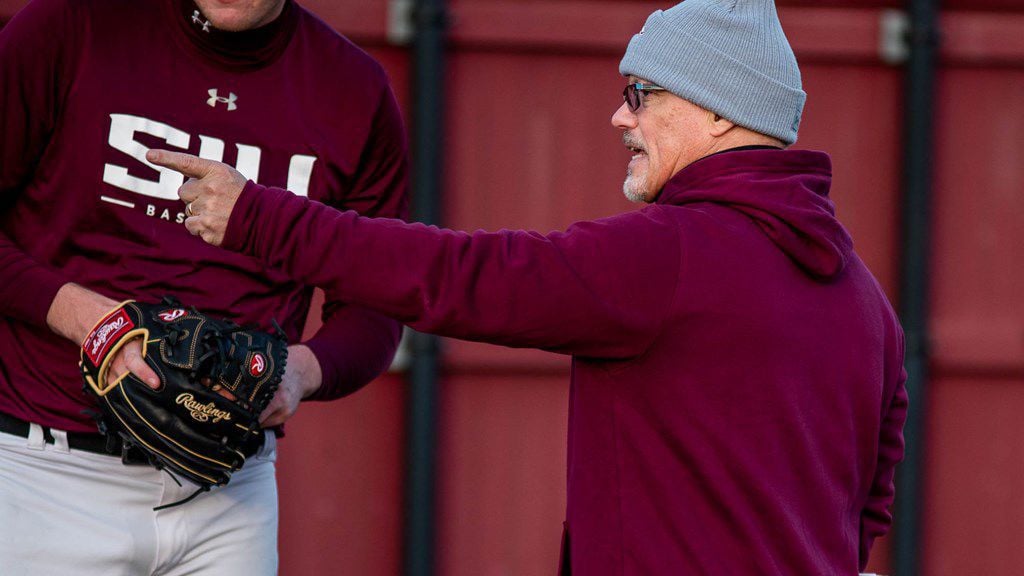 CARBONDALE — Former Mizzou head coach Tim Jamieson has been hired as the pitching coach for the Saluki Baseball program, SIU head coach Lance Rhodes announced today. Jamieson won 698 games in 22 seasons and advanced to 9 NCAA Tournaments as Mizzou's head coach from 1995-2016.
Jamieson also developed some of the nation's best pitchers during his tenure at Mizzou, notably future Hall of Famer Max Scherzer. In all, he had 75 players drafted, including four first rounders, and 14 of his players made the Major Leagues.
"Coach Jamieson is a huge addition to our baseball program," SIU head coach Lance Rhodes said. "He has been very instrumental in helping develop some elite level college arms. Along with his pitching background, he brings in so much valuable experience in all areas of the game that myself, our other coaches and our entire team can learn from. I am extremely excited to get to work with Coach Jamieson as we continue to try and build a championship caliber program here at SIU."
Jamieson was a two-time conference coach of the year and guided eight players to All-America honors and 10 players to freshman All-America honors. He was among the nation's best at developing pitching; 35 pitchers were selected in the MLB Draft, including 14 in the top-10 rounds. Seven pitchers who played for Jamieson at Mizzou made the Major Leagues.
JAMIESON DEVELOPS MLB PITCHING
Max Scherzer was the Big 12 Pitcher of the Year in 2005 and has won three Cy Young Awards in his MLB career.
Aaron Crow was undrafted out of high school and developed into a first-team All-American who won the Clemens Award, honoring the nation's top pitcher. Crow became a first-round MLB Draft pick and an All-Star in the MLB.
Rob Zastryzny was a second-team All-American and made the MLB.
Tanner Houck, who was coached by both Jamieson and Rhodes, was a first-round MLB draft pick, as well.
Kyle Gibson was the 22nd overall pick in the 2009 MLB Draft and is entering his eighth season as a pitcher in the MLB.
Jamieson also developed 14-year MLB veteran and four-time All-Star Ian Kinsler, who is a two-time Gold Glove award winner.
From 2003-09, Jamieson took Missouri to seven-straight NCAA Tournaments. In 2006, he guided Mizzou to a regional championship and appearance in the NCAA Super Regional. Jamison's Mizzou teams won 35 games or more nine times, and he was the head coach of the USA Baseball Collegiate National Team in 2011.
SIU opens the season on February 14 at Jackson State.