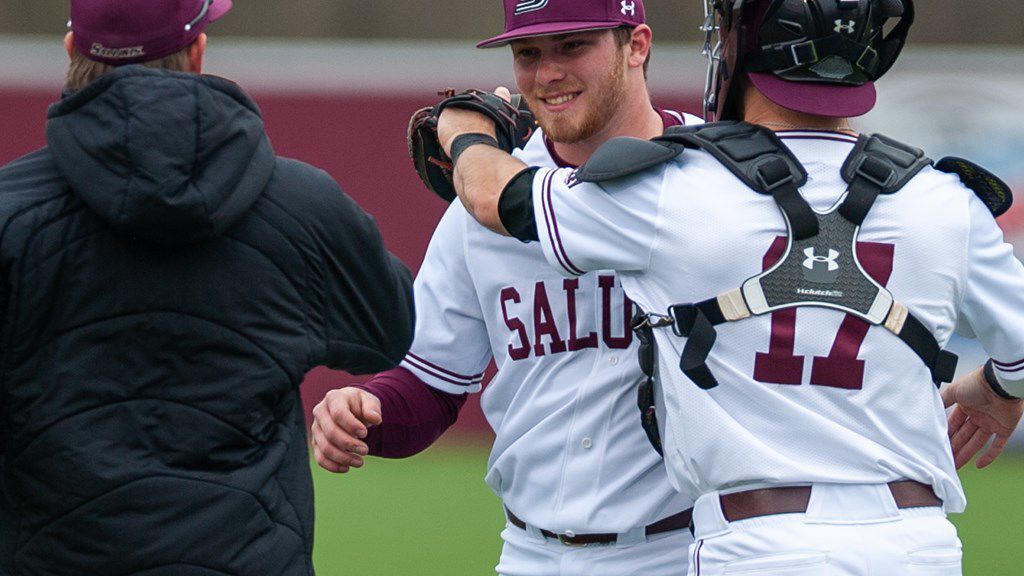 JACKSONVILLE, Ala. — The SIU baseball team held on for an 8-7 win at Jacksonville State on Opening Day. SIU jumped out to an 8-2 lead, and Trey McDaniel nailed it down with a three-inning save.
SIU (1-0) got its offense going early. Ian Walters led off the game with a single and went first-to-third on Nick Neville's single. With two outs, Neville stole second and beat the tag, allowing Walters to score from third. Seven of SIU's eight runs came with two outs.
Vinni Massaglia hit a towering homer to left field in the fourth inning for SIU's only non-two-out RBI. Austin Ulick came through with a clutch two-out, two-run double late in the inning to give SIU a 4-1 lead.
Jacksonville State (0-1) answered SIU's first-inning run with an unearned run of their own in the first frame, but that was the only run allowed by SIU starter Mike Hansell, who went 4.2 innings in his SIU debut. When Jacksonville State loaded the bases in the fifth inning, Matthew Steidl came in and got a groundout to end the threat.
The Salukis blew open the game in the seventh inning with an impressive two-out rally. After two quick outs, Neville and Tristan Peters hit back-to-back singles. Vinni Massaglia drew a walk, and Philip Archer cleared the bases with a double to the right-center gap. Evan Martin drove home Archer on the next pitch with a bloop single.
SIU was outstanding on the mound for most of the night but faltered in the seventh inning. The Salukis started the inning by issuing four-straight walks to bring JSU with 8-3. SIU turned to its bullpen ace Trey McDaniel in a bases-loaded, no-out jam. JSU brought home four more runs on a two-run double, a sac fly and a single to get within 8-7.
But McDaniel absolutely dominated from there. He retired seven-straight to end the game, and only one ball left the infield. He went 1-2-3 in both the eighth and ninth innings against the middle of JSU's order (2-7 hitters).
SIU won its season opener for the fourth time in the last five seasons. The Salukis were originally slated to play Tennessee Tech this weekend, but weather forced both teams into a four-team round robin hosted by Jacksonville State. SIU and Tennessee Tech will kick off tomorrow's games with an 11 a.m. first pitch against TTU. SIU closes the weekend against Alabama State on Sunday.