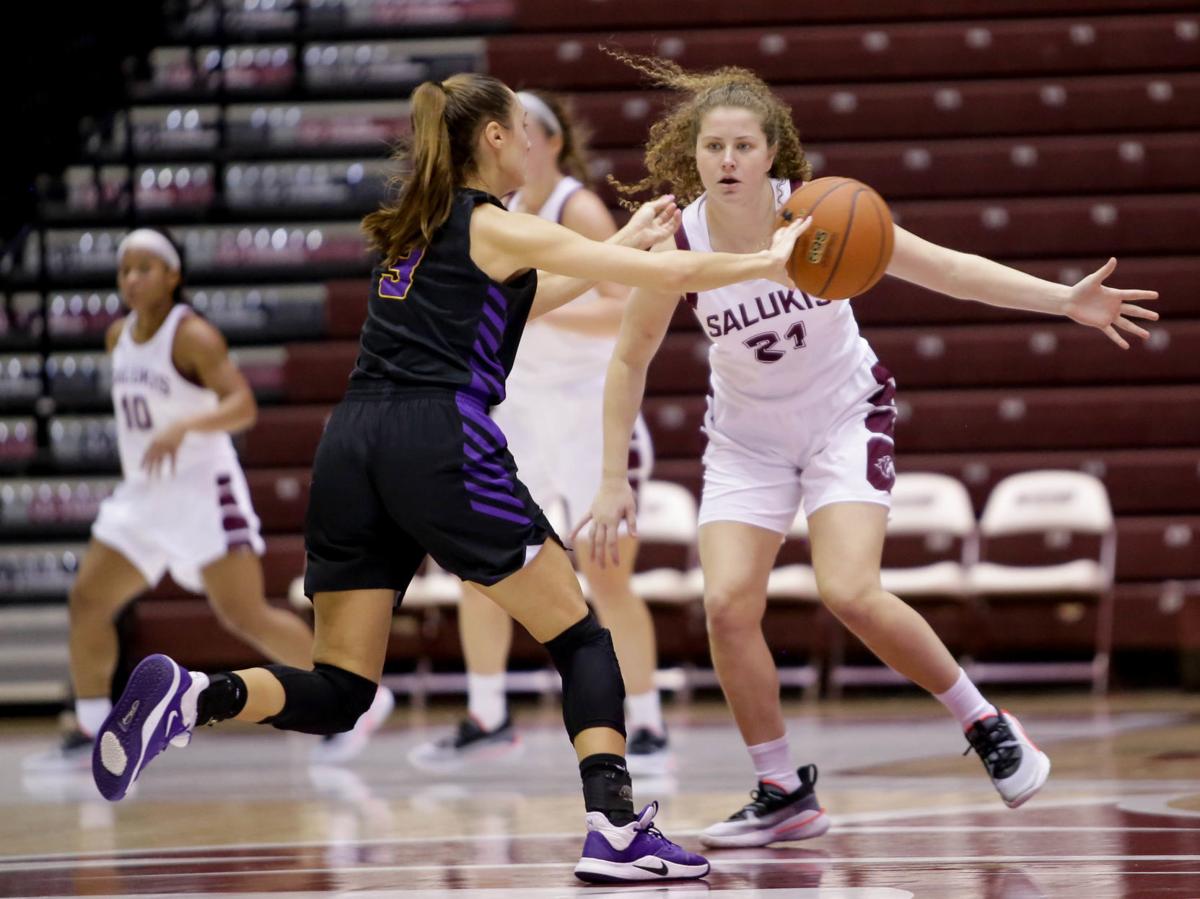 When Payton McCallister was summoned to the interview room after Friday night's 60-42 win over Indiana State, it marked the first time in her career she had been asked to meet the media.
A few more games like that and McCallister might become a regular in Room 125 at Banterra Center, not to mention a more consistent presence in an SIU lineup seemingly always in need of another offensive threat.
With leading scorer Makenzie Silvey sidelined for half the game by foul trouble and a growing fourth quarter lead that didn't require her presence, McCallister got a season-high 22:35 of action. It led to a season-high 12 points on 5 of 10 shooting, including a pair of 3-pointers.
When the Salukis try for a season sweep of Missouri Valley Conference rival Evansville on Sunday, McCallister will aim to replicate that performance.
"Payton hit some big shots," SIU coach Cindy Stein said of her Friday night performance. "If she doesn't hit those shots, it's a different ball game. It puts a lot more pressure on everybody. Payton did a great job of making herself available for shots and helped our momentum."
The 5-10 sophomore from Columbia, Mo. is averaging 4.1 points in 24 games and nearly 14 minutes a night, sinking 22 of 67 from the arc. She's had some good games, including a 10-point day off the bench in an overtime loss at Northern Iowa two weeks ago, but doesn't always see a lot of time.
When you back up the team's top point-producer, your opportunities can be limited.
"With Mac in foul trouble, I had to take a little bit of her responsibilities," McCallister said. "I can never do what she does most of the time, but I was able to come in and make some shots."
A Silvey-like catch-and-shoot 3-pointer midway through the third quarter restored a 38-27 lead for the Salukis. In the fourth quarter, McCallister capped a 12-0 spurt with consecutive transition buckets off turnovers that boosted a six-point advantage to 18, sealing the verdict.
For good measure, McCallister finished her night with a 3-ball in the last minute that brought her within three points of her career high, set last year at Western Kentucky.
"We had a tough little stretch there," McCallister said of a three-game losing streak that ended Friday night, "but we still have high hopes."
With five regular season games remaining, SIU needs at least three more wins to feel comfortable about avoiding a Thursday game to start the conference tournament on March 12 in Moline.
Sunday is about taking care of business against a team mired in a rebuilding year under fourth-year coach Matt Ruffing. The Salukis almost didn't do that last month in Evansville, where they had to outscore the Purple Aces 28-8 in the fourth quarter to secure a 70-57 decision.
"Evansville is a great-shooting team, and we didn't play great defense the last time," Stein said. "It has to be a lot better. They're definitely a team we can't underestimate. The biggest thing is we have to be ready to go."
Be the first to know
Get local news delivered to your inbox!