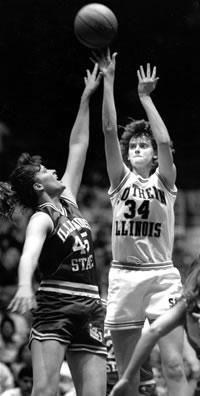 It's one of the most exclusive roll calls in SIU athletics, one that as of Friday night will last a little longer.
Rakers-Fogle will become just the second women's basketball player in school history to have her number retired at halftime of the Salukis' Missouri Valley Conference game with Indiana State. Her No. 34 will join Faber's No. 44 on the short list of uniforms no longer available.
"To have mine retired is such an honor," Rakers-Fogle said Wednesday night. "College athletics is so huge and such a big deal. It doesn't happen to many people. I'm just super-excited."
How Rakers-Fogle got there is a story of hard work, sacrifice and adhering to a process. In this microwave age of sports where you're either great right away or you're a bum, the concept of a player averaging less than three points per game as a freshman before having one of the most storied careers in school history might strike one as outdated.
That was the path Rakers-Fogle had to travel after scoring only 63 points in 22 games in 1987-88. She realized two things at the end of that season: Everyone in Division I has talent, and she was going to have to get in better shape.
"What was I going to do to separate myself? I spent a lot of time working on conditioning between my freshman and sophomore years," she said. "I was motivated to play. No one is going to make you good except yourself."
Rakers-Fogle averaged 10.5 ppg as a sophomore, then really took off as a junior. No SIU player has ever scored more points in a year than her 643, good for 20.7 per night. Her 325 rebounds, or 10.5 a game, stood for 25 years until Dyana Pierre snagged 341 in 2015.
Most importantly, the Salukis went 21-10, capturing the Gateway Conference Tournament title at home and earning a trip to the NCAA Tournament, where they lost in the first round at Ohio State 73-61.
As a senior, Rakers-Fogle scored 18.2 ppg and grabbed 10.7 boards. Her 1,538 points lasted 25 years as the school record until Cartaesha Macklin broke it in 2016. Rishonda Napier passed Rakers-Fogle for second place a year later.
Asked her favorite memories from SIU, Rakers-Fogle focused more on people than specific games or plays.
"Just four years of going to school and working with a bunch of girls that wanted the same thing," she said. "We wanted to be good, wanted the team to be good and wanted to win championships. Being with like-minded people is always fun."
After playing a year in Japan, where she was one of just two Americans on her team, Rakers-Fogle settled into a life of teaching and coaching. She presently coaches the freshman boys basketball team at Anacortes High in Anacortes, Wash., about 65 miles north of Seattle.
Rakers-Fogle and her husband, Phil, have a 15-year old daughter and a 13-year old son. Rakers-Fogle's son has caught basketball fever, apparently inheriting some of his mom's talent and all of her zeal for the game.
"Passion and commitment … it has to be what you love," she said. "I don't remember being (obsessed) like some of my teammates and friends said I was, but seeing one of my children being like that, I could see why people think like that.
"I think that's what it takes."
And as the numbers show, Rakers-Fogle has nothing for which to apologize.
Be the first to know
Get local news delivered to your inbox!