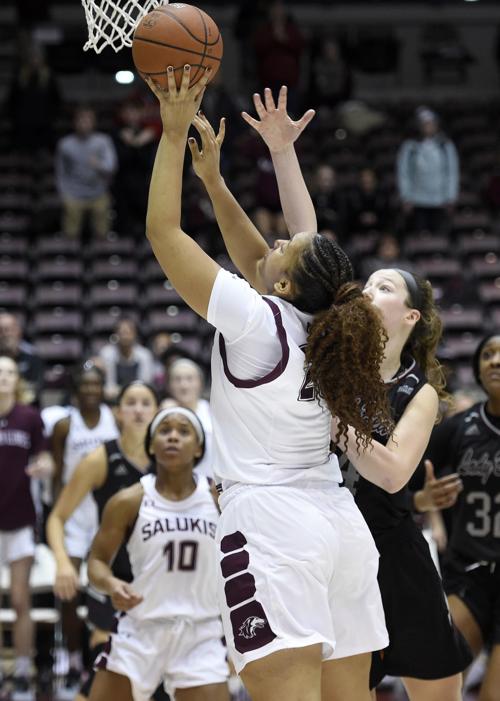 At 6-foot-0, Gabby Walker isn't going to have a height advantage over most of the post players she faces in Division I. But as the SIU redshirt junior is demonstrating, height doesn't always equate to might.
Walker has made an increasingly bigger mark over the last four games, a run she'll try to continue Sunday when the Salukis host Missouri Valley Conference co-leader Bradley at Banterra Center.
In Friday night's 62-54 loss to Illinois State, Walker came off the bench to tally a team-high 14 points, just one off her season high. She was 6 of 8 from the field, scoring mostly on post moves and sprinkling in a face-up jumper along the way.
"Coach (Cindy) Stein told me I needed to work on my post-up moves a bit more," Walker said. "I've been putting more time in on post moves, and I think because I've been getting more reps in my post moves, I've been getting more confident."
Walker's best move came late in the fourth quarter as SIU (12-7, 4-4) unsuccessfully tried to erase a double-figure deficit. She capped an 8-0 run with a power move for a lefty layup as she used her body and footwork to create room for her shot against physical defense from Lexi Wallen.
The transfer from Lindenwood (Mo.) showed hints of being an offensive threat during the non-conference schedule. Walker hit 12 points in three separate games and rung up 15 in a December loss at Southeast Missouri State.
But her coming-out party of sorts occurred on Jan. 17, when she finished a nine-point outing by converting Brittney Patrick's pass into a game-winning layup in the Salukis' 70-68 upset of then-No. 19 Missouri State.
Walker added six in a 70-57 win on Jan. 24 at Evansville, then scored 10 on Jan. 26 in her first start as SIU drilled Indiana State 78-55. For the season, she's averaging 6.4 points in just under 13 minutes per game, which would equal about 15 ppg if she were logging the normal 30 minutes a starter gets.
"Gabby's doing a great job," Stein said. "She's working hard, and we're able to isolate her (inside)."
The recent emergence of Walker is giving the Salukis another offensive option that they need in this tougher version of the Valley, which features six teams with top 100 RPIs and could net three NCAA Tournament bids.
Sunday's opponent is angling for one of those berths. At 16-3 overall and 7-1 in the conference, Bradley is tied for first place with No. 24 Missouri State. Although the Bears bushwhacked the Braves 90-56 Friday night in Springfield, former SIU assistant Andrea Gorski has more than done the job in Peoria.
Stein, for one, isn't surprised at the work Gorski is doing.
"She works her butt off and she's a great coach, and a great recruiter," Stein said. "She's got some kids that know her system. They play hard and play together. She built a schedule to build confidence, and they came into Valley play with confidence. We're going to have to try to do something to knock them out of sync."
Be the first to know
Get local news delivered to your inbox!