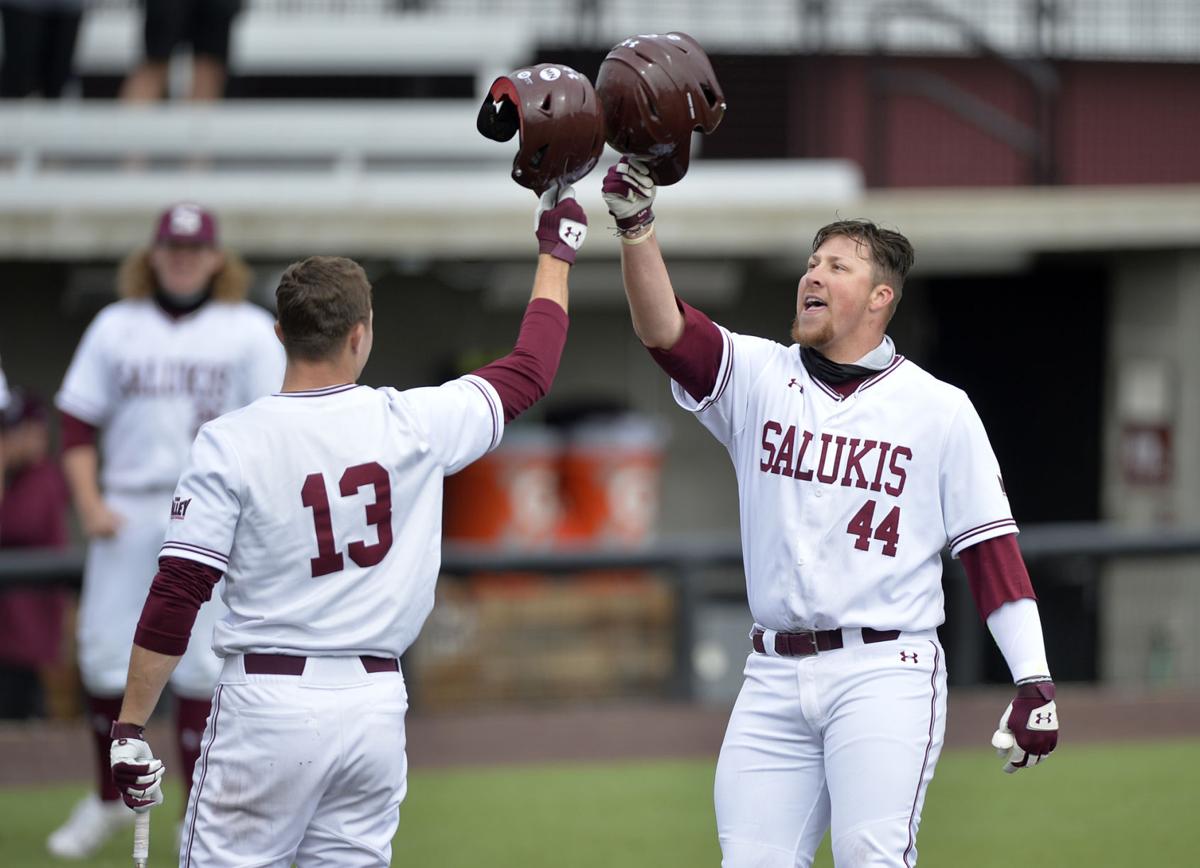 CARBONDALE — SIU gave its struggling pitching staff a 15-run gift Tuesday night against Austin Peay.
Seven pitchers did the rest for the Salukis (21-6), who finished off a 15-0 victory over the Govs at just before 9 p.m. at Jones Stadium. Junior righty Noah Farmer, a Metropolis native, threw three scoreless innings to start it off, and sophomore Bubba Hall (scoreless fourth) and freshman Mitchell Jackson (scoreless fifth) got SIU to the sixth inning. Kyle Back, Kyle Dixon, Braden Babcock, Gage O'Brien and Trey McDaniel finished off the Salukis' seven-hitter.
SIU scored 25 runs in its four-game series against Illinois State, but lost three times after allowing 35. Philip Archer's seven RBIs, one off the single-game school record, and three from J.T. Weber helped the Salukis take the pressure off their pitching staff.
"They're good pitchers. They might hit a little rough patch, but we have all the confidence in the world in 'em," Archer said. "They're gonna come out and have good days, and they're gonna have bad days, just like hitters, but having a good offense like we do, that can pick 'em up whenever they do have a bad game is nice. Today they had a good game, so it didn't matter."
Austin Peay starter Greg Norman was off to a good, well, start, after securing the first two outs of his outing on four pitches. Norman, a freshman lefty who started his third career game, got Brad Hudson to hit into a 6-4-3 double play after Ian Walters singled. The Salukis struck for five runs off three straight hits after Norman hit Nick Neville and Tristan Peters. Weber, who tied a school record with eight RBIs in Sunday's loss to Illinois State, put SIU up 1-0 with a hopping ground ball that jumped over third baseman Gino Avros' head and scooted into left field.
Archer doubled to right to make it 3-0, and Vinni Massaglia followed with a two-run home run for a five-run lead. The Salukis scored six more in the next two innings to put the game out of reach. Weber singled in Neville and Ian Walters with a line drive into center field in the second, and Archer singled to right to drive in two more. Archer homered in the fourth with a man on to make it 11-0. SIU added four more runs in the bottom of the eighth to win their fourth mid-week game this season in as many tries.
"The big key to today was our success on the mound," SIU coach Lance Rhodes said. "You look at multiple guys going out there and throwing up zero after zero. We really needed it from the confidence standpoint, of the arms. It was a thing where they'd been throwing well, and it's just a long season, and sometimes you go through ups and downs. It was nice to see us bounce back today, and see several people on the mound bounce back and have good days. It was exciting to see, and obviously, we swung the bats pretty well and played solid defense."
Archer, a former John A. Logan College star, went 4 for 5 with two doubles and the homer, his seventh of the season. The senior first baseman also scored three runs.
Farmer (3-1) got the win after scattering three hits over three innings in his first start this season. He threw 25 of his 33 pitches for strikes and did not walk a batter.
Norman (1-2) took the loss for the Govs, who were shut out for the third time this season.
SIU caps its 12-game homestand with a four-game set against Bellarmine and Northern Illinois this weekend. The Salukis are scheduled to host Bellarmine Friday night, play both teams in a Saturday doubleheader, and close the weekend against the Huskies.