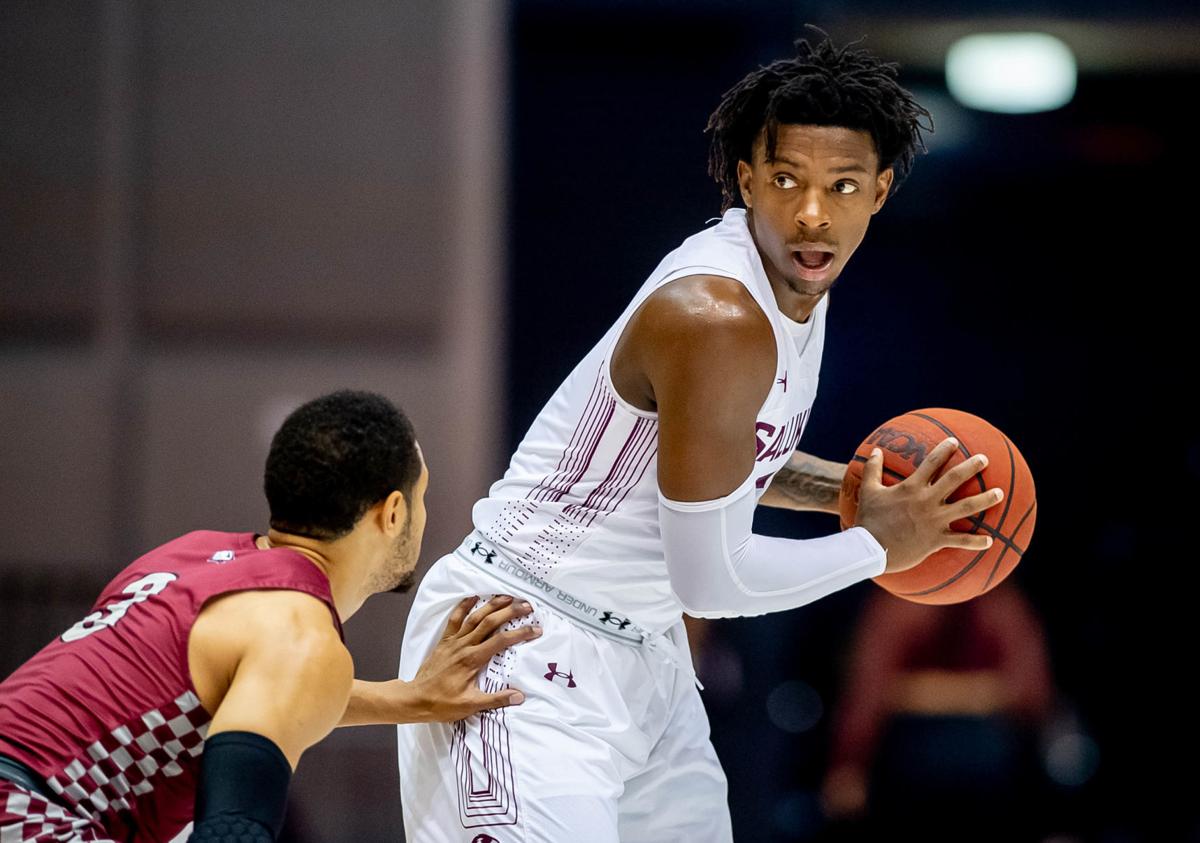 ST. LOUIS — In a game of runs, Saint Louis' men's basketball team used a 10-3 run in the final 10 minutes to beat SIU 69-60 Sunday.
Marcus Domask scored a game-high 21 points, Barret Benson had 16 and Lance Jones had a career-high 14 for the Salukis (3-5). Domask added five rebounds, five assists and no turnovers in just over 36 minutes at Chaifetz Arena. Senior guard Eric McGill scored four points and led the team with six rebounds and five steals.
Juniors Hasahn French and Jordan Goodwin, Saint Louis' leading scorers entering the game, had a combined four points at the half but finished with 15 and 14, respectively. French grabbed nine rebounds, four of them at the offensive end, and Goodwin had 19 boards and four of the Billikens' 13 assists. Javonte Perkins scored 18 points off the bench to help the Billikens (7-1) move to 6-1 at home.
The Salukis scored the last seven points of the first half to take a 29-26 lead at the break. Jones and Domask both scored nine points to lead SIU, which overcame four shot clock violations and a 10-2 Billikens run to keep the lead.
You have free articles remaining.
The Salukis jumped on Saint Louis 10-0 after Jones scored the first bucket of the game off a driving layup. The freshman point guard made 4 of 6 from the field in the first half and had four assists and two turnovers in just over 18 minutes. His transition bucket and free throw put SIU back up 27-26, and Barret Benson scored off a Jones pass for a three-point lead.
Saint Louis ran a play at the end of the half and got Jordan Goodwin a clean look from the corner, but the junior guard airballed it. SIU got the rebound and was unable to get a shot off before the horn. 
The Salukis went up 18-11 off Benson's transition bucket at the 9:08 mark. Saint Louis answered with a 12-4 run. 
Saint Louis shot 31% from the field in the first half (9 of 29). The Billikens nearly made more free throws than field goals, sinking all five of their attempts. All five were by Javonte Perkins, who had 14 points off the bench to keep Saint Louis in the game. The Billikens' five starters combined for five five-half points, all six of their turnovers, and 14 of their 16 rebounds.
SIU is next in action Wednesday night at home against Norfolk State. Tipoff at the Banterra Center is set for 7 p.m.