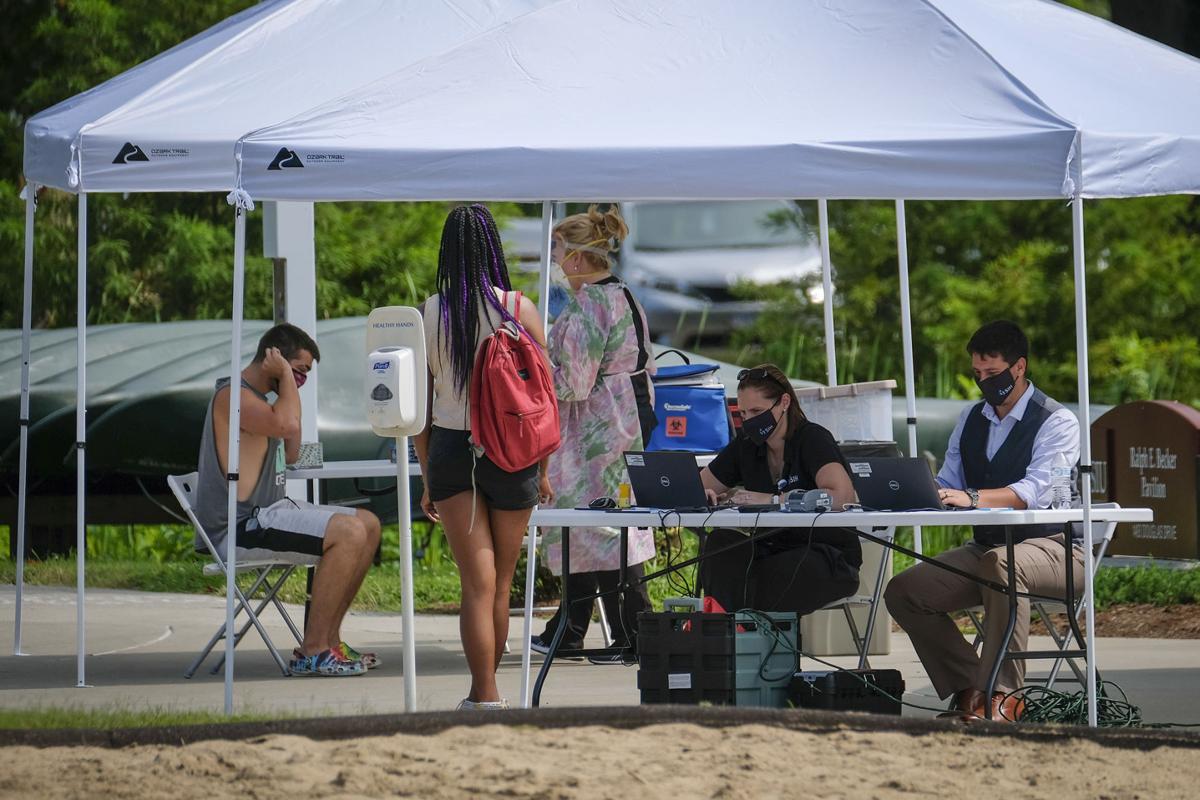 CARBONDALE — Antigens. Antibodies. RNA. DNA. False positives. False negatives.
The new coronavirus is as complicated as the testing for it, but as the country tries to find the best way to curve the spread, one thing could stand in the way of everything the NCAA wants in order to return to normal. It's called the limit of detection, and is one of the biggest reasons even the best testing available might not be able to prevent an outbreak.
"Once somebody's infected, it's possible to have a positive test," said Diana Biggs, a microbiologist who is the system director of laboratory services at Southern Illinois Healthcare. "Every test has what we call a limit of detection, and, therefore, if someone has a low amount of virus, particularly early on, it may not be at a detectable level yet. Every case is so different."
For most people, Biggs said, it can take between 1-5 days for COVID-19 to even show up in the most accurate test currently in the market, the polymerase chain reaction (PCR) test. The PCR test, which locates and amplifies viral RNA in the coronavirus so scientists can physically see it, is conducted through saliva or a nasopharyngeal swab up your nose. It detects active COVID-19 infections, and has to typically be read in a lab. The PCR tests SIU's current athletes, coaches and staff go through usually produce results in 2-4 days, on average, although that may improve over time since SIH now has the ability to read tests in-house now. 
SIH now processes all the tests its facilities conduct, Biggs said, and may soon be able to read up to 1,000 tests a day. 
The PCR test is known as a molecular test, according to the CDC. The rapid tests the Big Ten Conference hopes to use as it prepares to return to football next month screen for antigens, which are toxins or foreign substances which invoke an immune response from the body, such as antibodies. Antibody tests can show if you've been infected by the coronavirus before, but don't diagnose active infections.
The Big Ten did not identify exactly what test its 14 schools plan to use in a news release earlier this week announcing their return, but the league wants to use daily antigen tests and confirm any positive tests with a PCR test. Teams may very well use two PCR tests during the week, perhaps Monday and Thursday, and use a rapid test Friday, when they may have to travel. The NCAA's return to play guidelines want athletes to test 72 hours before their game.
However, with the five-day window of the virus building enough to even be detected in some people, sometimes even longer, an athlete could test negative all week and spread the virus on game day.
Rapid antigen tests like the saliva test developed at the University of Illinois can be very accurate — one developed by Abbott Laboratories that Sun Belt Conference programs plan to use has tested to be up to 98% accurate — but not as accurate as PCR tests, Biggs said. The largest amount of the virus typically resides in the nasopharynx, an upper part of the throat behind the nose you want to reach when you take that type of a PCR test. 
Any test is only as good as the tester, however. People that stick the swab up their nose and bring it back out, instead of swirling it around at the top like they're supposed to, may not put enough of the virus in their sample if it's even there. 
"The testing is only as good as the quality of the specimen," Biggs said. "I can guarantee you that if there's a certain level of virus in a sample, these tests will detect it. But it just depends. If you collect a poor-quality specimen, you will likely get a poor result."
To try to limit the spread of the virus, teams in the Big Ten must remove players that test positive for 21 days. They will then undergo what the league called "comprehensive cardiac testing" in order to rule out myocarditis, an inflammation of the heart muscle that has been tied to some COVID-19 patients. 
The virus has already postponed the NCAA fall championships, and continued to wreak havoc on college football Friday. Baylor's season opener against Houston, which was scheduled less than a week ago, was one of two FBS games postponed the day before they were supposed to be played. Florida Atlantic's opener against Georgia Southern was also postponed Friday due to results from FAU's COVID-19 testing that was conducted on Thursday.
Baylor said it was unable to meet the Big 12 Conference's roster threshold. The league requires a 53-man roster on game day that must include at least seven offensive linemen, four defensive linemen and one quarterback.
"We're heartbroken from this postponement," Baylor coach Dave Aranda said. "While we've been eager to play football this fall, we have all made a commitment to only do so with the highest level of safety and care for our student-athletes."
Concerned about COVID-19?
Sign up now to get the most recent coronavirus headlines and other important local and national news sent to your email inbox daily.