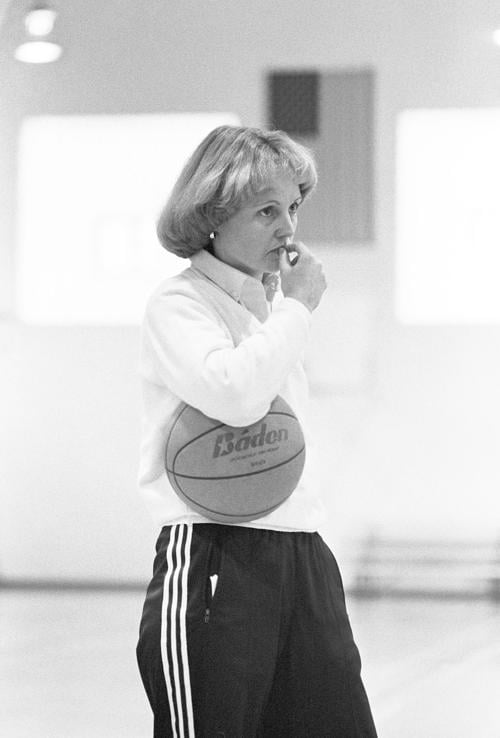 CARBONDALE — Cindy Scott, SIU's all-time wins leader in women's basketball who led the program to its only four NCAA Tournament appearances, announced her retirement Wednesday.
Scott spent the last 22 years at Bentley University in Massachusetts, most recently as the assistant athletics director. Her retirement is effective Friday.
"It has been such a tremendous privilege to work for Bentley Athletics the past 22 years and to be involved in many different aspects that provided me the opportunity to help both coaches and student-athletes," Scott said in a news release from the school. "Bentley University is a very special place and our student-athletes are the best you can find — great people, great students and great competitors. I could not be more grateful to those who helped to make my job the best in the world, in particular our longtime athletics director, Bob DeFelice, and vice president for student affairs, Andrew Shepardson."
Bentley competes in Division I in hockey and Division II in its other sports. During her 22 years there, Scott served as the school's compliance coordinator, academic liaison, senior woman administrator and the Title IX coordinator.
The St. Louis native graduated from Memphis State University, now known as the University of Memphis, with a degree in education in 1975 and earned her master's degree at SIU in 1976. Scott played three sports at Memphis State, volleyball, basketball and tennis, and joined SIU's women's basketball program as a 21-year-old graduate assistant in 1975 under Maureen Weiss.  
Dr. Charlotte West promoted Scott in 1977 to lead the program. She went 14-10 her first year and 20-6 her second, the first of eight 20-win seasons in 21 years. Scott went 388-215 with the Salukis, winning three Gateway Conference championships (1986, 1987 and 1990) and making four NCAA Tournament appearances (1986, 1987, 1990 and 1992). The Gateway merged with the Missouri Valley Conference in July of 1992.
SIU's 1987 squad went 18-0 in the Gateway, won the league tournament at the Banterra Center (it was known as SIU Arena then) and received a No. 5 seed in the NCAA Tournament. Forward Bridgett Bonds was the Gateway Player of the Year, and Scott shared the league's Coach of the Year honor with Missouri State's Valerie Goodwin-Colbert. The Salukis, who reached their highest Associated Press ranking in school history in December of 1987 (13th), beat Louisiana State in the opening round of the NCAAs. They were defeated by Louisiana Tech 66-53 in the second round.
Scott (388-215 at SIU) was inducted into the Saluki Hall of Fame in 1994. Her 353 wins since 1982-83, when the Gateway/Valley began league play, are the most in MVC history. Scott's 199 conference wins are second in Valley history, behind former Missouri State coach Cheryl Burnett (1988-2002), who took two teams to the Final Four. SIU's women's basketball team named its locker room after Scott in 2011.
Be the first to know
Get local news delivered to your inbox!