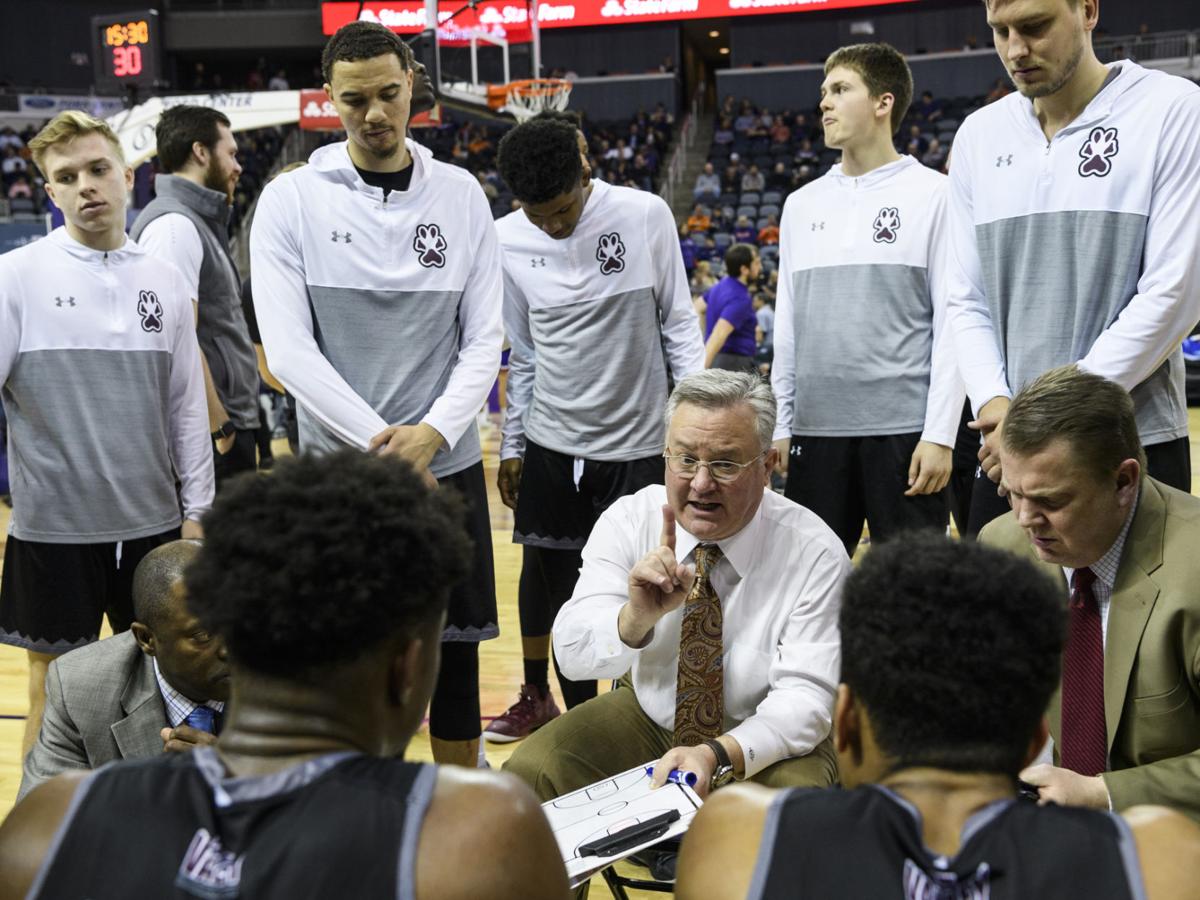 CARBONDALE — Former SIU men's basketball coach Barry Hinson will have to wait another year to try to reach the NCAA Tournament with his alma mater.
Oklahoma State, where Hinson became an analyst in 2019 after leaving the Salukis, was hit with several penalties Friday by the NCAA infractions committee panel stemming from former assistant coach Lamont Evans accepting up to $22,000 in bribes. Evans allegedly took the bribes to steer certain athletes to certain financial advisers. The Cowboys were banned from the 2021 postseason and issued recruiting restrictions, three years probation and a $10,000 fine self-imposed by the school.
Oklahoma State vowed to appeal. The NCAA agreed with the school that Evans "acted alone and for his own personal gain," while not leading to "any real benefit" for the school. Oklahoma State athletic director Mike Holder called his program a victim in the case after being punished for a top-level violation.
Evans was among 10 people originally indicted by federal prosecutors, including four assistant coaches. Evans was later sentenced to three months in prison for accepting bribes in the criminal case.
Hinson, a 1983 OSU grad, went 116-111 in seven seasons at SIU and is 321-246 overall (.566) with Oral Roberts (1997-99), Missouri State (1998-2008) and the Salukis (2012-19). He resigned from SIU with a year left on his contract after the Salukis were eliminated from the Missouri Valley Conference Tournament in the 2019 quarterfinals. SIU finished 17-15 and missed the postseason for the 11th straight year. Jerry Kill, the athletic director at that time, hired Bryan Mullins to succeed him.
Hinson's 155 Valley victories in 16 seasons are the fourth-most in conference history. Only Oklahoma State's Henry Iba (187 wins), Creighton's Dana Altman (182) and Eddie Hickey (163 with Creighton and Saint Louis) won more MVC games than Hinson. Hinson never reached the NCAA Tournament as a head coach, but made the NIT four times in 18 years.
The penalties were particularly unsettling after the Cowboys put together the eighth-best recruiting class in the country, according to ESPN.com, including the No. 1 prospect, point guard Cade Cunningham. Cunningham, a five-star prospect, is projected by some to be the No. 1 selection in the 2021 NBA draft. Oklahoma State also signed three other four-star recruits and another three-star recruit. The Cowboys' 2019 recruiting class was ranked 24th by ESPN.com.
Oklahoma State went 18-14 last season and was in the Big 12 Tournament when it was canceled because of the coronavirus.
Be the first to know
Get local news delivered to your inbox!