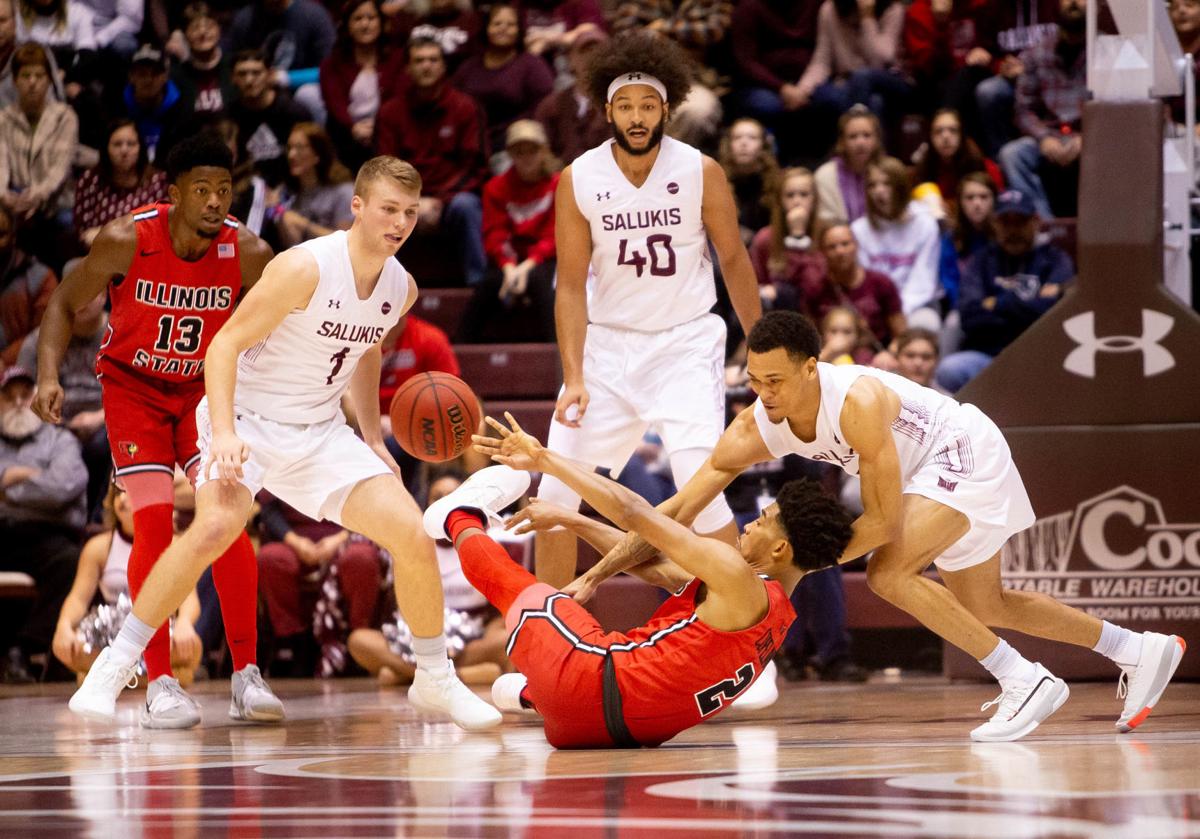 CHICAGO — Cameron Krutwig didn't score his first points until the final two minutes of the half, but Loyola had plenty of other offense to hand SIU its second straight loss Thursday night.
Tate Hall, Marquise Kennedy and Keith Clemons all broke double figures for the Ramblers in a 64-48 win at Gentile Arena to keep Loyola (12-6, 4-1 Missouri Valley Conference) tied for first place in the league.
Krutwig, a 6-foot-9 junior center that was voted the preseason player of the year in the Missouri Valley Conference, faced two Saluki defenders most of the first half. SIU center Barret Benson and junior forward Brendon Gooch took turns guarding the big lefty, and with three minutes to go in the first half, Krutwig had more assists (two) than buckets (zero). Clinging to a one-point lead, Loyola found Krutwig underneath, where he buried Gooch under the rim and scored his first points with 1:28 left.
Krutwig added a lefty layup in the final minute, but the Salukis hung tough without backup posts Sekou Dembele or Stevan Jeremic. Dembele, who broke the tibia in his left leg at Bradley last week, didn't make the trip. Nor did the 6-11 Jeremic, who has been battling a sprained ankle.
Trying for their first true road win of the season, the Salukis got eight points from Marcus Domask and Eric McGill to stay within five at the break.
You have free articles remaining.
Krutwig finished with eight points, eight rebounds, five assists and four turnovers.
McGill led SIU with 14 points on 7-of-10 shooting. Domask led SIU with nine rebounds, but didn't score in the second half until a transition bucket in the final two minutes.
Harwin Francois' transition 3 pulled SIU within four, but Loyola stretched the lead out to double digits for the first time with 11:31 to play. Lucas Williamson scored in transition, Hall converted an easy layup, and Jalon Pipkins put the Ramblers up 46-36 after McGill tried to lob it to Benson with Krutwig all over him. Krutwig intercepted the pass and started the fast break that Pipkins finished.
SIU (8-10, 2-3) missed 10 of 12 3-pointers in the first half and finished 5 of 26 behind the arc.
Loyola, the fourth-best shooting team in the country heading into Thursday's game, made 26 of 48 from the field (54.2%). The Ramblers canned 6 of 12 from the 3-point line and 6 of 9 at the free-throw line.
SIU returns home to face Drake Sunday afternoon at 3 p.m.