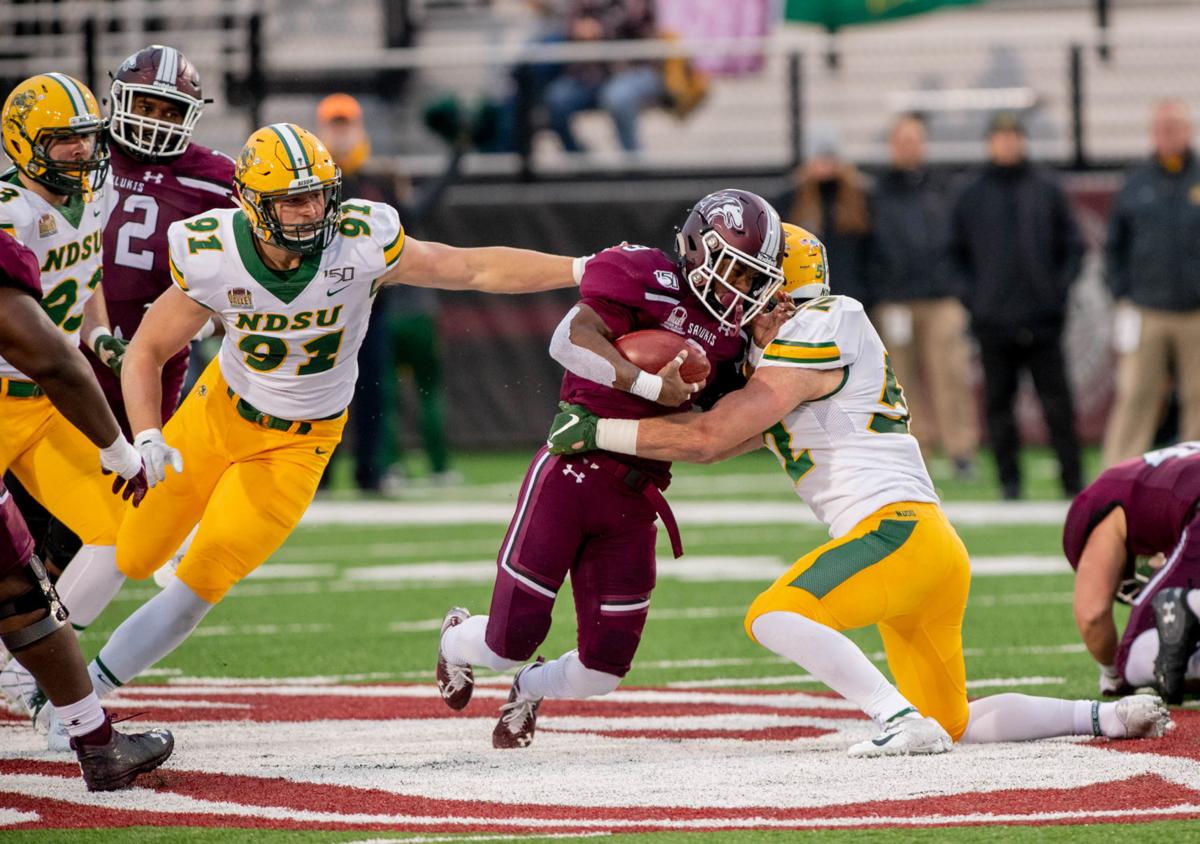 CARBONDALE — Instead of celebrating its first playoff berth in 10 years, SIU's football team was left out of the 24-team FCS playoff field in a stunning announcement Sunday.
The Salukis (7-5, 5-3 Missouri Valley Football Conference) didn't have a win against the field, going a combined 0-4, but had one of only three wins by an FCS program over an FBS team and was considered a strong candidate to be the fifth member from the nation's top-ranked league to make the playoffs. When Furman (8-4) was announced as playing Austin Peay (9-3), a game some prognosticators had SIU in, and 10-2 Kennesaw State was announced as going to Wofford (8-3) as another at-large bid, the Salukis' sliver of hope died with them.
"When I saw that last school pop up, my heart just dropped," said SIU safety Jeremy Chinn, one of four team captains. "Like, my heart just shattered. I came here to turn this program around and make it a playoff team, and it's not something I was able to do, or we were able to do as seniors. It hurts."
Running back D.J. Davis, who finished his Saluki career third in school history in all-purpose yardage, was also shocked at the omission. 
"The room went quiet. I went quiet," Davis said. "I just stood there and stared up at the TV for a couple more minutes, like that couldn't happen just now. I'm still in shock." 
SIU was one of the last four teams out, as announced by the NCAA selection committee Sunday, along with New Hampshire (6-5), South Carolina State (8-3) and Towson (7-5). The field was announced live on ESPNU during the FCS Selection Show.
In an interview during the selection show, Greg Seitz, the chair of the selection committee and the athletic director at Jacksonville State, said SIU's lack of quality wins kept them out.
"The things that really came out at the end with Southern Illinois, they were 0-4 against teams that were in the field," he said. "They finished in a three-way tie for third in their league, and the two teams that they were tied for, they lost to. Unfortunately, their body of work just wasn't enough to get them in the field."
SIU coach Nick Hill took issue with that, saying Chinn and Davis, two of his team's best players, were injured when the Salukis lost close games to South Dakota State, the No. 7 seed in the bracket, and Illinois State. The Salukis lost 28-10 at SDSU and 21-7 at home to Illinois State. Hill admitted if the Salukis had beaten either of those teams or Southeast Missouri State in the opener, they probably would have been in the field, but also said the win over UMass should have carried more weight.
"You should be rewarded for that. Not for losing. Our league is tough enough," Hill said. "You're going to get quality games, ranked opponents, up and down our league. Ultimately the Week 1 loss at SEMO is probably the toughest loss on our schedule. They're a nine-win team, OVC champions. We don't have a bad loss on the schedule, and some of these teams that are gettin' in are losing to non-playoff teams. Every loss on our schedule is either to an FBS school, that's a bowl team, or a team that's in the playoffs."
Three other teams without a win against a team in the playoffs got at-large bids. Furman (8-4), which played one non-Division I team, lost its only game against a member of the playoff field 24-7 (at Wofford Nov. 16). Albany (8-4) lost 38-35 at Monmouth in its only game all year against a team that was in the field, and dropped games to 6-6 Maine and 5-7 Richmond. Kennesaw State (10-2) won 10 games and was ranked in the top 15 most of the year, but beat two non-Division I teams to get there and was defeated 45-21 by Monmouth at home.
"Leave no doubt. We can't leave no doubt to anyone else," SIU offensive guard ZeVeyon Furcron said. "We know what we have to do to be a playoff team. We can't leave it up to other people, because we saw how that turned out, so we gotta come back to work and pick right back up where these seniors left off. And that's my job my senior year, to get us back to where we need to be." 
Top-ranked North Dakota State (12-0), the regular-season champion of the MVFC, was awarded the top seed in the playoffs. Colonial Athletic Association (CAA) champ James Madison (11-1) was the second seed, followed by No. 3 Weber State (9-3), No. 4 Sacramento State (9-3), No. 5 Montana State (9-3), No. 6 Montana (9-3), No. 7 South Dakota State (8-4) and No. 8 Central Arkansas (9-3).
Two other Valley teams got at-large bids, Northern Iowa (8-4) and Illinois State (8-4). The Panthers host Pioneer League champ San Diego (9-2), while the Redbirds play at Southeast Missouri State (9-3) Saturday. South Dakota State will host the Northern Iowa-San Diego winner, while the winner of Illinois State-Southeast Missouri State will go to Central Arkansas Dec. 7.
SIU became just the second team from the MVFC to go 5-3 or better in league play to be left out of the playoffs in the last five years. Since the FCS playoffs expanded to 24 teams in 2013, 25 MVFC teams had finished 5-3 or better in league play. Twenty-one of them made the bracket, including 21 of the last 22 in the past five years. Indiana State went 7-4 overall and 5-3 in the MVFC in 2018 and didn't make the postseason, but the Sycamores only had six Division I wins because the opened the season with a 49-0 win over Division II Quincy.
Be the first to know
Get local news delivered to your inbox!