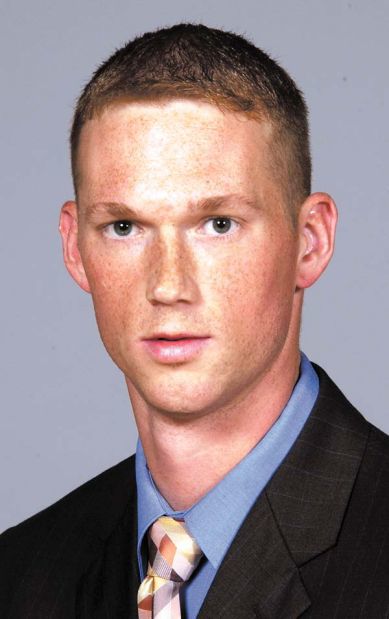 CARBONDALE — To fix an unusual program, Southeast Missouri State turned to an unusual candidate in late March.
Former Saluki Brad Korn, an assistant coach at Kansas State the last five years, was hired to rebuild the Redhawks' men's basketball team. Korn, a 6-foot-9 forward who helped the Salukis reach three straight NCAA Tournaments as a player and three more on the coaching staff, helped the Wildcats to three appearances in the Big Dance between 2017-19. Last season Kansas State finished last in the Big 12 at 3-15, and went 11-21 overall.
SEMO was even worse, going 7-24 overall and 3-15 in the Ohio Valley Conference. The Redhawks missed the eight-team conference tournament for the third straight year and fourth time in the last five years. Coach Rick Ray was let go after five seasons and a 51-104 record (27-59 in the OVC). Korn, 38, saw a lot of potential in Cape Girardeau.
"You always look at fit and opportunity with any job. For me, the fit was right with me, the region, with (athletic director Brady) Barke, President (Carlos) Vargas, their vision and what type of program they want," Korn said. "And, obviously, the community's support. Everybody wants to be a head coach, and kind of with the ups and downs with my career, the places I've been, I felt like I was ready for the next challenge. At the same time, I didn't want to do this just to say I did it."
Korn, the sixth head coach for the program since 2000, comes from an unusual background. He played as a true freshman at SIU in 1999 under current Kansas State coach Bruce Weber because of a need for bigs, and redshirted as a sophomore. He played in 121 games between 1999-2004, helping the Salukis win 25 games as a senior. A member of the Missouri Valley Conference's Most Improved Team, he averaged 9.7 points, four rebounds and 1.9 assists per game for a squad that went 17-1 in the league in coach Matt Painter's lone season.
"He's been on top of the mountain, and he's been in the bottom of the Valley, but through it all, he's come out prepared," Barke said at Korn's introductory press conference. "He embodies what this region is all about. He's an honest, hard-working person that uses failure and criticism to fuel his drive to be better. He's self-made, and that's what we need to lead our program into the future."
Korn helped SIU continue its streak of consecutive NCAA Tournament appearances as a graduate assistant under Chris Lowery for his first three seasons. He was promoted to assistant coach in 2006. The Salukis made the NIT in 2008, but missed the postseason in his last four years there. Korn went with Weber to Kansas State in 2012, helping the Wildcats to a 27-win season and their first Big 12 regular-season title in school history as the director of basketball operations.
He then went to Missouri State to work under Paul Lusk. The Bears' 2014 squad won 20 games and played in the Collegeinsider.com Tournament (CIT), their last postseason appearance.
At Kansas State, the Wildcats reached the NCAA Tournament three straight years before winning 11 games last season. Korn is SEMO's first head coach since Scott Edgar in 2006 that was an assistant coach the previous year. Edgar, who had been a head coach before at Murray State and Duquesne, was an assistant at Tennessee when he took over the program.
Dickey Nutt was the head coach at Arkansas State when he was hired by the Redhawks in 2008. Ray came from Mississippi State in 2015.
Korn, who helped SIU to its first NCAA Tournament appearance in seven years in 2002, has been through 12 20-win seasons and three 20-loss seasons. He likened some of SEMO's challenges today to what he and the Salukis faced in the early 2000s.
"Even when I came to SIU in 1999, when coach Weber came, there were so many shortfalls compared to where it is now," Korn said. "You're talking about the Reese's Pieces seats, McAndrew Stadium was about to crumble. It's kind of the same thing here. The thing that SIU always had was the history, but there were so many shortcomings in terms of gear, travel, all the stuff people equate to other things than winning. The way coach Weber, coach Painter, coach (Rodney) Watson, Jack Owens, coach Lusk, went about it, none of those things were excuses why you couldn't win, because at the end of the day those are not reasons you win or lose. Being able to do more with less is definitely something we're going to have to do here, but it's not something I'm scared of doing.
"To me, it's just more of a challenge."
SEMO has had only two 20-win seasons since moving to Division I in 1991, but achieved double-digit wins in eight of the last 10 years. Retention, not necessarily recruiting, has been one of the program's biggest hurdles to success. After sophomore guard Alex Caldwell transferred to North Carolina Central, it marked the third straight season the Redhawks lost their leading scorer. Ledarrius Brewer transferred to East Tennessee State last year and Denzel Mahoney jumped to Creighton two years ago.
Sophomore forward Sage Tolbert, the team's leading rebounder and third-leading scorer last season, left for Temple, and one of the team's projected six seniors, 6-7 forward Isaiah Gable, went to Division II Charleston (West Virginia).
Korn signed a five-year contract, and has high hopes for the program for a number of reasons.
"To other people it's doom and gloom and it hasn't been done before, and it screams opportunity to me," Korn said. "We have a great facility here in the Show Me Center. We have a great city in Cape. We have a great region. People love basketball here. And other teams are winning here, football, women's basketball. There's great people in place. There's a fan base that wants a winner, and to me, it's putting together a roster and a coaching staff that believes in the same vision and the same values that I do."
Be the first to know
Get local news delivered to your inbox!