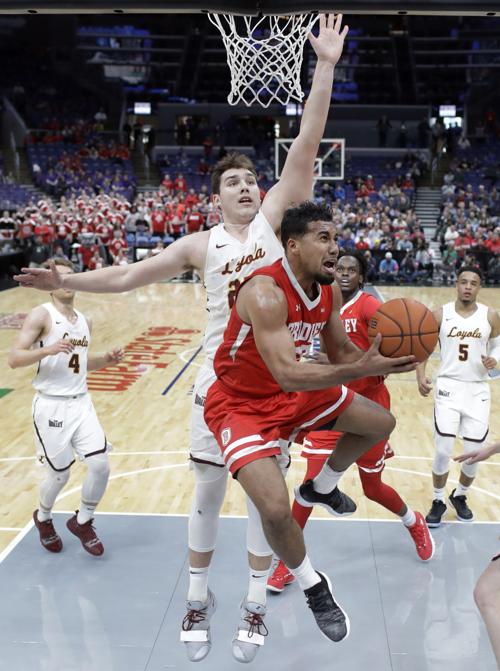 Northern Iowa and Loyola could lead another two-horse race for the Missouri Valley Conference regular-season title this season, but when it comes to the most important four days of the year, expect more turmoil.
Maybe not to the degree we saw in March, when Drake became the first team under the current 10-team format at Arch Madness to knock off the top seed in its first game when it defeated Northern Iowa in the quarterfinals. Valparaiso followed with something almost as impressive, clipping second-seeded Loyola in overtime that same day. The Crusaders made it all the way to the finals as the 7 seed, losing to fourth-seeded Bradley. The Braves won the MVC Tournament for the second straight season after not winning it for 31 years before that, but lost two critical pieces of that squad, longtime point guard Darrell Brown, gritty sharpshooter Nate Kennell and big center Koch Bar.
Bradley coach Brian Wardle, who is aiming for his fourth straight 20-win season, returns forward Elijah Childs (14.8 points, 8.7 rebounds per game last season), a league player of the year candidate, and guard Danya Kingsby (7.2 ppg., 2.8 rpg., 68 assists, 59 turnovers). The Braves also return two Division I sitouts who are expected to make a big impact, Terry Nolan Jr. from George Washington and Kevin McAdoo from Eastern Michigan, added UMass transfer Sean East, and get Ja'Shon Henry, Ari Boya and Antonio Thomas back from last season's 23-11 squad that was destined for the NCAA Tournament.
"(Nolan and McAdoo) got a great feel for our system, our culture. Very talented. Quick, fast, can playmake, can guard," Wardle said. "Very talented players, and with the addition of Sean East and Danya Kingsby being back, Antonio Thomas and Ville (Tahvanainen), I like our guard play. We're a loud group this year. We've very vocal, a very high, competitive mindset."
Northern Iowa, the Valley favorite by just 21 points over Loyola in the preseason poll, return two first team all-conference picks in MVC Player of the Year A.J. Green (19.7 ppg., 3 apg.) and junior forward Austin Phyfe (11.2 ppg., Valley-best 8.2 rpg.). Senior guard Trae Berhow (12.5 ppg., 5.7 rpg., 44.6% from 3-point range) started all 31 games, averaged 33.1 minutes per game, and was third in the MVC in 3-point shooting.
The Panthers added some perimeter shooting in two freshmen, redshirt freshman Evan Gauger and true freshman Bowen Born, the 2020 Iowa Gatorade Player of the Year. Coach Ben Jacobson is also excited about having a healthy Tywhon Pickford back, who could help offset the loss of MVC Defensive Player of the Year Isaiah Brown.
"What Isaiah Brown did the last two years, and in particular maybe this past year, is something Ty is looking forward to," Jacobson said. "Ty had that great freshman year, one of the best our league has seen from a rebounding standpoint, and injuries slowed him down his sophomore year, and then he had some good moments for us this past year, but we're looking forward to Ty being much in the role of Isaiah Brown."
Loyola returns all five starters from last season's 21-11 squad that finished a game back of Northern Iowa during the regular season. The Ramblers also get guard Cooper Kaifes, a member of the 2019 MVC All-Freshman Team, back after he missed last season with a torn labrum. Loyola also has Marquise Kennedy, a member of the 2020 All-Freshman Team, Oakland transfer Braden Norris and sophomore guard Paxson Wojcik, but coach Porter Moser said all that experience won't mean much if his group is not driven.
"If we got everybody back and we're not any better, it's not going to mean anything because everybody in this league is gonna get better," Moser said. "We've gotta get better. We gotta get bigger. We gotta get faster, we gotta get better defensively. My hope is that we look stronger, faster, bigger, that we look better, and that's the challenge that we've had all year. It's hard to play 10 guys. It really is, so I'd really like to go lower and get into that."
Indiana State was fourth in the preseason poll, with senior guard Tyreke Key back for what could be his last pursuit of an NCAA Tournament berth (the NCAA passed a law earlier this year that will allow everyone an extra year of eligibility, but it's not clear who will pursue that). Sycamore coach Greg Lansing, who has five wins over ranked teams, the most in program history, enters the season 17 victories short of eclipsing Duane Klueth's record of 182 set between 1955-67.
SIU returns two starters off last season's 16-16 squad that finished fifth in the MVC, sophomore guards Marcus Domask and Lance Jones. Domask, a 6-6 guard/forward, was the MVC Freshman and Newcomer of the Year. Jones was one of the Salukis' most clutch players the last third of the season. He averaged 18 points a game in their final six games, shooting 55% from the field. Jones scored the last eight points of a 64-60 overtime win at Evansville.
A year after adding 10 newcomers, the Salukis have nine this year, if you include walk-on guard Chris Cross and sitout guard Ben Harvey. Harvey, a 6-5, third-year sophomore, averaged 10.2 points per game as a freshman at Eastern Illinois. He scored 10 or more points 19 times in 32 games. 
"Ben's kind of continuing to pick up where he left off last year during his redshirt year," SIU coach Bryan Mullins said. "He's gotten stronger. He's been healthy since the end of the summer and through the fall, so we're gonna look for him to play a big role for us this year."