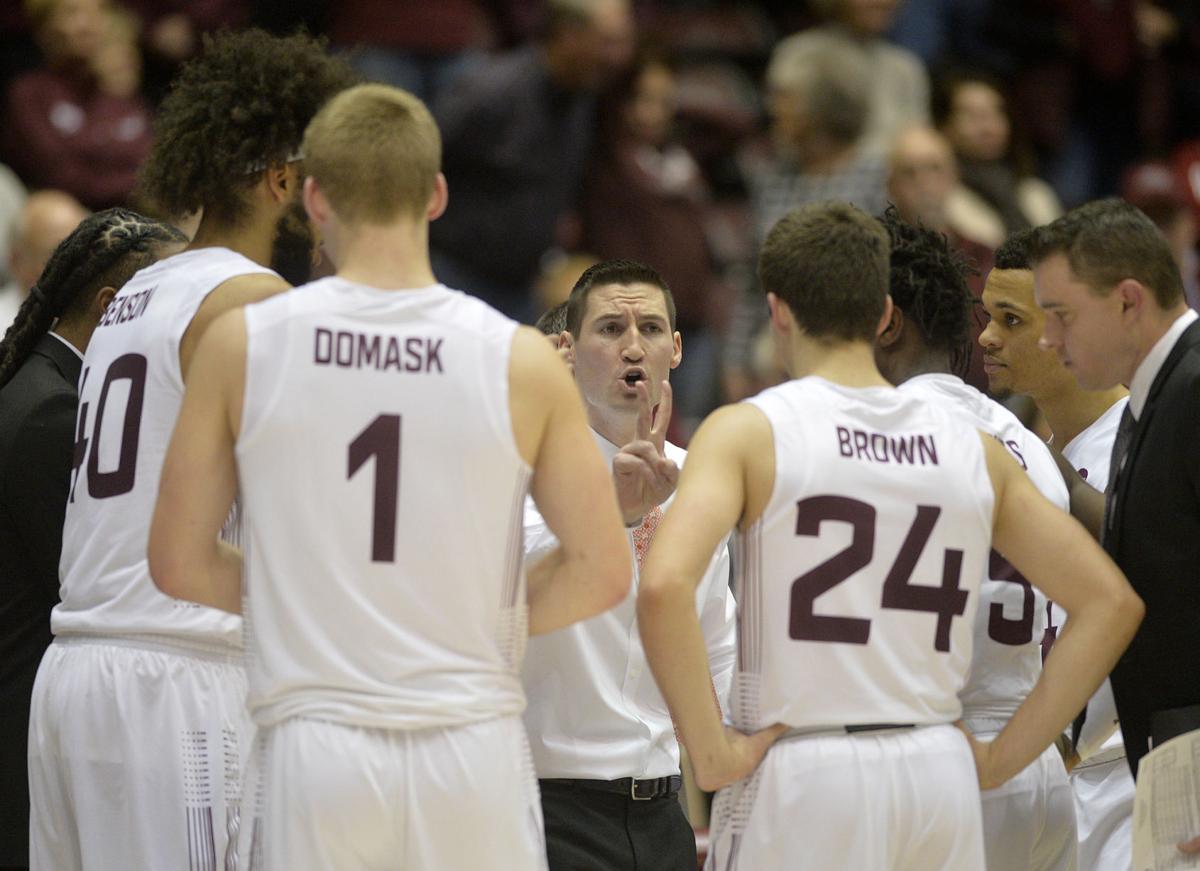 CARBONDALE — Strength of schedule is going to be even tougher for Missouri Valley Conference teams to prove this season, league coaches said Thursday.
The coronavirus delayed the start of the men's basketball season to Nov. 25, and pushed off critical neutral-site games against Power Five schools that were scheduled weeks ago. Games that could help the Valley snap a four-year stretch of only one bid to the NCAA Tournament. With less than 45 days until tipoff for the 2021-22 season, several teams in the Valley are still in search of teams to play before the conference schedule begins Dec. 30.
"It is going to be a challenge, in terms of getting the right games, and enough games, across our league, to get our league in a better position to get multiple bids to the NCAA Tournament," said Northern Iowa coach Ben Jacobson, whose squad was picked to win the league in the preseason poll released Thursday. "A couple things I would say about that. It was a challenge a year ago, it was a challenge five years ago, and it's going to be a challenge next year, right? COVID hasn't necessarily changed that dynamic a whole lot, because that will remain a challenge for our league, and then the other piece is we don't know what that's going to look like come March."
The Panthers, who return three starters from last season's 25-6 squad, were hopeful of an at-large bid to the Big Dance in March before the coronavirus canceled the tournament. UNI won the MVC regular-season title by a game over Loyola but lost its opening game at the league tournament in St. Louis to eighth-seeded Drake. The Panthers were receiving votes in both of the major top-25 polls and had the Valley's only win over a top-25 team, a 79-76 victory over at No. 23/24 Colorado last December. 
A.J. Green (19.7 points per game), a junior guard who was the MVC Player of the Year last season, is one of three returning starters for UNI. Senior forward Austin Phyfe (11.2 ppg., Valley-best 8.2 rebounds per game) joined Green, the preseason Player of the Year, on the preseason first team. Senior guard Trae Berhow (12.7 ppg., 5.7 rpg.) started all 31 games last season and was one of the top 3-point shooters in the Valley. Berhow was third in the league in 3-point shooting (44.6%) and fourth in triples (70). 
Jacobson said UNI has games at Richmond, at Marshall, and against New Mexico State at a neutral site. The 2020 MVC Coach of the Year said he hopes to wrap up a spot at Nebraska's multi-team event Nov. 25-Dec. 2 that is scheduled to include LSU, Oklahoma State, Nevada, San Francisco, Western Kentucky, Illinois State and Colorado State, according to Stadium's Jeff Goodman. 
Indiana State was picked fourth in the preseason poll and returns first team all-conference guard Tyreke Key (15.6 ppg.) and two other starters, forward Jake LaRavia (9.4 ppg., 5.9 rpg.) and center Tre Williams (7.2 ppg., 4.2 rpg.). The Sycamores are still looking for games. 
"Scheduling has always been the worst part of the job. It's even worse now," ISU coach Greg Lansing said. "I always say that people lie more in scheduling than they do in recruiting." 
The MVC features the talent and experience that usually leads to multiple bids to the NCAA Tournament. Four of the league's five first team all-conference players are back (Valparaiso's Javon Freeman-Liberty transferred to DePaul), as well as SIU guard Marcus Domask (13.6 ppg., 5.2 rpg.), the league's Freshman and Newcomer of the Year last season. Loyola, which finished a game back of Northern Iowa last season, returns five senior starters from a 21-11 squad that was close to an NIT bid. Bradley, which won the last two MVC Tournaments, returns all-conference forward Elijah Childs but lost guards Darrell Brown and Nate Kennell.
UNI (426 points) received 30 of 44 first-place votes to outdistance Loyola (405 points) in the preseason poll. The Ramblers received 13 first-place votes. Third-place Bradley (341 points) received the other first-place vote, and was followed by Indiana State (282), SIU (235) and Missouri State (210). Drake (207) was seventh, Valparaiso was eighth, Illinois State was ninth, and Evansville was last after going 0-18 in conference play last season.