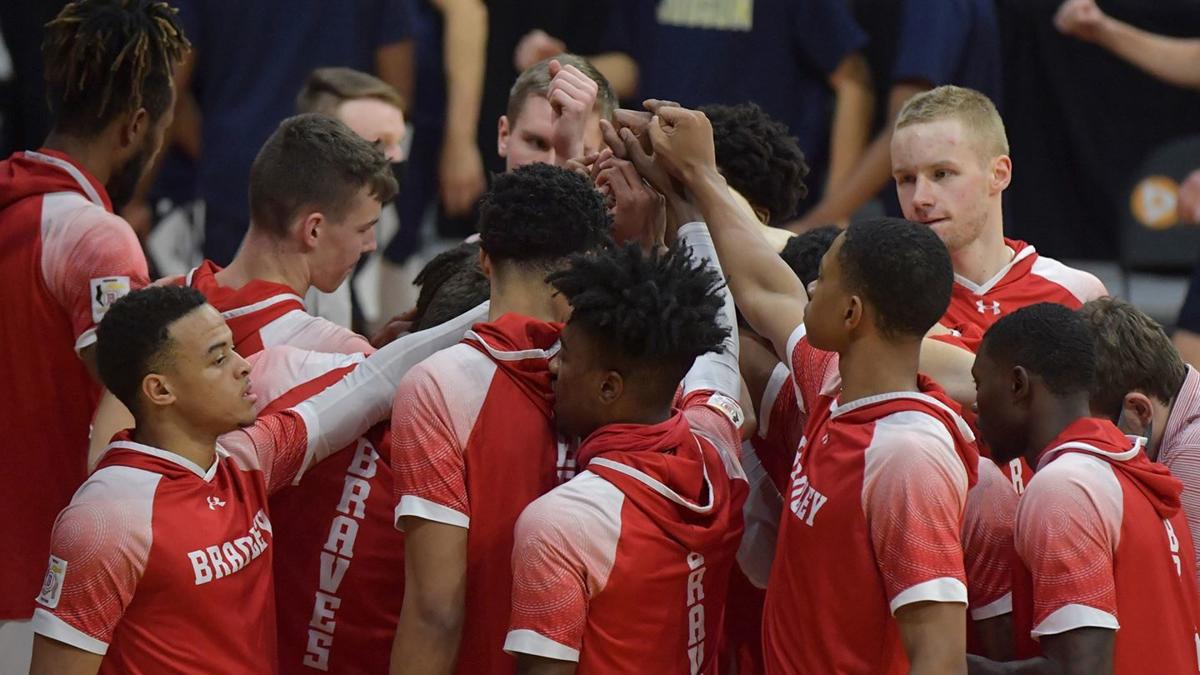 Welcome back, Valparaiso and Bradley. After sitting out the first two Missouri Valley Conference weekends due to COVID-19-related issues, the Crusaders and Braves are on schedule to make their league debuts Saturday and Sunday, respectively.
Valparaiso (3-5), which hasn't played since losing at Toledo Dec. 19, 2020, opens MVC play Saturday at home against Missouri State (6-1, 3-1 MVC). The Crusaders haven't practiced with their full roster since before Christmas, coach Matt Lottich said Tuesday, but he also said it's all par for the course.
"I think our team's been shut down four times. We have individual players that have been shut down as many as seven times," he said. "Is it difficult? Absolutely. It's difficult. But this is how this season is going to go."
Bradley coach Brian Wardle said the break kind of put his program in the shadows a bit, as Drake (13-0, 4-0) continued its undefeated streak and Loyola (7-2, 2-0) rose to the top of the standings with a weekend sweep of Illinois State (3-5, 0-2). The Braves come off a last-second loss at No. 14 Missouri on Dec. 22, 2020, and have won the last two MVC Tournaments.
"It's built a huge chip on my shoulder, and a huge chip on my players' shoulders. No one talks about Bradley again. It's great. It's awesome," Wardle said. "We're hearing about how great all these other teams are, so, we're lookin' forward to competin'. It's amazing how quickly people forget, but we'll be all right, though."
Bradley is scheduled to open MVC play at Northern Iowa (2-7, 1-3) Sunday at 3 p.m. (ESPN+) and Monday at 7 p.m. (MVC-TV). The Panthers agreed to move the series back a day to give the Braves at least one day to practice and prepare after they returned from quarantine, Wardle said.
• Valley women No. 8: While the MVC men are without a win over a top-25 program yet, the women are off to a big start this season.
Valley women's teams are 2-2 against top-25 teams and rank eighth in the first NCAA NCAA Evaluation Tool (NET) conference rankings. The league, which has four teams in the top 100 of the NET (No. 25 Missouri State is 27th), is behind the ACC, SEC, Big Ten, Big 12, Pac-12, MAC and Big East entering this weekend's games. Three Valley men's teams are in the top 100 of the NET entering this weekend, Drake (16), Loyola (58) and Missouri State (96). 
• Triple Trae: UNI senior guard Trae Berhow registered the program's first triple-double against Evansville on Jan. 2. Berhow scored 10 points, grabbed 10 rebounds and handed out 10 assists in the Panthers' 65-61 loss. It was the fourth triple-double in NCAA Division I this season and the 41st in recorded MVC history. 
Loyola center Cameron Krutwig had the last one in the MVC before Berhow's performance, scoring 22 points to go with 10 rebounds and 10 assists against Vanderbilt on Dec. 18, 2019.