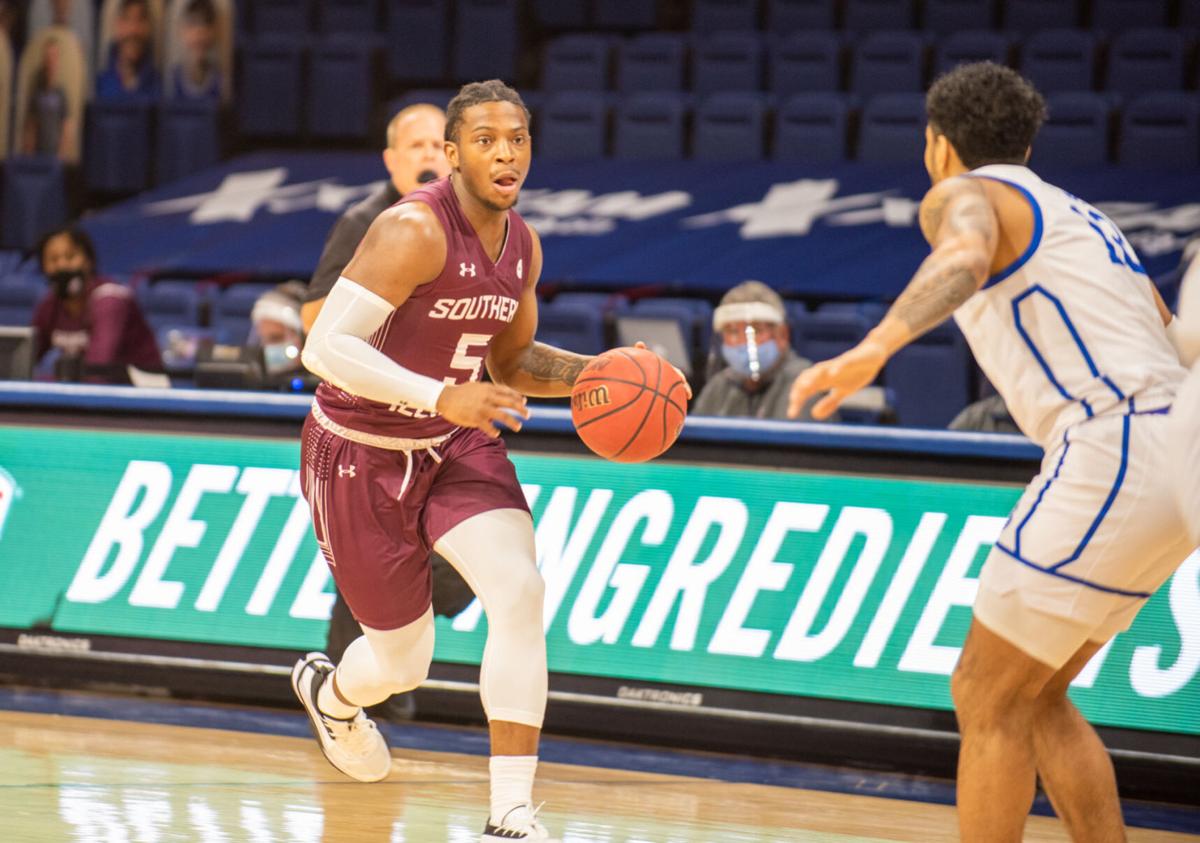 CARBONDALE — SIU's men's basketball team will have to wait a little longer to try to snap its first losing streak of the season.
The Salukis' scheduled home series against Valparaiso this weekend was called off Tuesday, according to a news release from the Missouri Valley Conference. The two-game set was called off because of some positive COVID-19 cases among SIU's Tier 1 personnel, which includes players, coaches and staff. The Salukis sat out last weekend after their series at Indiana State was called off for the same reason.
The Valley plans to re-schedule both series, according to the release. Additionally, Northern Iowa's game against undefeated Drake that was scheduled for Jan. 21 was postponed after some positive test results within the Bulldogs' program. Drake lost its scheduled series against Loyola last weekend because of some positive tests, which may have originated when the Salukis played the Bulldogs Jan. 3 and 4. Neither team has played since.
SIU (7-3) now hopes to play at Missouri State on Jan. 21. After a 7-0 start, the best since the 1947-48 season, the Salukis have dropped three straight. SIU lost at home against Evansville on Dec. 28, 84-72, and was swept at Drake, 73-55 and 86-55. The 31-point loss at the Knapp Center in Des Moines in Game 2 of the doubleheader series was the program's worst since coach Bryan Mullins took over last season.
Missouri State (8-1, 5-1 MVC), coached by Tamms native Dana Ford, has won four straight games since splitting its series at Northern Iowa on Dec. 27-28, 2020. Ford said the team was searching for a new opponent before the 21st, since its scheduled series this weekend against Drake was postponed. MSU's 8-1 start is its best since the 2013-14 season.
Fifteen MVC games have been postponed so far, with six of them rescheduled. Twenty-two have been played. 
• Ben and Barry: Northern Iowa coach Ben Jacobson notched his 155th career MVC win when the Panthers topped Bradley in the first game of their two-day, two-game series in Cedar Falls, Iowa. With that victory, Jacobson tied former Missouri State and SIU leader Barry Hinson for fourth in league history in conference wins. Jacobson's 294 career wins rank fourth all-time in MVC history.
Notably, two other MVC coaches are in the top 20 all-time in wins. Loyola's Porter Moser is sitting on 199 wins as a member of the league, with the Ramblers and Illinois State, which is 10th best all-time. Indiana State coach Greg Lansing picked up win No. 170 when the Sycamores beat Loyola 76-71 Sunday in Terre Haute, Indiana. His 170 victories are 17th all-time in MVC history, and 13 away from tying Duane Klueh's program record of 183 wins.
• Still perfect: Even though Drake hasn't played since Jan. 4, the Bulldogs (13-0, 4-0 MVC) are still one of six Division I teams without a blemish on their record. They are still the only team in the country with 13 victories. Top-ranked Gonzaga is 12-0, No. 2 Baylor and Winthrop are both 11-0, and No. 5 Michigan is 10-0. The Citadel is 8-0.
Drake is the 13th team in the 114-year history of the MVC to start 13-0. Eight of the previous 12 reached the NCAA Tournament, and four made the Final Four.