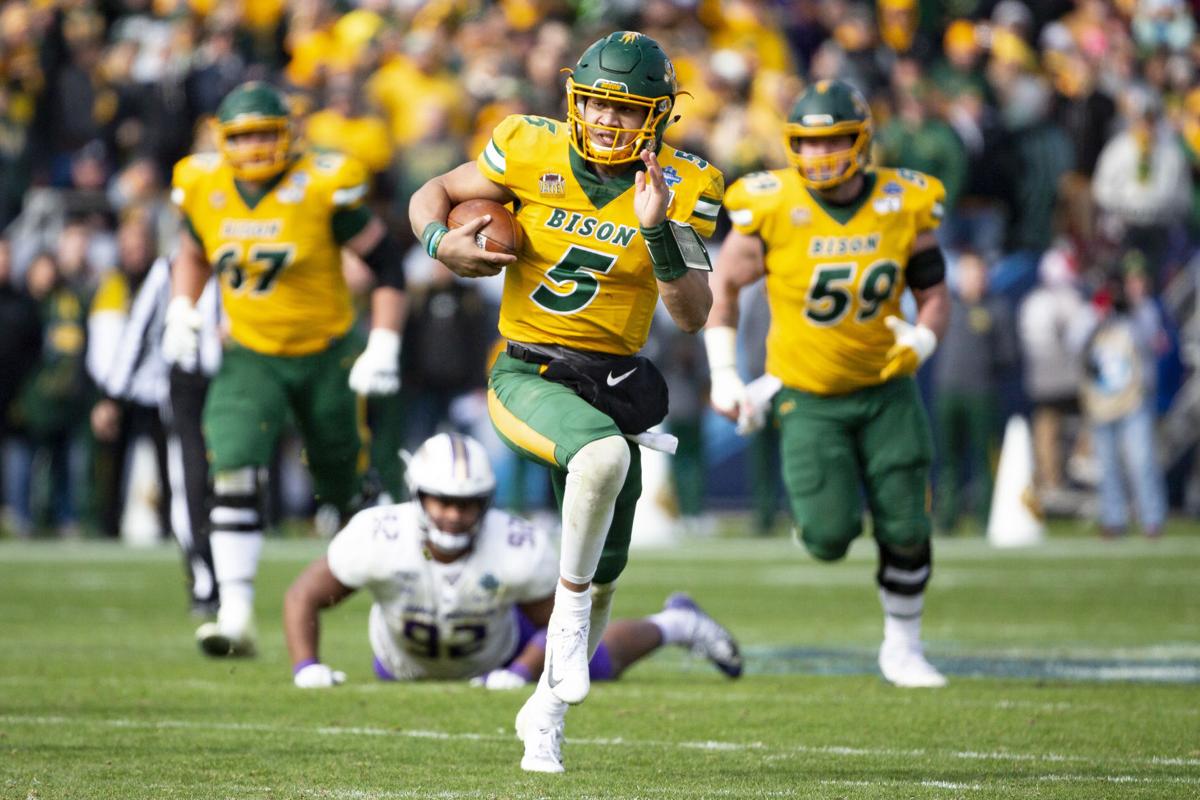 CARBONDALE — North Dakota State, the three-time defending FCS national champions who have won 37 straight games, joined Missouri State in the fall football schedule on Monday.
The Bison, who were ranked No. 1 in the country in every major preseason poll, will host Central Arkansas Oct. 3 as part of a three-game contract with the Bears. The television arrangements for the game haven't been announced. NDSU joined Missouri State as the only Missouri Valley Football Conference programs to have a game on the schedule this fall. The league, like the other 12 in the FCS, moved their conference schedule to the spring earlier this month.
NDSU athletic director Matt Larsen said the game was important to his team's development this fall.
"Due to the challenge completing a full non-conference schedule, we took a pause to consider all our options for this fall, knowing full well it could mean not having the opportunity to play," Larsen said in a news release. "Upon further consideration, coupled with recent information provided by the NCAA, we felt it was in the best interest of our football program to practice and play one game this fall."
Central Arkansas has made three FCS playoff appearances in the last four years, with 35 victories. The Bears, who were picked to win the Southland Conference after finishing tied for the regular-season title last year, return nine starters on each side of the ball. They went 9-4 overall and 7-2 in the league last year.
NDSU features quarterback Trey Lance, the first freshman or redshirt freshman to ever win the Walter Payton Award last season. Lance, projected to be a top-10 pick in the NFL draft next year, could be making his last appearance for the Bison when they take on Central Arkansas. The spring season, if it takes place, is expected to finish close to the draft. 
The game Oct. 3 at the Fargodome will be in front of less than 19,000 fans, as NDSU is expected to limit the seating to meet City of Fargo and public health requirements. There will be no tailgating, and fans will be required to wear a mask upon entering the building. 
NDSU and Central Arkansas will also play in Fargo on Sept. 16, 2023, and in Conway, Arkansas, on Sept. 20, 2025, as part of the three-game deal.
"With the ever-changing landscape of college football and new information coming daily from the NCAA and American Football Coaches Association, we have kept the health and well-being of our players as the top priority," NDSU coach Matt Entz said. "Our No. 1 goal is to compete for a Missouri Valley Football Conference championship, and it is critical for our development to practice and play early this fall."
Missouri State has three games on its fall schedule, at No. 5 Oklahoma on Sept. 12, at Central Arkansas on Sept. 26 and at home against the Bears on Oct. 17.  
Central Arkansas has an ambitious schedule this fall, nine games. The Bears open the college football season Saturday against Austin Peay in the Guardian Credit Union FCS Kickoff in Montgomery, Alabama, at 8 p.m. Central Arkansas then plays at UAB on Sept. 3, at Arkansas State on Sept. 19, hosts Missouri State on Sept. 26, at NDSU on Oct. 3, at Eastern Kentucky on Oct. 10, at Missouri State on Oct. 17, at home against Eastern Kentucky and at Louisiana-Lafayette on Nov. 21. 
Be the first to know
Get local news delivered to your inbox!