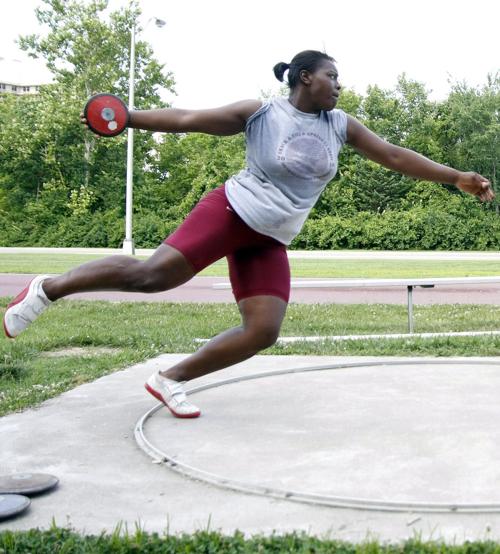 During her undergraduate years at Southern Illinois University, Jeneva McCall (Stevens) spent time in the foyer of the SIU Arena studying the plaques of the SIU Hall of Fame inductees. She familiarized herself with the names and accomplishments of SIU's best athletes.
Friday night, McCall will unveil her own plaque. Although her resume is impeccable — McCall is a three-time NCAA champion, winning the 2010 discus title and the 2012 weight and hammer throw titles, a 13-time All-American and 15-time MVC champion — she said her selection to the Hall of Fame doesn't seem real.
"The entrance to the basketball arena, I used to stare at the wall and not really know how to get on the wall," she said. "I would stare at the wall and read the bios. It's very surreal.
"When I won my first NCAA title, I did the interviews in that hallway. I thought that was cool, I was OK with that. It is very surreal. I get my name up there, my picture."
And, the news of her selection couldn't have come at a better time.
McCall was in Jamaica competing when Southern Illinois athletics director Jerry Kill called to inform her of the selection. Because cell phone service was spotty, she didn't get the call, but got the message to call Kill.
She was reluctant to return the call. McCall had spoken to Kill prior to the competition and told him that her grandmother had been stricken with cancer. She assumed Kill wanted to discuss her grandmother's illness.
McCall learned the true nature of the call while speaking to her former coach Connie Price-Smith.
"I had no idea I was being inducted," McCall said. "It was coach Connie who said something about calling coach Kill. She said something along the lines of congratulations. I was like, 'What is this about?' She gave it away and she wasn't supposed to."
The news of the selection brought McCall's SIU experience full circle. She wasn't able to attend her SIU graduation because she was competing in the Missouri Valley Conference meet — a meet in which she was named the most valuable athlete. When she got the news, she took that certificate out of the case where it had been stored.
"I chose to represent my team instead of walking across the stage," she said. "It was nice to see it again."
McCall said she never considered any school but SIU. When she got to Carbondale, her career unfolded just as she had expected.
"According to coaches' (John and Connie Price-Smith) legacy, it was going to happen," she said. "Winning the NCAA title, in a way, it was expected because that was the kind of discipline that was expected of me. To me, I was executing a plan. It was a culture."
"The track people used to called Track Phi Track. We used to joke about it in school. Everybody else had other social things to do. We didn't have time for fraternities and sororities. We had our own little thing."
Though all her triumphs at SIU, there are a couple of memories that stand out for McCall. McCall won the NCAA discus title in 2010, but remembers taking the podium to receive her fifth-place medal in the hammer throw. She shared the podium with three teammates — Gwen Berry was fourth, Olga Ciura seventh and Sasha Leeth eighth.
"When I looked around at NCAA in 2010 when the four girls made the podium, when I got on the podium I looked around and saw maroon," she said. "That meant so much to me, I was a part of something without ever knowing it had never been done in the throws."
And, McCall admits she carries a bit of SIU with her every day.
"I picture me walking across our old field (McAndrew Stadium) and picking up a chunk of concrete, and then walking over to the other practice field," she said "I still have that little chunk of concrete."
And Friday night, McCall's place in place in SIU history will be cemented forever.
618-351-5088
On Twitter: @LesWinkeler​