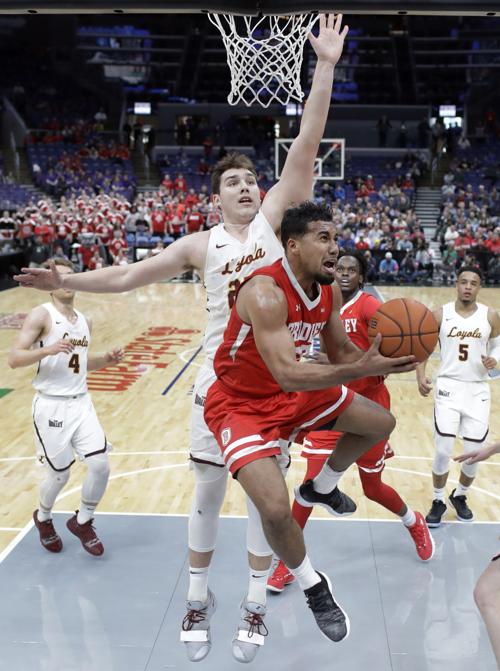 A former Saluki hits a game-winner, tune in to the 1993 MVC Tournament championship game Friday night, and some rare air for Loyola center Cameron Krutwig, all in today's Saluki Basketball 5@5.
For the best Salukis coverage around and the latest news from the Missouri Valley Conference, tune in to the Saluki Basketball 5@5 every day Monday through Friday during the season at thesouthern.com. To subscribe to The Southern Illinoisan, go to thesouthern.com or call 866-735-5912. Digital-only packages start at $3 for 13 weeks, and print and digital packages start at $20 a month. There is always more online!
No. 1 — Beane for the win: Darius Beane, a junior guard at Northern Illinois who started his career at SIU, hit a game-winning, 20-foot, step-back jumper for the Huskies Tuesday night against Akron. Beane's jumper with one second to go, only his second field goal on 11 attempts in the game, lifted NIU to a 67-65 win.
Beane, the younger brother of former Saluki Anthony Beane Jr., added eight rebounds, a team-high seven assists, a block and two steals. The Huskies (2-9, 1-5 Mid-American Conference) snapped a four-game losing streak. His father, Anthony Beane Sr., is an assistant coach at NIU.
No. 2 — Tune in Friday night: As part of a sponsored spot on 103.5 FM, Southern Illinois' ESPN Radio, you can re-live Rich Herrin and the 1993 Salukis' 70-59 win over Illinois State in the championship game of the MVC Tournament beginning at 6 p.m. Fans can also tune in at 1035espn.com if they can't get the local station.
SIU Hall of Famer Chris Lowery scored 10 of his 14 points at the free-throw line in that victory, one of four Salukis in double figures. Marcus Timmons and Ashraf Amaya BOTH had 11 points and 13 rebounds to help SIU capture the first of what was, and is, the first win of the only three-peat in MVC Tournament history. Mike VandeGarde's 16 points and nine boards led Illinois State.
No. 3 — Rare air for Krutwig: Krutwig joined an exclusive club this week, after Loyola (8-3, 3-1) split two games at Indiana State, clearing 1,500 career points, 800 rebounds and 300 assists. He joins Naismith Basketball Hall of Fame members Oscar Robertson, Larry Bird and Hersey Hawkins as the only players in MVC history to reach those three milestones.
Krutwig is the only active Division I player in the country with those three benchmarks.
No. 4 — Mosley, Mast earn weekly honors: Missouri State forward Isiaih Mosley and Bradley forward Rienk Mast were named the MVC player and newcomer of the week, respectively, on Tuesday by the league.
Mosley, a 6-foot-5, 201-pound sophomore, cleared the 20-point barrier for the seventh straight game in the Bears' sweep of Valparaiso on the road. Mosley averaged 29 points, seven rebounds and four assists a game in MSU's two victories. Mast, a 6-9, 240-pound redshirt freshman from the Netherlands, made the most of his first two collegiate starts in place of the injured Ari Boya. Mast scored 14 points in the Braves' MVC opener at Northern Iowa and put up 13 in the second game of the doubleheader series. He shot 50% from the field and 54.5% from 3-point range.
No. 5 — Salukis fall to 20th in Collegeinsider.com Mid-Major top-25 poll: SIU (7-3, 1-3) fell to 20th in the Collegeinsider.com Mid-Major top-25 poll Monday, after losing two games at Drake (13-0, 4-0) in a big way. The Salukis are off until at least Jan. 21 because of some positive COVID-19 cases. They were one of four MVC teams in the top 25.
Drake was third, behind Winthrop (11-0) and No. 1 Gonzaga (12-0), which got all 31 first-place votes from a nation-wide panel and was No. 1 in The Associated Press poll and coaches list. Missouri State (8-1) was 12th, Loyola was 15th and SIU was 20th. Bradley (7-4, 1-1) was just outside the top 25, at No. 26, receiving votes. Northern Iowa (3-8, 2-4) also received votes.