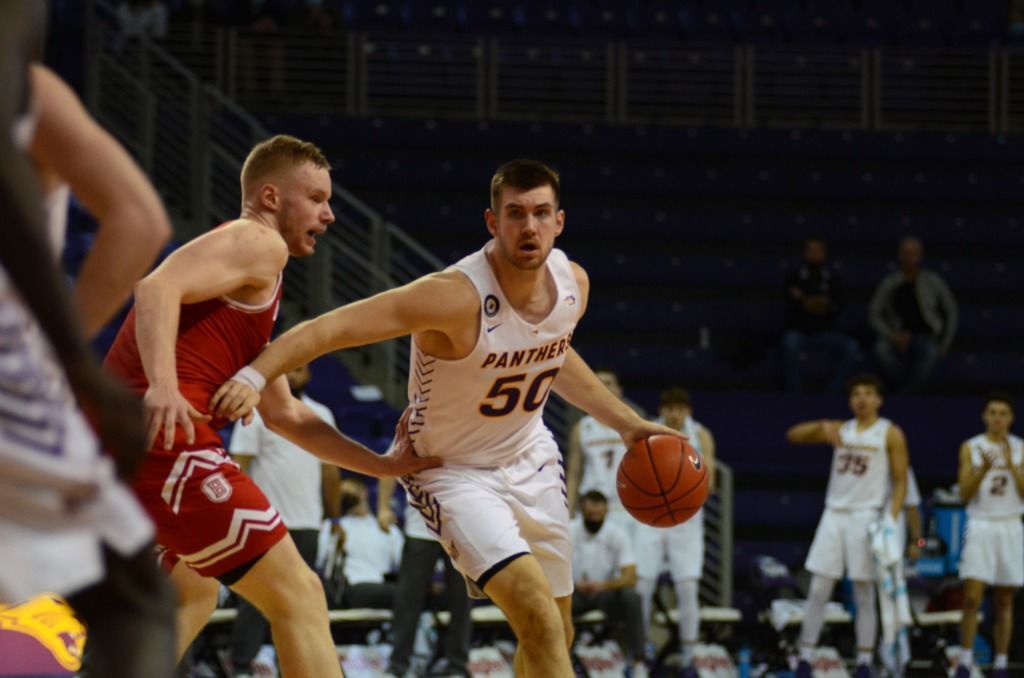 Get your Black Out Cancer jerseys now, Northern Iowa-Loyola hits the big time, and a former SIU assistant coach will lead an NBA G League team, all in today's Saluki Basketball 5@5.
For the best Salukis coverage around and the latest news from the Missouri Valley Conference, tune in to the Saluki Basketball 5@5 every day Monday through Friday during the season at thesouthern.com. To subscribe to The Southern Illinoisan, go to thesouthern.com or call 866-735-5912. Digital-only packages start at $3 for 13 weeks, and print and digital packages start at $20 a month. There is always more online!
No. 1 — Black Out Cancer jerseys up bids: Bidding is now open for the special Under Armour jerseys SIU's men's and women's basketball teams will wear in February as part of the Black Out Cancer games. Proceeds help the efforts of the Coach Kill Fund, which helps local families battling cancer.
To bid, go to salukisblackoutcancer.com Bidding for the men's jerseys ends Monday, Feb. 1, at 8 p.m. Bidding for the women's jerseys ends Monday, Feb. 8, at 8 p.m. The SIU men will wear the jerseys Saturday, Feb .13 (hopefully) against Illinois State at 3 p.m. The women's team is scheduled to wear its jerseys Wednesday, Feb. 24, against Missouri State in a 6 p.m. game.
No. 2 — UNI-Loyola hit the big time: One of the best league rivalries will hit the big time this weekend, with both of Northern Iowa's games at Loyola on ESPN's main networks.
Saturday's game between the Panthers (3-8, 2-4 MVC) and Ramblers (8-3, 3-1) in Chicago at 5 p.m. is scheduled to air on ESPN2. Sunday's matchup at Gentile Arena that is scheduled for 4 p.m. is scheduled to air on ESPN. Both games between these two went to overtime last season, with each home team winning. UNI won the regular-season Valley title by one game over Loyola.
No. 3 — Hankins hired by Fort Wayne Mad Ants: Tom Hankins, the associate head coach of the Salukis from 2012-15 under Barry Hinson, was hired as the head coach of the Fort Wayne (Indiana) Mad Ants of the NBA G League. He left to coach Division II Central Oklahoma, where he went 64-53 before joining the Indiana Pacers last year as an assistant coach for player development.
Hankins, 54, was a high school teammate of Pacers president of basketball operations Kevin Pritchard, according to the Journal Gazette in Fort Wayne. He will have two familiar faces on his roster to start the season. Former Missouri State forward Alize Johnson and former Bradley guard Walt Lemon Jr. are on the Mad Ants' roster for the upcoming season, which will start in the Orlando bubble Feb. 8. Eighteen teams in the G League are playing 15-game schedules in Orlando (several teams opted out). The top eight teams will compete in a single-elimination playoff.
No. 4 — Home, sweet home: MVC teams went 32-2 at home against non-conference opponents this season (94.1%), the best mark in league history since at least the 1975-76 season. In 2019-20, Valley teams went a combined 55-6 against non-conference opponents at home (90.2%), the same as in 2006-07.
This season, of course, has been different, with the majority of the league playing in front of only players' families. Home teams in league play are 13-9 through the first three weekends of the two-day, two-game series.
No. 5 — Salukis fall to 20th in Collegeinsider.com Mid-Major top-25 poll: SIU (7-3, 1-3) fell to 20th in the Collegeinsider.com Mid-Major top-25 poll Monday, after losing two games at Drake (13-0, 4-0) in a big way. The Salukis are off until at least Jan. 21 because of some positive COVID-19 cases. They were one of four MVC teams in the top 25.
Drake was third, behind Winthrop (11-0) and No. 1 Gonzaga (12-0), which got all 31 first-place votes from a nation-wide panel and was No. 1 in The Associated Press poll and coaches list. Missouri State (8-1) was 12th, Loyola was 15th and SIU was 20th. Bradley (7-4, 1-1) was just outside the top 25, at No. 26, receiving votes. Northern Iowa (3-8, 2-4) also received votes.