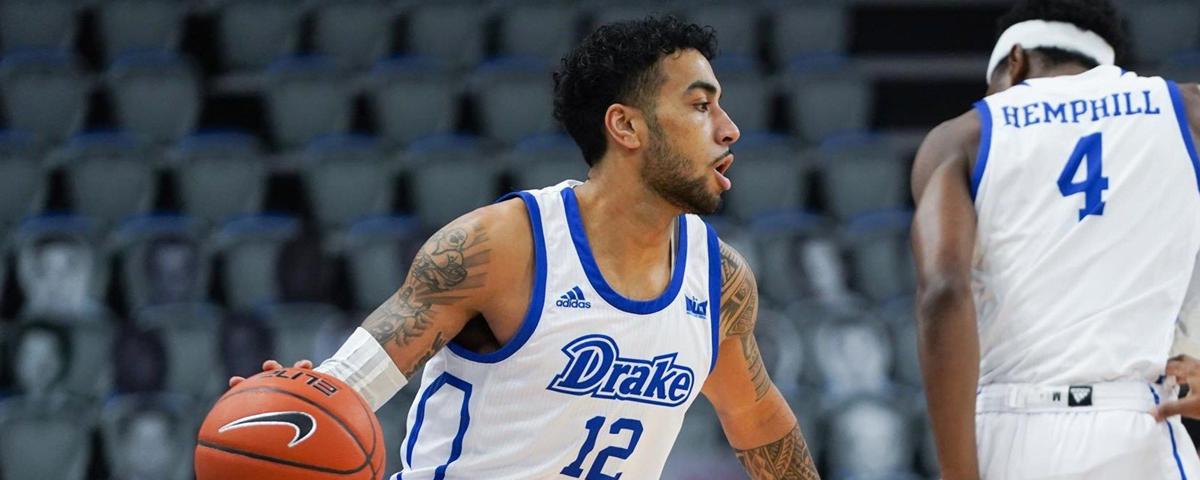 Drake braces for a "significant layoff," and it's Big Monday in the Valley, all in today's Saluki Basketball 5@5.
For the best Salukis coverage around and the latest news from the Missouri Valley Conference, tune in to the Saluki Basketball 5@5 every day Monday through Friday during the season at thesouthern.com. To subscribe to The Southern Illinoisan, go to thesouthern.com or call 866-735-5912. Digital-only packages start at $3 for 13 weeks, and print and digital packages start at $20 a month. There is always more online!
No. 1 — Drake braces for "significant" layoff: Off to its best start in school history, Drake is dealing with what coach Darian DeVries called a "significant" layoff after some players tested positive for COVID-19 shortly after the Bulldogs (13-0, 4-0 MVC) finished off a series sweep of SIU (7-3, 1-3) Jan. 4 in Des Moines.
"It'll be a fairly significant layoff, but hopefully we get that opportunity to get back out there again, and start having some fun whenever that time comes," DeVries said on a recent interview on one of ESPN's networks.
The Bulldogs were scheduled to play a team considered one of its top rivals for the MVC title, Loyola, on national television this past weekend but had to postpone the series. Drake also called off its scheduled series at Missouri State Dec. 17 and 18, and hopes to return to the court against Northern Iowa Jan. 21.
No. 2 — Big Monday in the Valley: Two weekend (weekday?) series conclude tonight, as Loyola (7-3, 2-1) plays at Indiana State (4-6, 1-4) at 6 p.m. on CBS Sports Network and Bradley (6-4, 0-1) plays at Northern Iowa (3-7, 2-3) at 7 p.m. on ESPN+. Indiana State and UNI both won Sunday night.
Tonight is Bradley's first look at Game 2 of a two-day, two-game doubleheader the MVC is doing this season.
No. 3 — AP poll notes: Former Saluki guard Aaron Cook and undefeated Gonzaga (12-0, 3-0 West Coast Conference) received 63 of 64 first-place votes from a national panel to stay atop The Associated Press poll on Monday. The Bulldogs next play Pepperdine (4-5, 0-0) Thursday. Second-place Baylor (11-0, 4-0 Big 12) got the other first-place vote. Villanova was third, Texas was fourth and Iowa was fifth.
Illinois (9-4, 5-2 Big 10) was 14th. Minnesota (10-4, 3-4), which features former Drake center Liam Robbins, was 23rd.
Drake received 42 votes, good enough for 32nd place.
No. 4 — Salukis to honor Herrin: SIU's players will wear "RH" patches on their jerseys to honor the late Rich Herrin, who died on Christmas Day at the age of 87. Herrin led the Salukis to 225 victories, including 111 in MVC play, with seven straight postseason appearances. Herrin led SIU to the only three-peat at the MVC Tournament in league history, winning 1993-95.
No. 5 — Home, sweet home: After missing the weekend series at Indiana State because of some positive cases for the coronavirus, SIU is back home (hopefully) for four of its next five games. The Salukis were 12-3 at home last season and are 5-1 at the Banterra Center this season.
The Salukis are scheduled to host Valparaiso (3-7, 0-2) Saturday and Sunday, both beginning at 3 p.m., and then host UNI Jan. 30 and 31. In between, SIU is scheduled to play the first of two games against Missouri State in 2020-21 Thursday, Jan. 21, on the road. That game at JQH Arena in Springfield, Missouri, is scheduled to air on the MVC-TV Network.