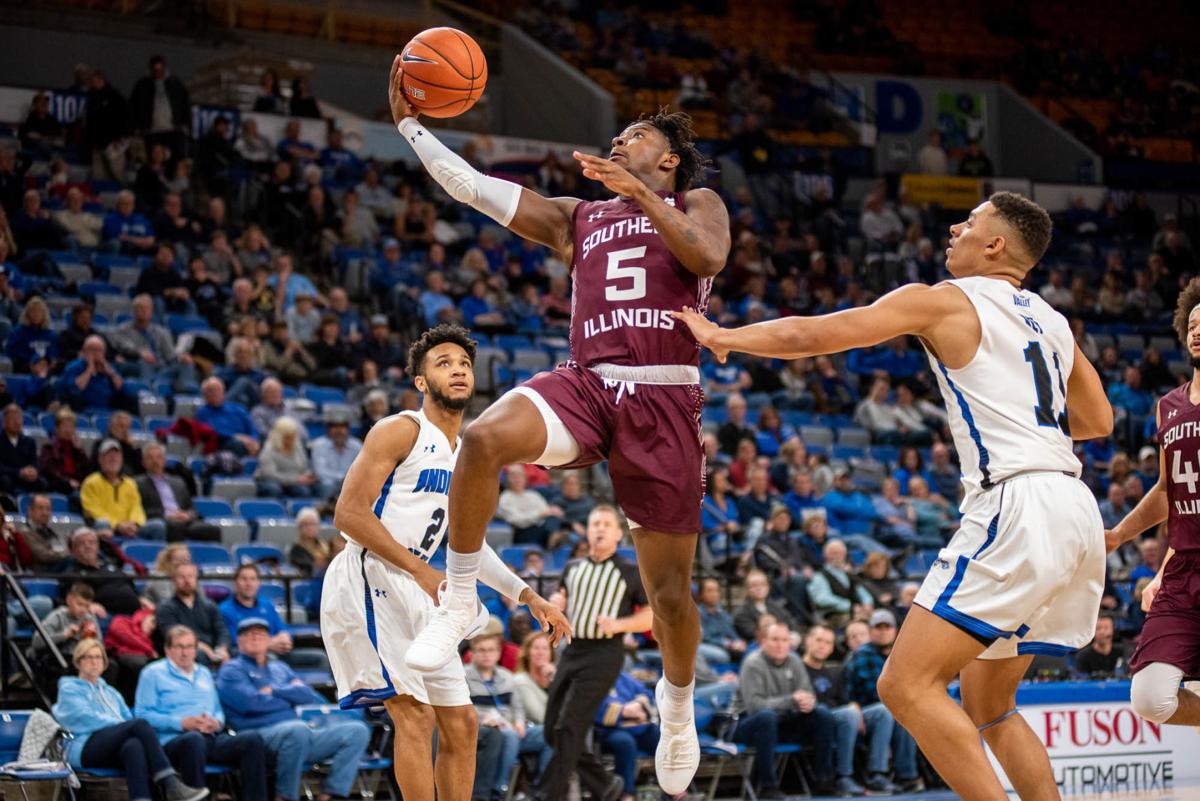 Saluki Basketball 5@5: ISU series off, 4 Valley coaches honored and some career numbers
In today's Saluki Basketball 5@5, the road trip to Indiana State is off, for now, four league coaches are honored by Silver Waves Media, and some career milestones are approaching for some of SIU's players.
For the best Salukis coverage around and the latest news from the Missouri Valley Conference, tune in to the Saluki Basketball 5@5 every day Monday through Friday during the season at thesouthern.com. To subscribe to The Southern Illinoisan, go to thesouthern.com or call 866-735-5912. Digital-only packages start at $3 for 13 weeks, and print and digital packages start at $20 a month. There is always more online!
No. 1 — Terredise will have to wait: SIU and Indiana State have two available weekends to make up their series that was supposed to take place this weekend. Both teams are off the weekend of Jan. 22-24 and Feb. 19-21, with some mid-week games near there.
The MVC announced SIU and Indiana State's weekend series at the renovated Hulman Center was postponed Friday afternoon due to some positive COVID-19 cases within the Saluki program. It's the second time this season SIU has lost games due to its own positive cases. The Salukis were originally scheduled to play three games in five days at the Louisville bubble event, but had to call it off a few days before they were supposed to compete.
This weekend's series was also significant because it would have gotten SIU closer to the NCAA-mandated 13 games it says it will require in order to compete in the NCAA Tournament. The NCAA could always alter those guidelines. The MVC has not released its guidelines in order to play in the Valley Tournament, if it will have any.
No. 2 — League coaches honored: Four MVC coaches were among the 40 coaches that are "rising," according to Silver Waves Media, which unveiled its list Thursday. To be considered, coaches had to be at their respective programs for at least two seasons, which excluded SIU's Bryan Mullins.
Drake's Darian DeVries, Northern Iowa's Ben Jacobson, Loyola's Porter Moser and Bradley's Brian Wardle were among the 40 rising coaches in 2020. Notably, Murray State's Matt McMahon and Niko Medved, a former coach at Drake who is now at Colorado State, were also on the list. DeVries has the Bulldogs off to a 13-0 start, and helped Creighton reach the NCAA Tournament 12 times in 20 years with the Bluejays. Jacobson, the longest-tenured coach in the MVC, was the 2020 MVC Coach of the Year, barely edging Mullins. Moser took the Ramblers to the 2018 Final Four. Wardle helped the Braves win the last two MVC Tournaments without being the top seed.
No. 3 — Keep that basketball: Forward Anthony D'Avanzo and guard Steven Verplancken Jr. are close to two career milestones, as soon as SIU takes the court again. D'Avanzo, a graduate transfer from Division II Lewis University, is five points shy of 1,000 for his career. He scored 927 in three seasons at Lewis. Verplancken, a sophomore guard from Division II Glenville (West Virginia) State that received immediate eligibility from the NCAA, is six points shy of 500 for his career.
No. 4 — Lansing will have to wait: Indiana State coach Greg Lansing, who is 14 victories away from becoming the school's all-time wins leader, is one victory away from No. 170. Lansing is 169-160 in 10 seasons, with a school-record 91 MVC victories. He has led the Sycmores to five wins over top-25 teams, more than anyone else in the program's history.
No. 5 — Weekend schedule: The first what-we-thought-was-going-to-be-a full MVC weekend of the season begins Saturday afternoon, with Missouri State (6-1, 3-1) playing at Valparaiso (3-5) at 1 p.m. in the Crusaders' Valley premiere this season. Illinois State (3-5, 0-2) takes on Evansville (5-5, 3-1) at 1 p.m. in Indiana.
Rest up for Sunday. Here's the four-game schedule:
Missouri State at Valparaiso, 1 p.m. (ESPN+)
Illinois State at Evansville, 1 p.m. (ESPN3)
Bradley at Northern Iowa, 3 p.m. (ESPN+)
Loyola at Drake, 5:30 p.m. (ESPN2)