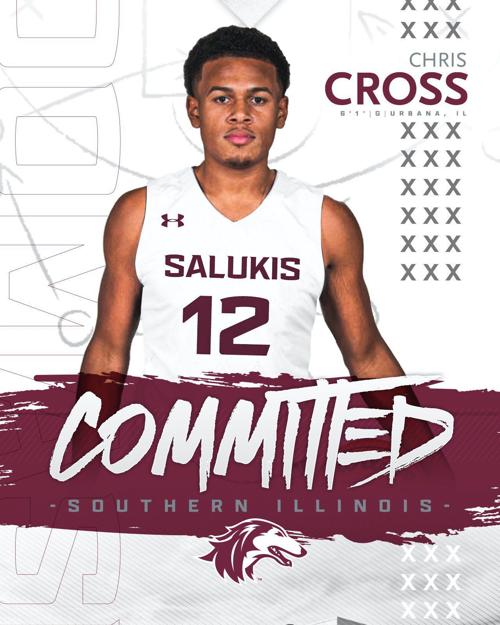 CARBONDALE — Dan Cross used to run a popular summer basketball camp in his hometown, but admitted he hasn't been back to Carbondale in almost eight years.
The former Carbondale High School star took the University of Florida to the 1994 Final Four and is in the Gators' Hall of Fame. Three of his four siblings live near him in the Orlando area, former Saluki Josh Cross, Leinad and his sister, Catherine, as well as his parents, Dan Sr. and Marjorie. Dan Cross runs the All Fundamentals basketball camp in Florida now, but after nephew Chris Cross agreed to walk on to the SIU men's basketball team for the 2020-21 season, he may be coming back to his roots this winter.
"I'm excited that this gives me a reason to come back to Carbondale and support SIU, and support Chris," Dan said.
Family is one reason Chris Cross, 18, ended up with the Salukis. Chris, who was born in Carbondale, used to visit Carbondale on holidays to see his grandparents when they lived here. His father, Joe, who played basketball at FIU and Illinois, worked in SIU's academic office while earning a master's degree in education. That opened the door to a legacy scholarship at SIU, and Chris was able to secure an academic scholarship, as well, reducing his costs for the upcoming season to almost nothing, he said.
"They came in kind of late in my recruitment," Chris said. "When I found out coach (Bryan) Mullins was interested in me, I was just honored for the opportunity, and he gave me the best opportunity to live out my college dream."
A 6-foot-2, 200-pound combo guard at Urbana High School, Chris averaged 14.5 points, seven rebounds, two assists and two steals a game last season, according to the Champaign News-Gazette. He helped the Tigers end a 30-year regional championship drought in 2019 and won another one in March. Basketball wasn't his only love, either. Chris was a 265-pound offensive lineman for the Tiger football team as a freshman, but decided to focus all of his attention on hoops going into his sophomore year, and got down to 200 two years later.
"He's a shooter. He's a scorer. He knows how to put the ball in the hole just like all of his uncles," said Dan, who tutored Chris the last three years through his AAU team, Game Speed Elite, in Florida. "His father was one of the purest shooters in the state of Illinois, and he also played at the University of Illinois. Chris just understands how to put the ball in the hole. He has a great IQ. He understands the game. He understands systems, because he's kind of been brought up that way. I've been able to teach him some things most people don't teach until they get to the pros."
Chris joined three other freshmen in SIU's 2020 recruiting class, guards Dalton Banks and Eric Butler and forward Kyler Filewich. The Salukis also signed three transfers, forward J.D. Muila from Indian Hills (Iowa) Community College, forward Anthony D'Avanzo from Division II Lewis University, and guard Steven Verplancken Jr. from Division II Glenville (West Virginia) State College. Mullins still has two scholarships left for the upcoming season. 
Forward Will Keller, the team's only senior currently on the Saluki roster with D'Avanzo, a graduate transfer, is also a walk-on like Cross.
"We are excited to welcome Chris and the Cross family back to our program," Mullins said in a news release Friday. "He comes from a great family that takes great pride in this region and university. He brings a great work ethic, toughness and competitiveness to the program. He will represent this program very well on and off the court."
Cross said he played some small forward, in addition to both guard spots, for Urbana last season. The second team all-area selection said he would try his best to fill whatever role the Salukis had for him starting next month, when he plans to arrive on campus.
"I'm just looking to go in and do anything that coach Mullins asks me to do, or the coaching staff needs me to do," he said. "If they need me to score, I'll score. If they need me to pass, I'll pass. If they need me to cheer, I'll cheer. Basically, whatever role they give me, I'm going to do it to perfection."
Be the first to know
Get local news delivered to your inbox!