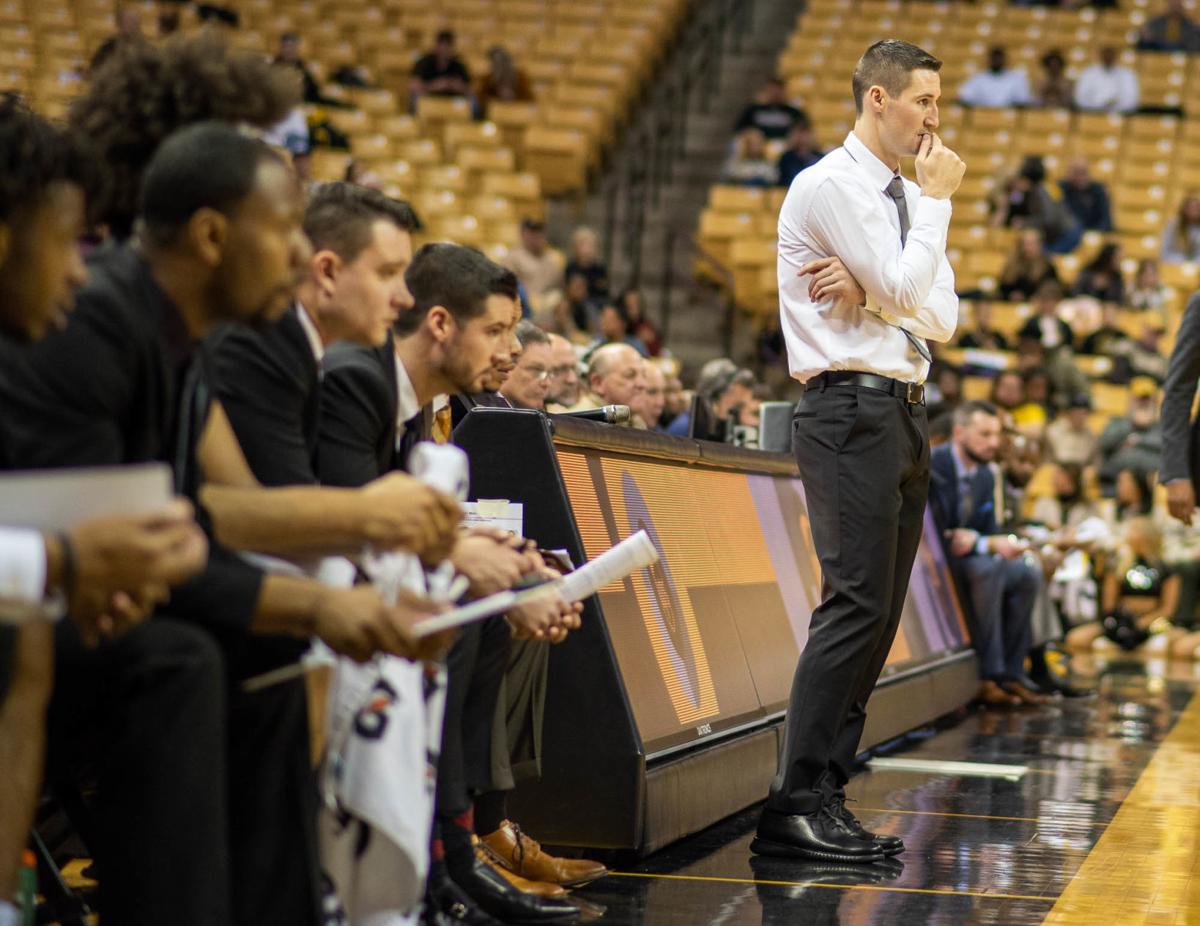 Evansville adds Nebraska transfer for 2020, presidential debate pushes Redbirds/Bulldogs, and Bryan Mullins prepares for return to Loyola, all in today's edition of the Saluki Basketball 5@5.
For the latest news and tidbits surrounding the SIU men's basketball team and the MVC, tune in to the Saluki Basketball 5@5 every day Monday through Friday at 5 p.m. To subscribe to The Southern Illinoisan and get the best Salukis coverage around, go to thesouthern.com or call 618-529-5454. Digital-only subscriptions start at just $5 a month. There is always more online!
No. 1 — Purple Aces add Nebraska guard: Samari Curtis, a 6-foot-4 guard from the University of Nebraska, announced his intention to transfer from the Cornhuskers in December and has signed with Evansville. The 2020 recruit is enrolled and started classes Jan. 13, according to a news release from Evansville.
He will be eligible to compete after the fall semester in 2020-21, after Dec. 17, as a sophomore. Curtis played in eight games for Nebraska this season. A Xenia, Ohio native, he set the school record at Xenia High School with 2,109 career points. Curtis averaged 33.8 points, 7.3 rebounds, 5.2 assists and 2.4 steals per game as a senior and was named Ohio Mr. Basketball. He fills the Aces' final scholarship for 2020-21, but it is not clear which coach he will play for.
Bennie Seltzer is currently the interim head coach for the Aces. Coach Walter McCarty was put on administrative leave after he was accused of possible Title IX violations.
No. 2 — Des Moines, the center of the 2020 presidential race: Illinois State and Drake agreed in December to push their game that was originally scheduled for Wednesday night to Thursday after CNN and the Des Moines Register partnered to produce a nationally-televised debate between Democratic candidates. Former vice president Joe Biden, senators Bernie Sanders, Elizabeth Warren and Amy Klobuchar, mayor Pete Buttigieg and businessman Tom Steyer are scheduled to appear at Tuesday night's debate.
"They asked us to move the game a while back, and, fortunately for us, and, thankful for Illinois State, for helping facilitate it, we were both able to move the game back a day because we both don't play until Sunday," Drake coach Darian DeVries said. "We could use that extra day right now for some practice time, so that part happened to work out pretty well for us."
You have free articles remaining.
The Redbirds (6-10, 1-3 MVC) and Bulldogs (12-5, 2-2) square off at 7 p.m. Thursday. Both teams are then off until Sunday. Illinois State hosts Loyola, while Drake is at SIU Sunday at 3 p.m.
No. 3 — Home, sweet home: Mullins got his coaching start at Loyola in 2013 as Porter Moser's director of basketball operations. He was later promoted to assistant coach and associate head coach before taking over SIU's program last March. Mullins helped the Ramblers to the 2018 Final Four and the last two MVC regular-season titles.
Thursday night, he will take his SIU squad (8-9, 2-2) into Gentile Arena as the visitor, and take on Loyola (11-6, 3-1).
"Obviously, Loyola's playing extremely well right now," Mullins said. "My experience there, being able to work with coach Moser was unbelivable. I still talk to all those guys a lot. I'm happy for 'em. They have a great team right now. They play the right way. It's going to be a big challenge for us on the road, where we've had some struggles."
Loyola is 7-2 at home this season. The Salukis are still looking for their first true road win.
No. 4 — Rare company: Mullins would do well to try to imitate Moser's culture building. Moser is one of five head coaches in history that have won MVC regular-season titles as both a player and a head coach. Moser won the Valley in 1989 as a player at Creighton and has led the Ramblers to back-to-back regular-season titles.
Craig Ruby won both at Missouri, Chris Lowery won both at SIU, Dan Muller won both at Illinois State, and George Rody won the MVC title as a player at Kansas and as a coach at Oklahoma State.
No. 5 — Young leaders: The top-six scorers in the MVC this week are all non-seniors. Seven of the top-nine rebounders in the league are also non-seniors. In fact, sophomores lead the league in assists per game, steals, blocks and 3-point field goals.
Be the first to know
Get local news delivered to your inbox!