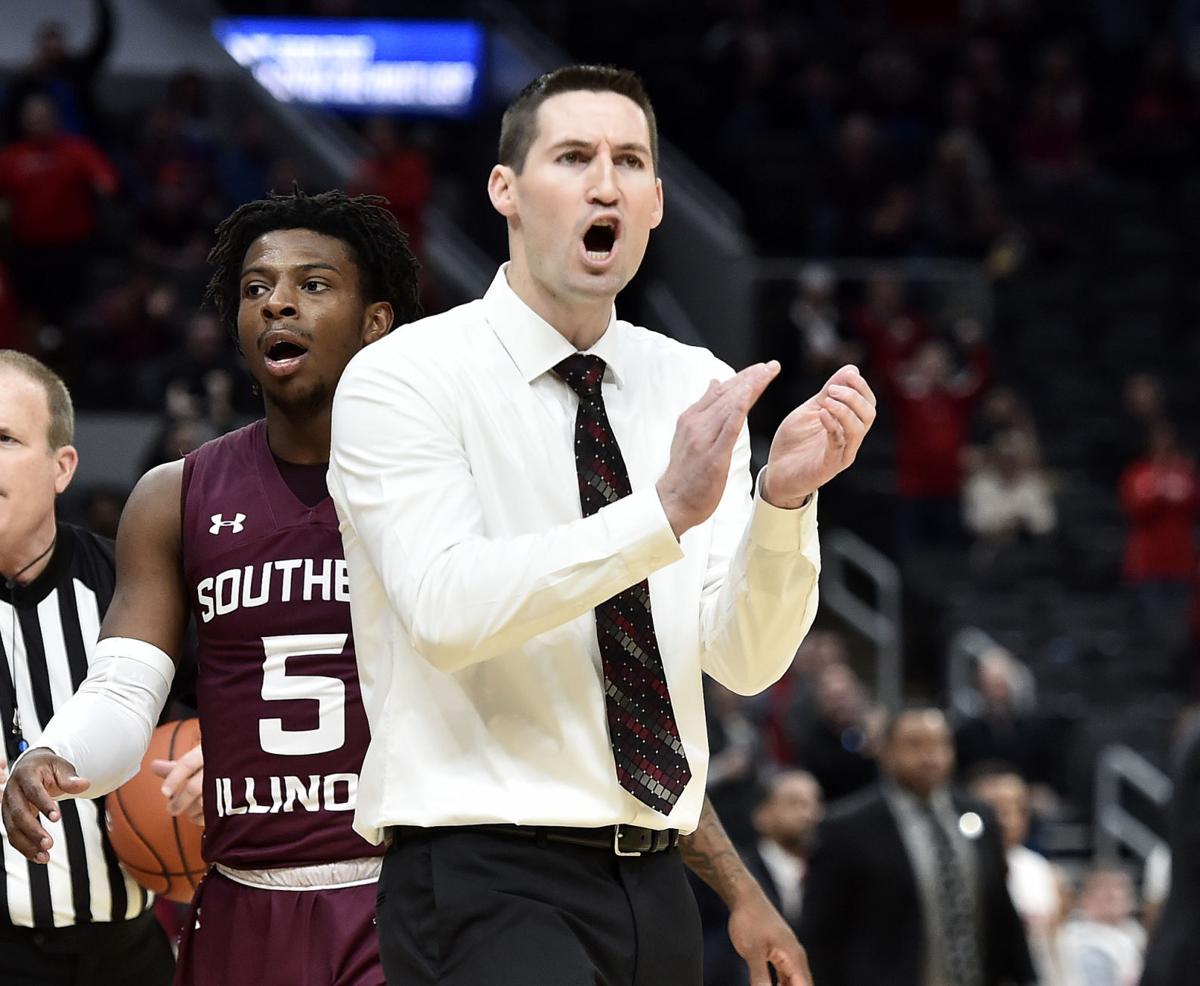 CARBONDALE — The SIU men's basketball program signed three highly-touted players on the first day of the early signing period Wednesday, forward Troy D'Amico, center Scottie Ebube and guard Foster Wonders.
All three players will be incoming freshmen for the Salukis in 2021-22, and all three could star on state championship contenders this season.
"I'm extremely excited about this year's class," SIU coach Bryan Mullins said in a news release. "We have gotten to know Troy, Foster and Scottie, and their families, for over a year. They are going to bring instant credibility because they all come from winning programs. Scottie gives us an up-front presence. He has a great motor and great toughness. Troy and Foster are very versatile. They can pass, shoot, and dribble. As we continue to build this program with toughness and character, these guys check all of those boxes."
D'Amico, a 6-foot-7 senior at Niles Notre Dame High School, averaged 15.6 points, 5.1 rebounds, three assists, 1.5 steals and 1.5 blocks per game last season. The Class 3A first team all-state pick by The Associated Press helped the Dons go 29-5 as a junior in 2019-20 before the season was cut short due to the coronavirus. D'Amico has been ranked as high as the sixth-best player in the state by some recruiting services, making him the highest-ranked Saluki signee since former point guard Kevin Dillard in 2008.
Dillard, Mr. Basketball in Illinois in 2008 while at Homewood-Flossmoor High School, was the Missouri Valley Conference Freshman of the Year in 2009. He transferred to Dayton after his first two seasons at SIU, helped the Flyers reach the NCAA Tournament, and is currently in his eighth year of professional basketball overseas.
Mullins said he's looking forward to coaching D'Amico, one of the most versatile players in the state.
"I can't wait to start coaching Troy," Mullins said. "He has that chip on his shoulder, and he plays with that every single time he's on the court. When you look at Troy, you see productivity. He has an impact in so many different areas of the game. Every single year, he has continued to get better. He wanted to be a Saluki. He's extremely excited to get down here, and he's going to have an unbelievable career."
Niles Notre Dame returns D'Amico, guard Louis Lemond, who has committed to Harvard, and one of the top uncommitted players in the state, guard Anthony Sayles. Sayles, who is being recruited as a quarterback and a point guard, is ranked as one of the top-10 players in the state by several recruiting services.
Ebube, a 6-8 center at Mundelein High School, is also ranked as a top-10 player in Illinois this year. He led the Mustangs to a 30-4 record in 2019-20 and was a special mention all-state selection by the Illinois Basketball Coaches Association. He averaged a double-double as a junior (14.5 points, 10 rebounds per game) and is a two-time all-area honoree.
Ebube had 27 points and 15 rebounds in the championship-plus game of the 2018 Carbondale Holiday Tournament and was named MVP. His teammate, guard Conor Enright, the North Suburban Conference Player of the Year, signed with Drake Wednesday.
"(Ebube) comes from a great high school program with a great high school coach. He has toughness and physicality," Mullins said. "He never makes excuses on the court, and he wants to win. He has won every single year in high school and his AAU program. I think he has a chance to be a really good player in this league. He's one of those post guys who knows how to score. He's very productive. He can make and maintain contact. He can duck in. As he continues to develop his body, the sky is the limit for him."
Wonders, a 6-5 guard at Iron Mountain High School in Michigan, had 12 other offers when he committed to the Salukis earlier this summer. A three-star prospect by 247 Sports, he is ranked as a top-10 player in the state of Michigan and was a first team all-state selection by The Associated Press as a junior. A two-time Upper Peninsula Mr. Basketball, he averaged 27.4 points, 7.8 rebounds, 2.4 assists and 1.9 steals per game.
The Mountaineers are a combined 64-4 since Wonders joined the program. They lost in the state title game in 2019 and were 21-1 last season before it was cut short.
"Foster and I really connected. He lives all the way up in Iron Mountain, Michigan. For him and his mom to come all the way here for an unofficial visit, driving 10 hours, that showed the level of interest they had in our program," Mullins said. "Over the last year and a half, getting to know their family, I'm extremely excited to welcome them to the program. Foster is someone I want representing this program on and off the court every single day. His work ethic and maturity, for a high school kid, are exceptional, and his best basketball is ahead of him. He continues to put the work in every single day. He will make a big impact as soon as he steps on campus."
SIU went 16-16 last season in Mullins' first year as the head coach at his alma mater. The Salukis, who had a new staff and 10 newcomers, finished 10-8 in the MVC (fifth place). Guard Marcus Domask, who led the team in scoring, 3-pointers and minutes, was the MVC Freshman and Newcomer of the Year. Domask and guards Lance Jones (9.3 ppg.) and Trent Brown (2.8 ppg., 20.6 minutes per game) formed an early core of last season's squad and were part of a resurgence in recruiting at SIU.
Four of the Salukis' 10 newcomers last season won at least one state championship in high school, Domask, Brown (back-to-back as a junior and senior), Karrington Davis and Ben Harvey. Three others, including Jones, made it to their state's Final Four and/or championship game. Mullins helped Loyola take a similar path under coach Porter Moser, recruiting proven winners. The Ramblers won or tied for the Valley championship in two of the last three years, and reached the Final Four in 2018.
"This class is so important for our future. For them, it was an unusual recruiting process because of COVID," Mullins said. "They weren't able to take official visits. Over the last six months, we have kept in touch with them, and they have not wavered in terms of their commitment to this program and how excited they are to be Salukis. That means everything. As much as we want people to be a part of our program, we also want them to be excited to be here. These three guys will be perfect fits for SIU."
Be the first to know
Get local news delivered to your inbox!