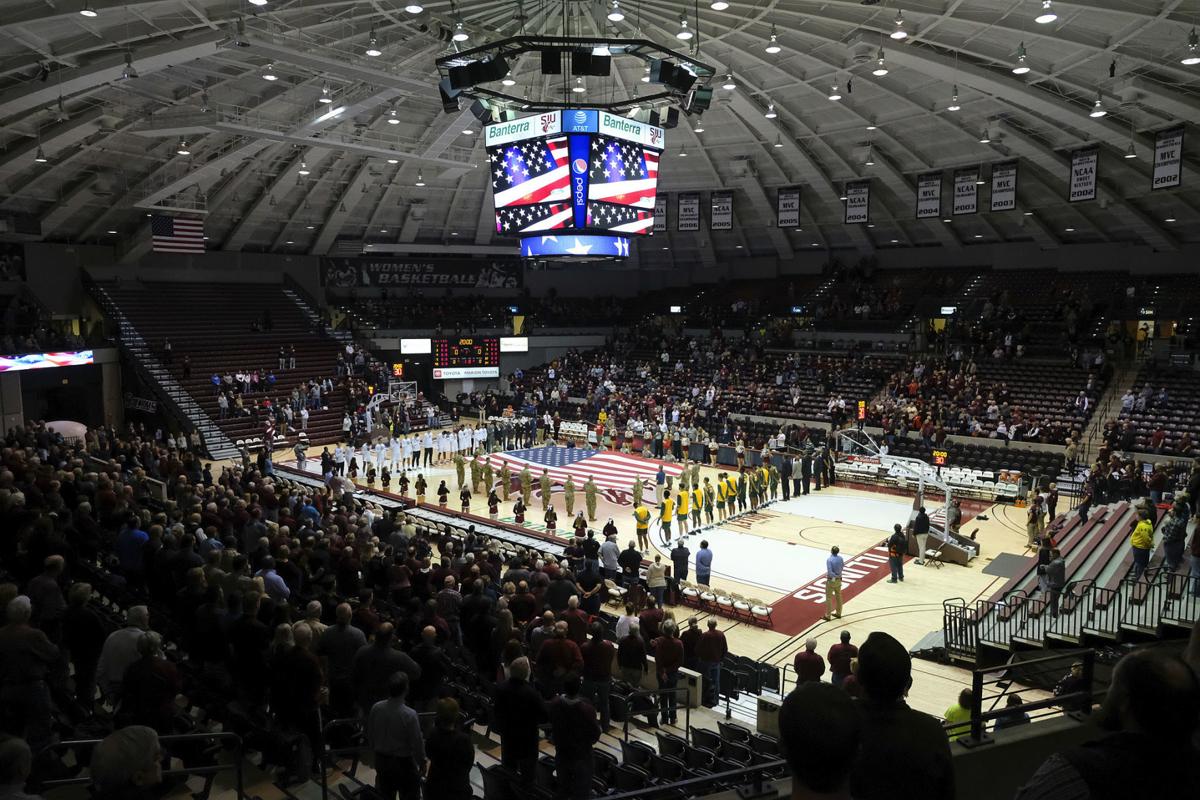 Two of the longest-tenured radio announcers in the country will be in Hattiesburg, Mississippi, Saturday, and SIU coach Bryan Mullins is happy with his team's 21 assists Wednesday but not the 15 turnovers. It's all in today's late edition of the Saluki Basketball 5@5.
For the latest news and tidbits surrounding the SIU men's basketball team and the Missouri Valley Conference, tune in to the Saluki Basketball 5@5 every day Monday through Friday at 5 p.m. To subscribe to The Southern Illinoisan and get the best Salukis coverage around, go to thesouthern.com or call 618-529-5454. Digital-only subscriptions start at just $5 a month. There is always more online!
No. 1 - Veteran broadcasters: Two of the longest-tenured radio broadcasters in Division I will be in Hattiesburg, Mississippi, on Saturday when SIU takes on Southern Mississippi. Golden Eagles broadcaster John Cox has called their action for 42 years, the sixth-most of anyone in the country, while Saluki Hall of Fame play-by-play man Mike Reis has called SIU games for 41 years. Reis' 41 years is the seventh-most of anyone in the country, along with Bradley play-by-play man Dave Snell.
No. 2 - Never satisfied: Mullins, a former point guard, was happy about his team's season-high 21 assists but not its 15 turnovers.
Norfolk State scored 20 points off the Salukis' turnovers, eight of which came in the second half.
You have free articles remaining.
"We probably had too many turnovers tonight. Not probably, we had too many turnovers tonight, and it's gonna be a process," Mullins said after the win Wednesday night. "We work on it every single day and we're gonna continue to work at it. At times, it looks really good. The ball moves and it changes sides, and everybody touches it, we get good shots, and then sometimes, when we get stagnant, the ball sticks. That's when we have some bad possessions."
No. 3 — Domask to the rescue: SIU freshman guard Marcus Domask leads all MVC freshmen in scoring, rebounding and assists. He is one of only 10 freshmen nationally averaging at least 14 points, five rebounds and 2.5 assists a game.
He is leading SIU in minutes per game (34.4) and has been called for only 17 fouls in nine games. Saluki guards Lance Jones (21.6 minutes per game) and Trent Brown (20.4) also average over 20 minutes a game.
No. 4 - Don't give up: Southern Mississippi, SIU's opponent Saturday, trailed Tulane by 10 with just over a minute left Wednesday before getting within three points with 16 seconds to go. Alabama nearly ran over the Golden Eagles in the first half at The Bahamas, but they rallied to make it a game.
With 10 newcomers, the only way they've been able to stay in some games this season has been its relentless effort. SIU rolled from start to finish in wins over Division III Illinois Wesleyan, UTSA and North Carolina Central. The Salukis had to fight with Norfolk State through seven lead changes before pulling away for their 17-point win.
No. 5 - They did it, too: Southern Mississippi is planning to honor its 1987 NIT championship team at halftime of Saturday's game. Golden Eagles coach Jay Ladner was a member of that team, which defeated Ole Miss, St. Louis, Vanderbilt, Nebraska and LaSalle on the way to the title under coach M.K. Turk.
SIU won the 1967 NIT behind Walt Frazier, Dick Garrett and coach Jack Hartman.