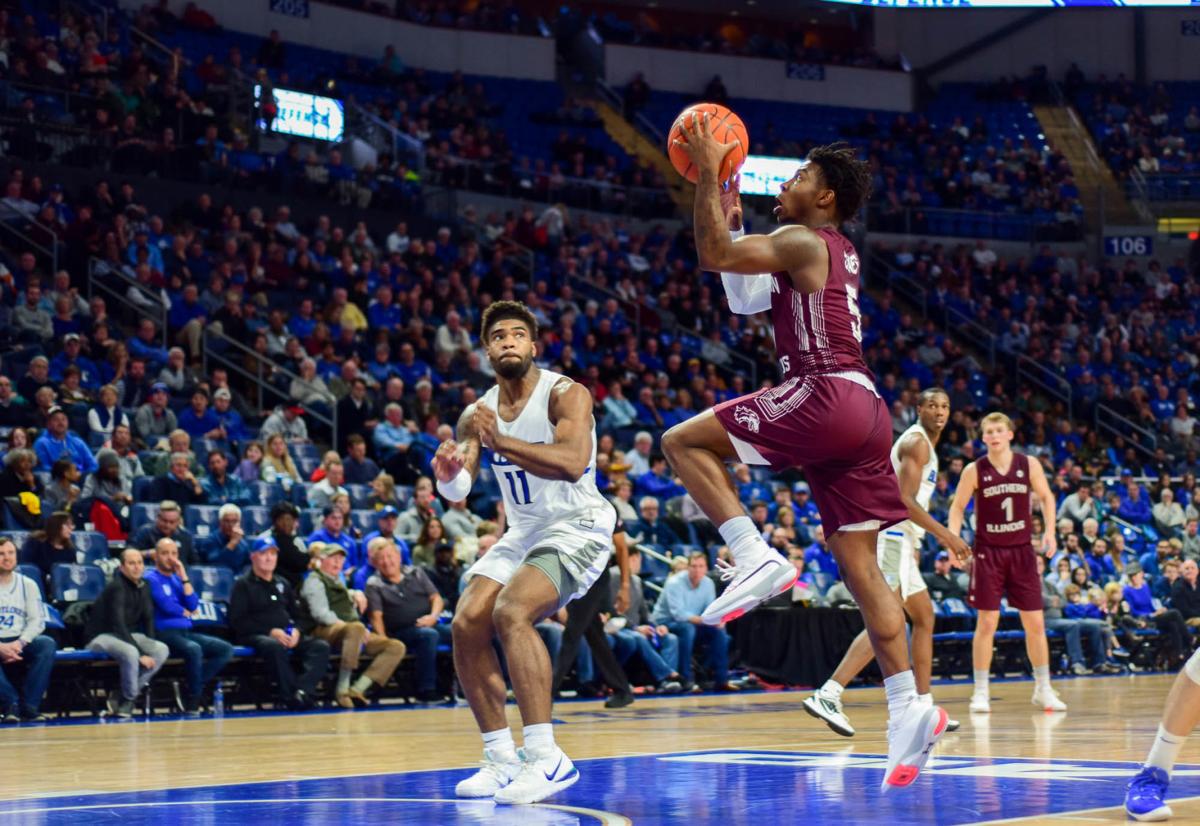 Lance Jones plays big at both ends, new graphic challenges Salukis to leave a legacy, and a former Drake guard signs with a G League team, are all in today's Saluki Basketball 5@5.
For the latest news and tidbits surrounding the SIU men's basketball team and the Missouri Valley Conference, tune in to the Saluki Basketball 5@5 every day Monday through Friday at 5 p.m. To subscribe to The Southern Illinoisan and get the best Salukis coverage around, go to thesouthern.com or call 618-529-5454. Digital-only subscriptions start at just $5 a month. There is always more online!
No. 1 — Jones plays distributor, defender and destroyer at Saint Louis: He stutter-stepped to get Saint Louis off him in the backcourt, and used a couple screens to find his way to the basket almost at will Sunday at Chaifetz Arena. And at the other end, he frustrated Billikens point guard Yuri Collins so much coach Travis Ford took him out most of the last 10 minutes.
Jones scored a career-high 14 points in SIU's 69-60 loss, with five assists, four turnovers and four rebounds in just over 32 minutes. The Evanston native made 5 of 11 from the field and 4 of 6 at the free-throw line. His six free-throw attempts were the most in a game this season. 
"My coaches just told me to play with poise, and to stay focused, and whatever's open, just attack it," Jones said. "I felt like I did that pretty well." 
Collins, a freshman point guard who was averaging over six assists a game entering Sunday's game, had two assists and two turnovers in 20 minutes, 31 seconds. He made 1 of 2 from the field and both of his free-throw attempts. 
No. 2 — Leave a legacy: When SIU spruced up Lingle Hall and the Banterra Center with some new signage and logos, one of the key additions is not even seen by the public. New coach Bryan Mullins challenged his men to leave a legacy at SIU with a graphic the players walk past on the way to the court from their locker room. 
You have free articles remaining.
The graphic features every Saluki squad that won a conference championship or advanced to the NIT or NCAA Tournament, with all their names on the wall. Mullins, a Hall of Fame point guard here, was part of a six-year stretch between 2002-07 when SIU reached the Big Dance in consecutive years. The Salukis hit a dry spell after the 2008 squad played in the NIT. They have not played in any postseason tournament since. 
No. 3 — Former Drake guard signs with G League team: Former Drake guard Nick Norton, a graduate transfer who tore his ACL in the first conference game last season, signed with the South Bay Lakers Tuesday. The Lakers are the G League affiliate of the Los Angeles Lakers.
"I'm super excited for it," Norton told The Bloomington Pantagraph. "It's something that since I was little I always wanted to say and do. It's finally here and I'm hoping to take full advantage of it."
Norton averaged 14 points and 4.1 rebounds a game in the 14 games he played with the Bulldogs last season. He handed out 82 assists with 24 turnovers and had 17 steals. Norton shot 47.8% from the field, including 40% from the 3-point line (32 of 80), and 91.9% at the free-throw line (34 of 37). Drake went 11-3 with him and 13-7 without him. Norton was denied a sixth year of eligibility by the NCAA over the summer.
Austin is next at the Texas Legends Wednesday night at 7 p.m. You can watch the game on ESPN+ (subscription required).
No. 4 — Win No. 1,500: With Tuesday's win over North Dakota State, Indiana State picked up win No. 1,500 as a program. The Sycamores joined Bradley, Illinois State, Missouri State and SIU as the only current members of the MVC with 1,500 wins or more in their histories. The Salukis have 1,546 career wins since 1913.
No. 5 — New to Norfolk State: SIU is the eighth new opponent for Norfolk State this season. The Spartans are the fourth new team for the Salukis this season, after they took on UTSA, Delaware and North Carolina Central for the first time. SIU has also never played Hampton, which comes to the Banterra Center Dec. 18, or Southern Mississippi, which hosts the Salukis on Saturday in Hattiesburg, Mississippi. 
SIU is 2-1 against new rivals so far, beating UTSA and North Carolina Central. Delaware beat the Salukis 56-54 at the Sunshine Slam in Florida.