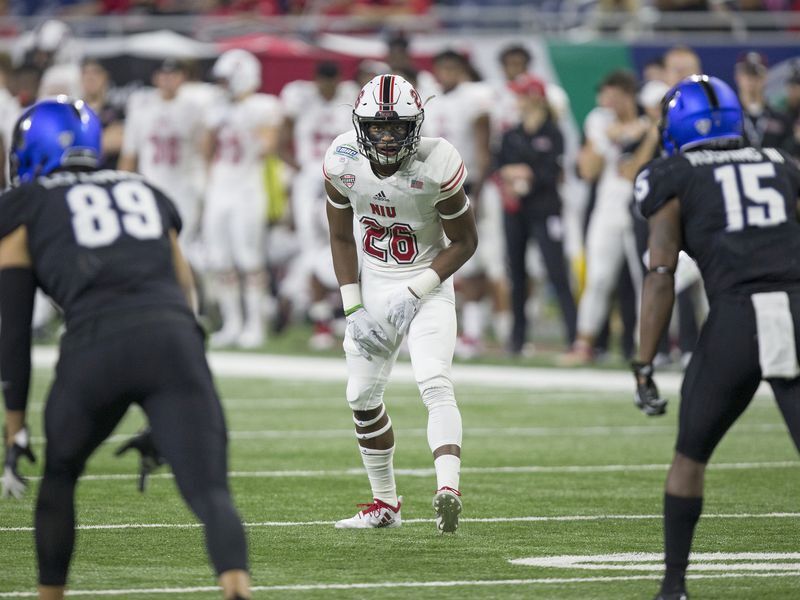 CARBONDALE — The SIU football program added six more players to its 2020-21 signing class on Wednesday, bringing the total to 25 players for the next two seasons. The Salukis open their first spring season Feb. 20 at North Dakota, as part of an eight-game Missouri Valley Football Conference schedule, and plan to play a full fall season later this year.
SIU added five transfers and one high school player, outside linebacker Kaniji Chandler from Pinson, Alabama. Defensive tackle Dante Cleveland, a 6-foot-4, 290-pound transfer from Division II Central Missouri, and 6-1, 190-pound defensive back Antwain Walker Jr., a transfer from Northern Illinois, will be eligible for SIU's spring season. The Salukis added four transfers and 19 high school athletes last December, during the early signing period.
On Wednesday, an unusual National Signing Day for 2021 because some of the new additions will get to compete for SIU later this month, included Chandler, Cleveland, Walker, defensive ends Mason Price and Richie Hagarty and running back Ontario Russell.
"We're excited to add these guys. Just like I said during the first signing day, we're always looking for ways to improve our roster and recruiting never stops," SIU coach Nick Hill said in a news release Wednesday. "We're happy to add these six guys to our roster. Five of them are here right now and are practicing. A few of them are eligible to play this spring season. It's been good to get them here and get them ingrained into the culture, the program and out there practicing. We're excited to have all these guys join us and we all think they bring something to our team."
Cleveland played in 12 games for the Mules in 2019 and had 31 tackles, two sacks and a forced fumble. He competed at Central Michigan for three years before that, and will be a fifth-year senior for the Salukis.
"I really feel like Dante's best football is ahead of him," Hill said. "He's battled some injuries and I think his potential is there as he's coming back. Like we've always said, to win in this league you've got to be talented and deep at the defensive tackle spot. We feel like Dante brings something. He's got two years left to play as well, which was key. We're looking forward to him adding great depth to our defensive line."
Blake Parzych, SIU's senior defensive tackle, had nine stops, including 5.0 tackles for loss, in the 24th-ranked Salukis' 20-17 win over No. 25 Southeast Missouri State last October but decided not to come back for the spring. Keenan Agnew, a 6-foot, 275-pound junior, started at the other tackle spot against the Redhawks. Their backups were both sophomores, 6-2, 295-pound Tylan Driver and 6-4, 245-pound Jacob Poetzl.
Walker only played in four games for Northern Illinois in 2019 after getting into 11 as a true freshman in 2018. His first collegiate start came in the 2018 Mid-American Conference championship game against Buffalo in Detroit. Walker had six tackles and two pass breakups to help the Huskies win 30-29 at Ford Field. He had 11 tackles in 2019, and could add further depth to one of SIU's deepest positions.
Senior Jonathan Thompson started his fifth straight game at cornerback against SEMO, and sophomore P.J. Jules had three stops and two pass breakups in his first start. The Salukis added Roderick Campbell, a transfer from Northwestern, and return sophomore Chance Bush behind them.
Senior Joe Patterson had 40 tackles last season at safety, playing with Jeremy Chinn and Qua Brown. SIU will be without junior Aaron Maddox, a transfer from Colorado who intercepted a pass in the end zone against SEMO, for a few games as he recovers from a shoulder injury. Brown, who entered the transfer portal briefly last year before deciding to return, was the Salukis' leading tackler in 2019 with 105 stops. SIU also got James Ceasar back, a defensive back who played his first two years here before transferring to Division II Ferris State. Ceasar was the Great Lakes Intercollegiate Athletic Conference Defensive Back of the Year for the 12-1 Bulldogs in 2019. He picked off six passes, broke up seven, and had 31 tackles in 11 games for the national semifinalists.
The Salukis also like sophomores Clayton Bush and Tanner Corum, who got a lot of snaps against the Redhawks. Bush, a transfer from Western Kentucky, picked off a pass in his first game with his new team.
"Antwain played as a true freshman and actually played a lot of snaps in the MAC championship game. He will be eligible to play this spring because he didn't play in the fall season," Hill said. "We're excited about him. He got here and put his head down and got to work. He's been here about a month learning the system and really has a chance at being a great player."
Price, a 6-4, 210-pound sophomore defensive end from Idaho, came from NAIA Rocky Mountain College. Recruited there by SIU defensive coordinator Jason Petrino when he was the head coach at Rocky Mountain, Price was a second team all-conference pick in 2019. Price snared 39 tackles, including 12.5 tackles for loss, in 11 games.
Hagarty and Russell played last season at Miami-Ohio and aren't eligible for the spring season. Hagarty, a 6-3, 250-pound defensive end, played in two games in 2019 and three last fall, earning two tackles. Russell, a 5-11, 206-pound running back, carried the ball 14 times for 19 yards in three games last fall but will be a redshirt freshman for the Salukis. Chandler, coached by former SIU linebacker Cory Lee at Pinson Valley High School in Alabama, helped his team win a state championship in 2020. His 44.5 tackles were the second-most on the team.