CARBONDALE — SIU softball coach Kerri Blaylock announced this week that Mount Vernon native Kenzi Tate was promoted to full-time assistant coach.
Tate, who served as a volunteer assistant last season, worked primarily with the pitchers. She replaces Kelsey Gonzalez, who is entering the business world after earning her MBA.
"We are so excited to have Kenzi move into our second assistant position," Blaylock said in a statement. "She was a unique player in that she could pitch, play a position and was a very good hitter. She has numerous skills that will help our program. She also was a fierce competitor and I really love having that type of mentality around our kids."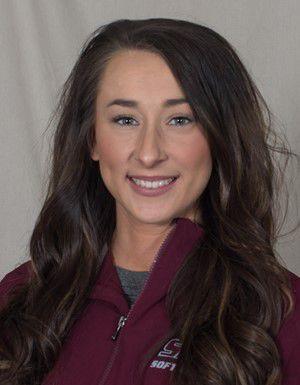 Tate came to SIU in 2015 as a graduate assistant with the strength and conditioning staff. After receiving her master's degree in 2017, she joined Blaylock's staff as a volunteer assistant and helped with coaching the team's pitchers while also working with the coaching staff to complete day-to-day practice responsibilities.
"It means a lot to finally join the Saluki coaching staff," Tate said in a statement. "I've been here several years in various capacities and have seen the program from different points of view as a strength and conditioning coach, a student and as an athlete. Being able to be a part of a program that has such a strong legacy and getting to work with one of the best coaching staffs in collegiate softball is truly a blessing."
CARBONDALE — The Saluki softball squad officially added a Division I transfer and a voluntee…
Gonzalez, a former player at SIU, spent the past two seasons as an assistant while earning her master's degree.
"I have to say that (Gonzalez) leaving after six years with the program was hard for me," Blaylock said. "She received her MBA and was ready to move into the working world. Having Kenzi here, who has been with us as a strength coach and as a volunteer assistant, has made the transition very smooth."
Tate left Mount Vernon High School as the program's all-time leader in most statistical categories, including hits (157), doubles (43), home runs (22), RBIs (153), innings pitched (470), shutouts (28), strikeouts (689), wins (57) and ERA (0.88). She play collegiately at Tennessee-Martin, where she played first base, third base and pitched from 2012-15.
Tate started all four years for the Skyhawks and led the Ohio Valley Conference in batting average, home runs and RBIs in 2013 while also going 20-6 as a pitcher. She was a two-time All-OVC selection and helped UT-Martin win both the OVC regular-season and tournament titles in 2012.
Tate earned a bachelor's degree in human and health performance from UT-Martin in 2015 and went on to receive her master's of science in education from SIU in 2017.