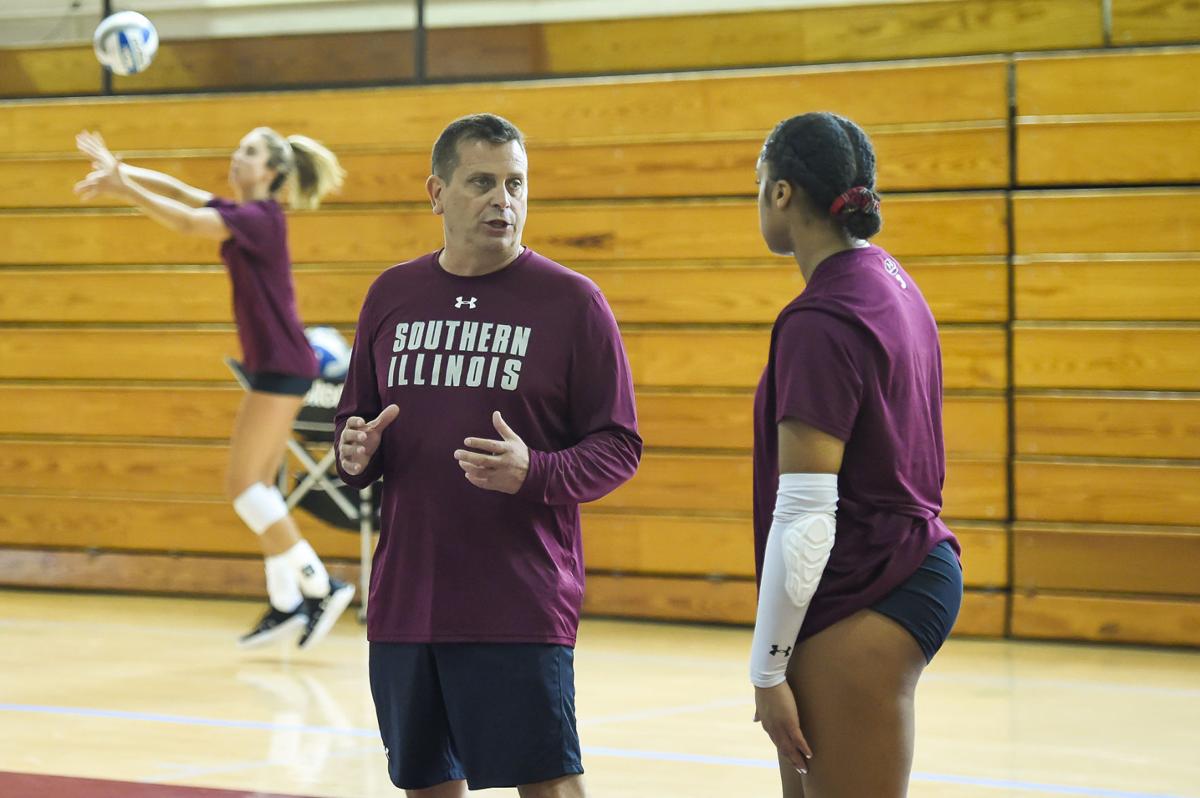 CARBONDALE — You can never have too many good outside hitters. SIU volleyball coach Ed Allen learned that the hard way in his first season last year, losing 11 of his 16 players to some sort of injury.
Outside hitters Alex Washington (39 sets in 2019), Hannah Becker (105) and Kat Wagner (45) all missed time during the Salukis' up-and-down 14-18 season. SIU broke the school record for digs in a season, with four players saving more than 300 attacks, and played a school-record 12 five-set matches, winning seven.
"Especially in the collegiate game, you cannot win at a high level without dominant outside hitters," Allen said. "You can have middles that maybe aren't that great, or opposites, but if you don't have a dominant outside hitter, or a couple of 'em, I don't care who else you have around them. You're not gonna win."
Washington, a promising freshman from Henderson, Nevada, broke a bone in her foot and battled knee problems. The 5-foot-11 sophomore had 100 kills in 39 sets before shutting it down. She was moving toward returning to the team late in the season before a bout of mono kept her off the court. 
Washington, Becker (263 kills, 34 blocks) and Wagner (33 kills, 84 digs) are all expected to be close to 100% when the team begins practicing for the 2020 season in early August. Allen has 10 returners and 10 newcomers, nine of them freshmen, but can't work with them for at least another two weeks. The NCAA passed new laws this year, with the coronavirus pandemic, allowing Division I basketball and football teams to work out with their coaches this month in addition to strength and conditioning work. Volleyball, which essentially lost its spring season, got no additional access.
Allen is still a lot better off now than this time last year, he said, when he was just putting together his first staff at SIU.
"It's not like anybody has it any different than we do," Allen said. "We're gonna put it together. That's what we get paid to do. People ask us 'How are you going to handle it?' We're gonna handle it as well as we can. Nothing that goes on this year is going to be ideal."
Allen and his staff signed six players last November and added four more earlier this month. Three of his 10 new players are outside hitters.
Freshmen Peyton Plant (Littleton, Colorado), Margherita Giani (Maissana, Italy), Nsia Gittens (Nashville, Tennessee) and Harrisburg native Bryleigh Buchanan joined the Salukis this month. Plant is SIU's only other setter on this year's roster besides senior Rachel Maguire, who set a school record with 13 triple-doubles last year. Giani, the first Saluki volleyball player from Italy, won a U16 national championship as a middle hitter for Orago Volley.
Gittens, a 5-10 outside hitter, helped the Ensworth School Tigers to the elite eight of the DII AA state tournament last year. She is also an accomplished discus thrower, finishing second in that event at the 2019 state meet after a school-record toss of 116 feet, 11 inches (35.63 meters). Ensworth won the state girls track title. Gittens comes from an incredibly talented family. Her older sister, Nikki, won two state championships in the high jump and played volleyball at South Alabama, while another sister, Tyra, won 17 outdoor state titles and was the top seed in the women's pentathlon at the NCAA indoor championship before it was canceled due to the coronavirus.
Buchanan, a 5-11 middle hitter, joins SIU as a junior after two years at John A. Logan College. Buchanan hit .179 with 508 kills with the Vols. The lefty is a four-time all-conference and All-South honoree in volleyball and qualified for the state track meet three times in the high jump.
With five seniors, not to mention his top-four hitters back, Allen believes he could make another big jump in Year 2. SIU won nine more matches last year than in 2018, despite reshaping the roster, hiring a new staff and implementing new styles. Before the pandemic ended the spring season, Allen was teaching more volleyball than the previous year, he said, when he was talking to his team more about being good teammates.
The squad worked out at 6 a.m. in order to accommodate some other Saluki squads last spring. When the schedule cleared up a bit one week, he asked his team if they wanted to move it back to 8. They declined.
"They were on it to be 6 a.m.," Allen said. "That allows my heart to sing, because I like taking programs over. I like to build winners out of them, and this group gave me a little bit of a reward before it was done. The deal is to get this to be a top-25 program, and they're now starting to think that way."
Be the first to know
Get local news delivered to your inbox!