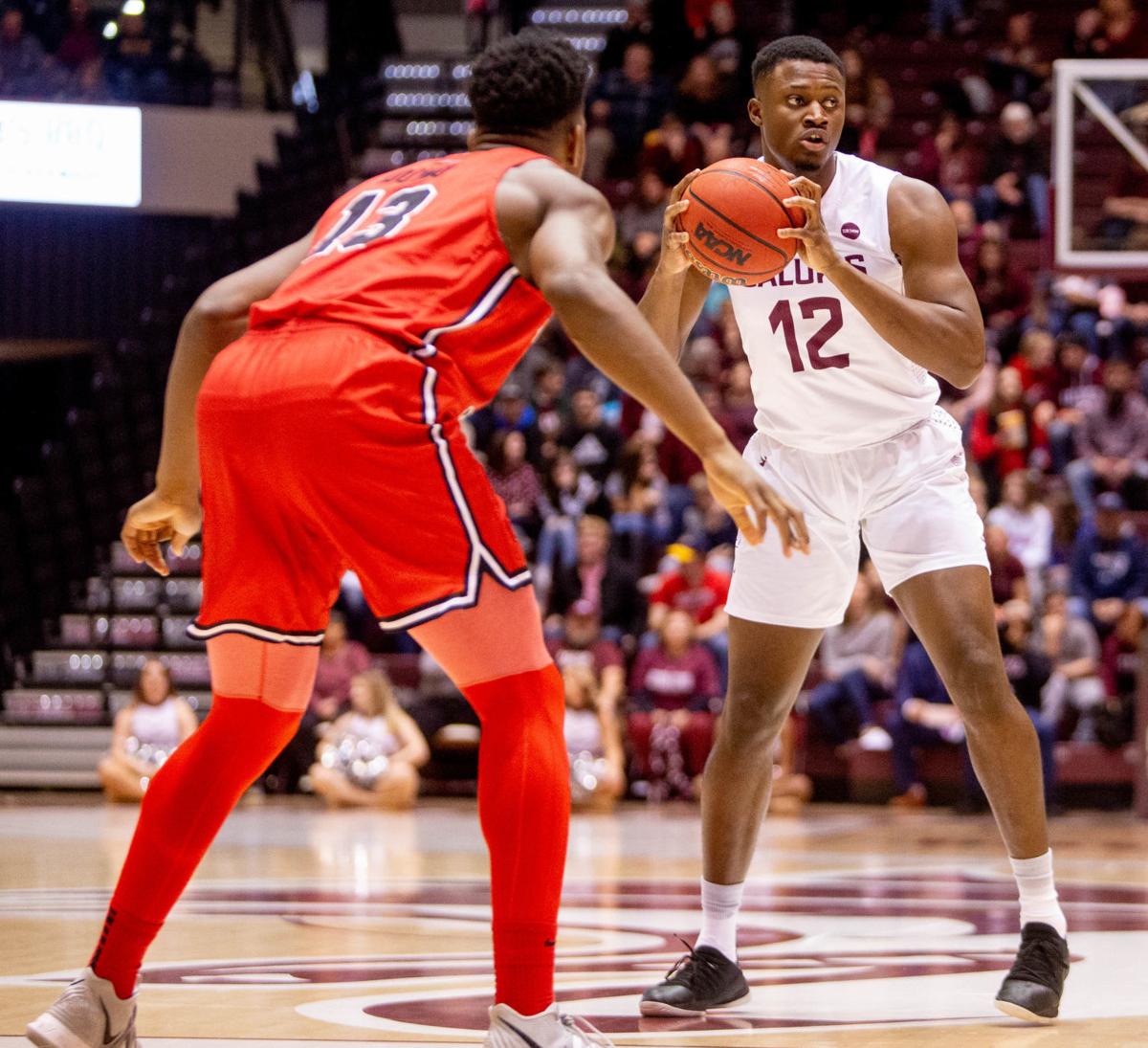 CARBONDALE — SIU's men's basketball team announced Sunday that redshirt freshman forward Sekou Dembele suffered a fractured tibia in his left leg at Bradley on Saturday and will miss the remainder of the season.
Braves guard Darrell Brown collided with Dembele as he tried to turn the corner and reach the rim in the final seconds of the first half. Dembele went down with 4.6 seconds to go at Carver Arena in obvious pain. He was called for a blocking foul. 
Dembele suffered a stress fracture in his left leg last summer and missed almost all of July and August's workouts. He missed the first seven games recovering from that injury. It is not clear if that had to do with his tibia breaking Saturday.
"I feel terrible for Sekou, first and foremost," SIU coach Bryan Mullins said. "He redshirted and had a great summer with us, got the stress fracture, worked extremely hard to get back in shape. He was playing pretty well these last couple games. He's going to be better because of it. He'll come back healthy, but it's tough for him."
You have free articles remaining.
SIU lost the game 67-48 to fall to 8-9 overall and 2-2 in the Missouri Valley Conference.
Dembele averaged 7.9 minutes a game in 10 appearances. He made 7 of 12 from the field and 2 of 6 free throws. Dembele grabbed 20 rebounds and scored 16 points. Because he played in less than 30% of SIU's games this season (the regular season is 31 games long) he may be able to get the year back.
Dembele's injury is the latest in a line of ailments the Salukis have battled this season. Senior guard Aaron Cook missed his 11th straight game after breaking a bone in his right (shooting) hand at Murray State on Nov. 19 last year, and backup center Stevan Jeremic couldn't go Saturday because he sprained his ankle earlier in the week.
"It's just next man up. Everybody's gotta chip in, with (Brendon) Gooch, Stevan, (Karrington Davis), and even Will (Keller)," Mullins said. "The next guy's gotta be up just like when A.C. got hurt. Everybody's gotta pick up the slack." 
After the game Saturday, Mullins said he hoped he would have Jeremic available Thursday, when SIU travels to Loyola. The Ramblers (11-6, 3-1) have won or tied for the Missouri Valley Conference regular-season title the last two years and feature the preseason player of the year, junior center Cameron Krutwig. 
• Evansville's DeAndre Williams still day-to-day: Evansville interim coach Bennie Seltzer said sophomore forward DeAndre Williams is "day-to-day" and was scheduled to see a member of the team's medical staff Monday to be evaluated. Williams hasn't played since injuring his back in an overtime loss to Valparaiso on Jan. 4. He is the fourth-leading scorer in the MVC (16.9 points per game) and the league's fourth-leading rebounder (7.7 boards a game).