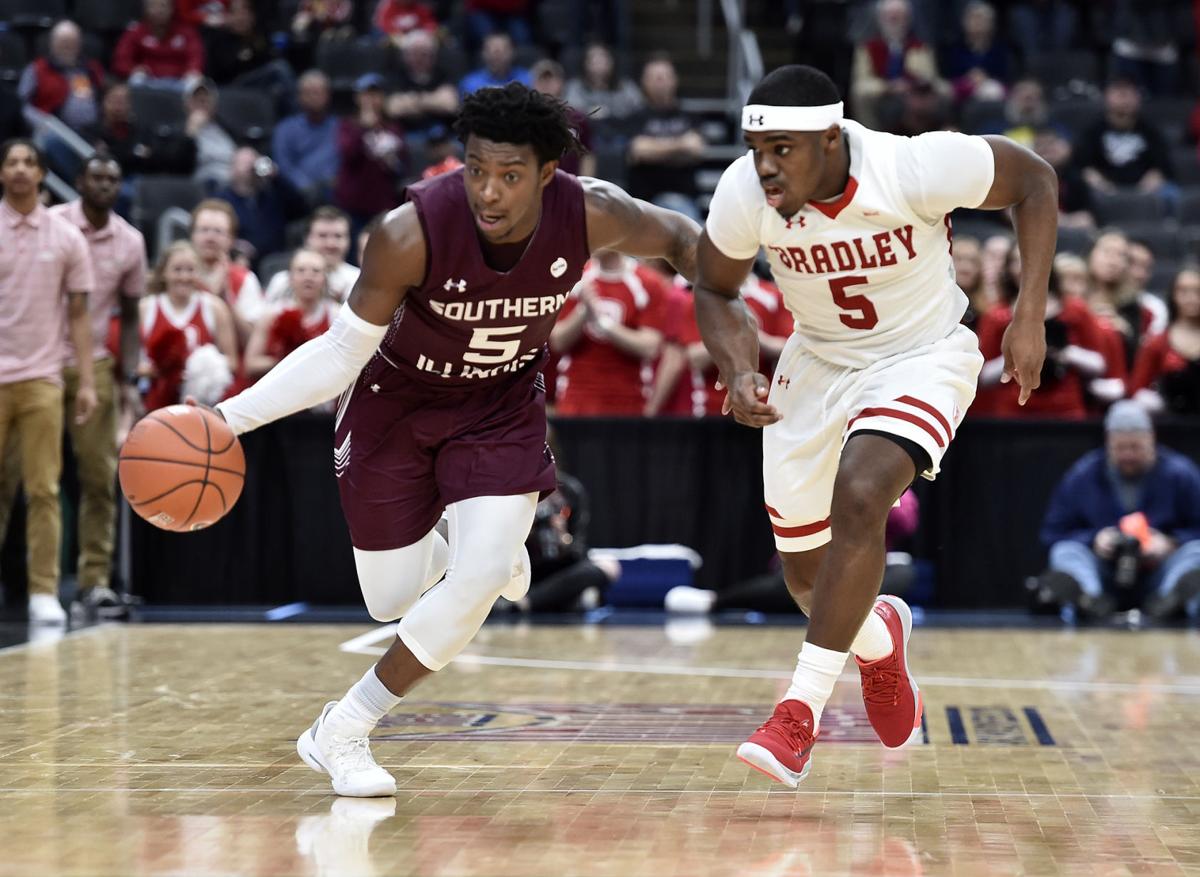 CARBONDALE — Southern Illinois University's men's basketball team knew it might run into hiccups during a season under the cloud of COVID-19, but it didn't expect it this early.
The Salukis pulled out of their season opener at Louisville scheduled for Nov. 25 on Thursday, citing "multiple" positive tests for the coronavirus and the surrounding web of quarantined individuals. SIU was scheduled to play three games in five days at the KFC Yum! Center in Louisville from Nov. 25-29, beginning with the Cardinals, in a carefully-scripted bubble environment that featured a hotel that was connected to the arena. The Salukis weren't able to get there.
"I'm disappointed for our guys," SIU coach Bryan Mullins said Thursday. "They've done everything right over the last four months. They sacrificed a lot over the last four months. There's a lot of things happening over the last six, seven months in this country that you can't control. This university, this athletic department, has done an unbelievable job of putting all the student-athletes' health and well-being as our top priority, and it's given all these student-athletes a chance to do what they love to do over the last four months since school has been in session."
Mullins said the Salukis had one positive test the first four months. He did not identify how many athletes or staff were positive, or how many were in quarantine. Under the NCAA's guidelines for basketball, players or staff that test positive must sit out at least 14 days in isolation, even if they're asymptomatic, and the team is recommended to isolate for that long. Players under quarantine, who have been deemed to be in close contact with someone who has tested positive but haven't tested positive themselves, have to sit out 14 days, too, even if they're asymptomatic.
SIU, conceivably, could have missed its opening game and tried to play Prairie View A&M Nov. 27 if everyone that was in isolation didn't display any symptoms, but Mullins said he didn't want to take the risk of putting players that couldn't practice all that time into the fire.
"For them to be able to play three games in five days after not practicing for a couple weeks, and not doing anything as a team, I don't think it's worth trying to rush back," Mullins said. "And then, maybe, someone tears a hamstring, does something to his knee and is out for two months or the rest of the season. These guys have worked so hard over the last four months that we need to make sure that we're continuing to put them in a position and an opportunity to be successful when they get on the court."
SIU already lost forward J.D. Muila, a potential starter, to a torn meniscus for the season. Louisville, which received votes in the preseason Associated Press top-25 poll, already lost two potential starters to injuries for the near future, forward Malik Williams (broken bone in his foot) and guard Charles Minlend (knee injury). The Salukis are now eyeing a road trip to Southeast Missouri State Dec. 2 as their opener, but those 20 days seem a long, long way away.
The Illinois Department of Public Health reported 12,702 new cases of COVID-19 Thursday, setting a new single-day record for the third straight day. Jackson County also had a single-day record Thursday, with 87 cases, prompting the local health department to recommend schools here go to full-remote learning beginning Monday. SIU is scheduled to go all-remote learning after Thanksgiving break, for the remainder of the semester.
Indiana State's men's basketball team, which is scheduled to open the season at a multi-team event in Florida Nov. 25, paused activities earlier this week because of positive tests for COVID-19. Five games in the Big Ten and SEC, where the teams are testing their players and staff daily, were postponed or canceled this weekend because of positive tests.
"For our guys, it's disappointing. They understand it, though," Mullins said. "They understand. They see it happening all over, NFL, college, everywhere, and I think we're confident, they're confident, that we'll get back together. We'll have team practices, and we'll be able to play games again, but we have to make sure that we're always putting our kids in the safest possible environment first."