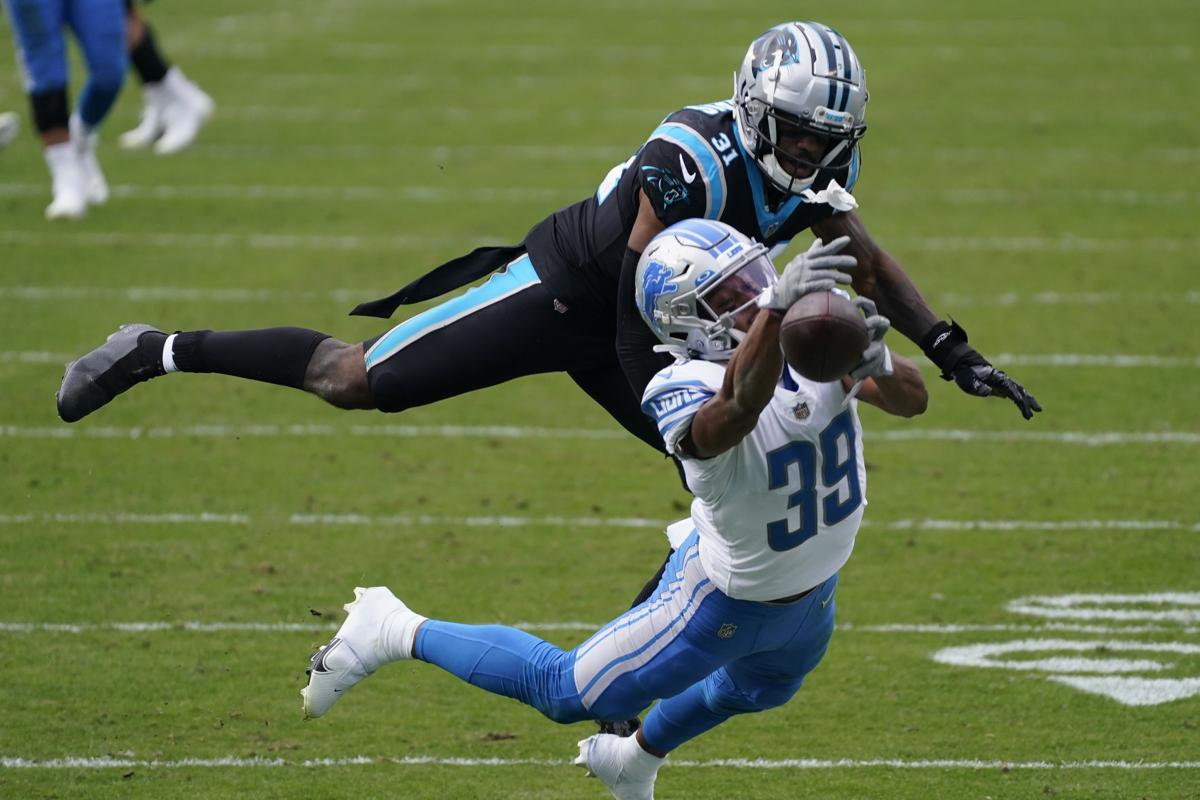 CHARLOTTE, N.C. — P.J. Walker threw for 258 yards and a touchdown in his first NFL start, the much-maligned Carolina defense earned its first shutout since 2015, and the Panthers snapped a five-game losing streak by beating Detroit 20-0.
Walker, a former XFL player, was made the starter less than two hours before kickoff when Teddy Bridgewater was officially ruled out with a knee injury. Walker did plenty well, connecting on a perfect 52-yard strike to D.J. Moore along with a well-placed 17-yard touchdown pass to Curtis Samuel for the Panthers (4-7). But he also had two terrible mistakes, twice throwing interceptions in the red zone, essentially hitting the defender right in the hands.
Still, he did enough to win, as Moore had seven catches for 127 yards and Samuel had eight grabs for 70 yards. Mike Davis ran for 64 yards and a touchdown.
Matthew Stafford, who played despite a thumb injury that prevented him from taking a snap under center all week in practice, finished 18 of 33 for 178 yards. He was sacked five times as the Lions (4-6) were blanked for the first time since Oct. 18, 2009, his rookie season — although he didn't play in that game.
Former Saluki defensive back Jeremy Chinn started at strongside linebacker for Carolina and had four tackles. The Panthers' defense limited the Lions to 10 first downs and just 40 yards on the ground. 
• Titans 30, Ravens 24, OT: In Baltimore, Derrick Henry ran for a 29-yard touchdown with 5:21 left in overtime to cap another memorable performance against the Baltimore Ravens, and the Tennessee Titans rallied for a victory Sunday.
Running against a patchwork Ravens defensive line, Henry finished with 133 yards on 28 carries. It was his sixth 100-yard game of the season and put him over 1,000 yards for the third consecutive year. It was reminiscent of Henry's outing last January, when he rambled for 195 yards to carry the Titans to a 28-12 upset of the top-seeded Ravens in the AFC divisional playoff.
Former SIU tight end MyCole Pruitt was not active for the Titans after missing most of this week's practices with a knee injury. 
After forcing a punt to begin overtime, Tennessee (7-3) moved 73 yards on six plays to get back on track after losing three of its previous four games.
Baltimore (6-4) has lost two straight and three of four. Until the fourth quarter, the Ravens did a decent job of stopping Henry without injured defensive linemen Calais Campbell (calf) and Brandon Williams (ankle).
Tennessee trailed 21-10 early in the third quarter and 21-16 late in regulation before launching a 90-yard drive featuring the running of Henry and some precise throws by Ryan Tannehill.
But Lamar Jackson drove the Ravens to Justin Tucker's 29-yard field goal with 15 seconds remaining to force overtime.
• Seahawks 28, Cardinals 21: In Seattle, former Saluki Ryan Neal had three special teams tackles in the Seahawks' win Thursday night over Arizona.
On the night before the game that may be a tipping point in their season, the Seattle Seahawks' defense held a meeting of accountability.
The defense, once the envy of the NFL, had become a punchline this season. Ken Norton Jr., the coordinator, was tired of it. So one by one, Seahawks defenders went through aspects of their base defense and each player recited his responsibilities.
A simplistic idea, but with a productive result.
"It was a remarkable meeting of accountability. Guys were great and that means they've learned really well," Seattle coach Pete Carroll said Friday. "Instead of the coaches saying it, the players were saying the stuff and talking about assignments and all, and it was just a real nice step forward. But it was powerful in a way."
While one meeting wasn't a cure, it certainly appeared to help. Seattle (7-3) turned in its best defensive performance of the season in Thursday's 28-21 win over the Arizona Cardinals. Seattle snapped a two-game losing streak and avoided losing three in a row for the first time since 2011.
After being the weakest link to a potential championship team, Seattle's defense finally held its own with a focused, disciplined performance. The Seahawks held the best run team in the NFL to 57 yards rushing. They sacked Kyler Murray three times. They held DeAndre Hopkins to five catches despite playing with two backup cornerbacks.
• Giants on the bye: The New York Giants and former Saluki cornerback Madre Harper were on the bye this week. The Giants (3-7) are next at Cincinnati (2-7), which fell 20-9 at Washington Sunday. The Bengals lost the game and lost quarterback Joe Burrow to a serious knee injury.