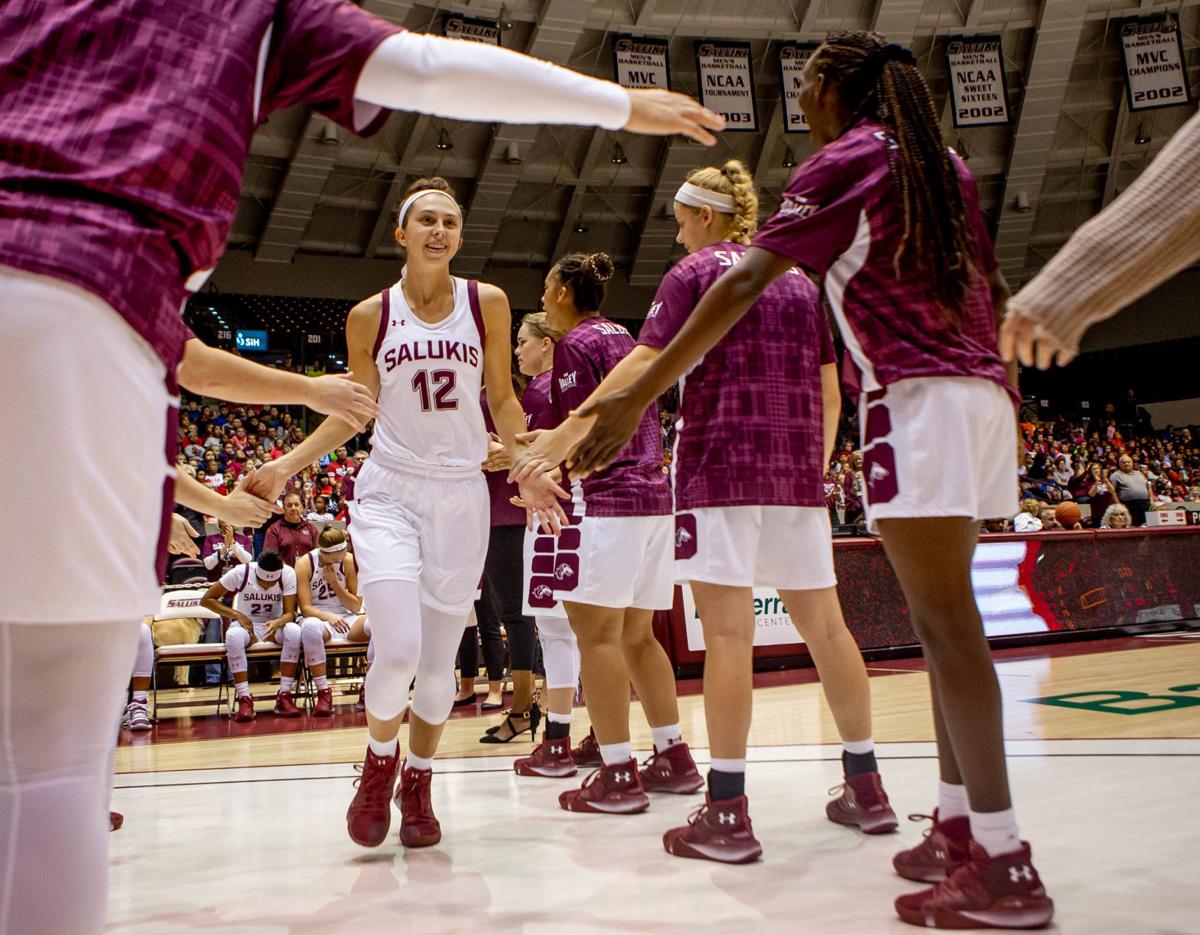 CARBONDALE — There were two milestones in play Sunday for the SIU women's basketball team.
Makenzie Silvey reached 1,000 points late in the first quarter, but coach Cindy Stein will have to wait until Friday night for her fourth crack at her 100th win with the Salukis.
Drake started the fourth quarter with a 15-4 run to gain separation in a one-point game and posted a 73-65 Missouri Valley Conference win at Banterra Center.
Two-time MVC Player of the Year Becca Hittner scored a game-high 20 points for the Bulldogs (10-5, 2-1), which shot 60% from the field and owned a 35-23 rebounding advantage. That negated the 27 turnovers SIU (9-6, 1-3) forced and the 23 fast-break points it scored.
"I thought 75 or 80% of the game, we were right where we needed to be," said Stein. "We just have to clean up that other 20%."
That other 20% occurred in the fourth quarter. There were 12 ties and seven lead changes in the first three periods in a game matching the league's highest-scoring team against one allowing just 54 points per game in its first three conference games.
The Salukis went toe-to-toe with Drake for 30 minutes. A late 11-4 run, capped by a 35-foot buzzer-beater from Caitlin Link, enabled them to forge a 19-19 tie after one quarter. Nicole Martin's 3-pointer to end the first half sent them to the locker room up 39-35.
Even after making only 6 of 18 shots in the third quarter, SIU still trailed the Bulldogs by only 54-53 as the fourth period started. Just over a minute into the quarter, Stein was calling a 30-second timeout after Hittner swished a 3-ball and fed Monica Burich for a layup that upped the Drake lead to six.
Aside from back-to-back possessions where Martin and Payton McAllister sank jumpers, SIU couldn't get a shot to drop until the Bulldogs expanded the lead to 69-57 on Brenni Rose's layup with 2:44 left.
"They were switching defenses back and forth between a man and a matchup zone," Silvey said of Drake. "So we had to make some adjustments to that, and we weren't hitting the looks that we had earlier in the game."
Silvey, who made only 5 of 28 shots in losses to Loyola and Northern Iowa, started out like she might score 30 on her milestone day. She needed eight to reach four figures for her career, and wasted little time doing it. A corner 3 with 1:05 left in the first quarter put her at 1,000.
"It's a nice accomplishment because there's a lot of good players that have come through this program," she said. "I just wish it would have come with a win."
Silvey cooled after her quick start, finishing with 13 points. Martin pumped in a team-high 19 on 7-of-17 shooting, while Brittney Patrick chipped in 10 to go along with four assists. McCallister enjoyed a solid game off the bench with nine points and four of the Salukis' 16 steals.
SIU's other two starters, Abby Brockmeyer and Kristen Nelson, combined for three points. Stein hinted that there could be changes in the lineup when No. 18 Missouri State comes to town at 6 p.m. on Friday night.
"Some people are making the same mistakes," she said. "They're going to sit now. You either change for the betterment of the team or you sit. Next man up. I hate to say that, but you're at this point of the season and I've got a whole bench full of kids that want to play."
Sara Rhine finished with 10 points and 10 rebounds for Drake, which also got 11 points from Kierra Collier and 10 from Maddie Monahan.
Be the first to know
Get local news delivered to your inbox!