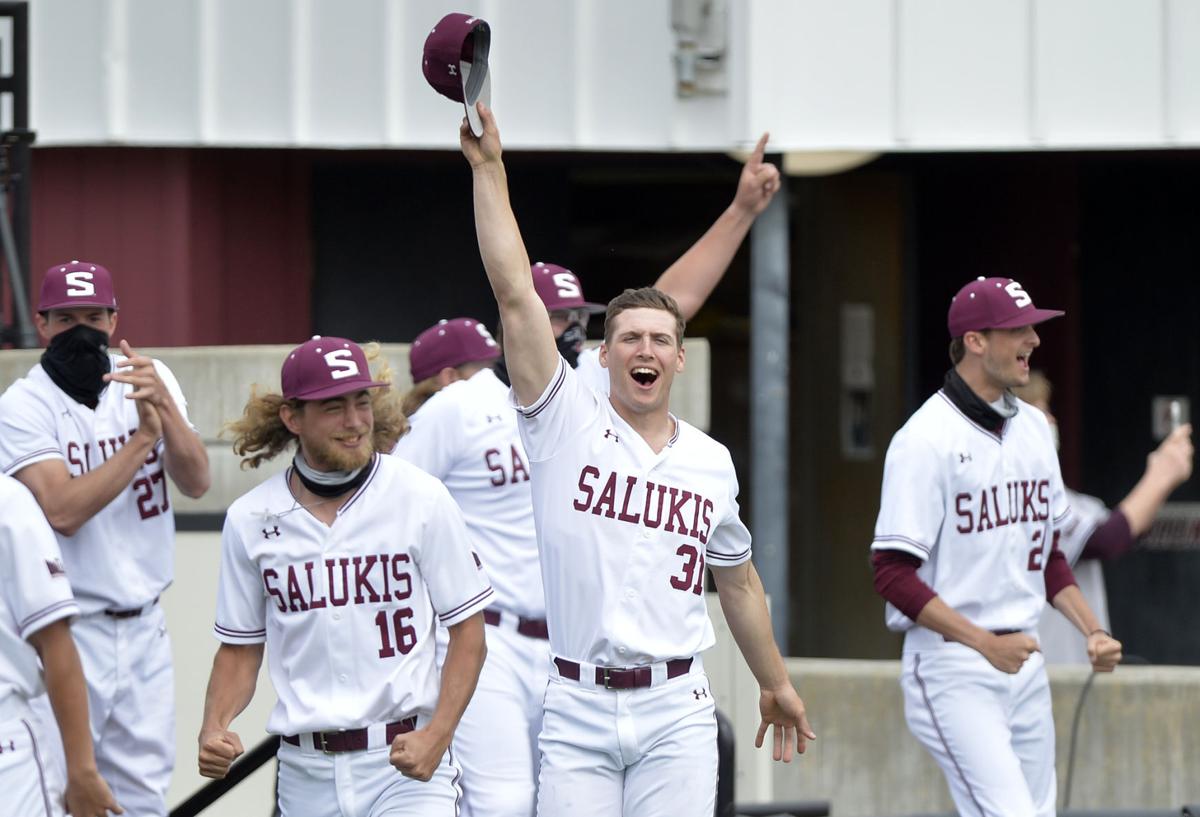 EVANSVILLE, Ind. — Brad Harrison and Bubba Hall combined to shut out Evansville on Saturday at German American Bank Field, leading the SIU baseball team to a 5-0 win.
Harrison, who pitched a complete-game shutout last week against Missouri State, improved to 8-0 and extended his consecutive scoreless inning streak to 14.2. He struck out eight and walked three. When he got into a two-on, two-out jam in the sixth, Hall got the Salukis out of it unscathed and pitched the final three innings to earn his second save of the season.
"Brad went out and duplicated what he did last week," SIU head coach Lance Rhodes said. "He wasn't quite as sharp, but that's what good pitchers do: they find a way to get deep into a game without their best stuff. He threw quality innings when our offense wasn't doing a lot, which meant everything was a pressure moment. He got into one little jam, and Bubba Hall cleaned up that inning and then absolutely dominant from the seventh through the ninth."
SIU (33-13) got clutch hitting to gradually expand a lead behind Harrison and Hall. In the fourth, Austin Ulick came through with a clutch two-out RBI to give SIU a 1-0 lead. The Salukis started the sixth inning with three-straight singles to push the lead to 2-0. The Salukis opened the game up with a three-run seventh that included RBIs from Tristan Peters, Nick Neville, and Philip Archer. Archer, a Greenville Indiana, native, reached base in all five plate appearances, going 3-for-3 with two walks.
"The middle of the order really put pressure on the opponent," Rhodes said. "They all had good days. Phil just continues to come up in big moments and perform, and he did it again today."
In a rare non-conference series against MVC members, the Salukis took a two games to one lead against Evansville in the four-game series. SIU's offensive depth have been showcased in this series alone. Today, Peters, Neville, Ulick and Archer came through with RBIs. Yesterday, four different Salukis came through with go-ahead RBIs in the late innings: J.T. Weber, Evan Martin, Cody Cleveland, and Ian Walters.
"That's what I like about our lineup so much," Rhodes said. "From the beginning of the season, we haven't counted on only a couple people. At one point, it felt like everyone was hot. Lately, it's different people each game -- the top, bottom and middle have gotten it done at different times. That's how you have a dynamite offense, when one through nine can do damage to opponent. It's a tough offense to navigate through, and there isn't a break. As long as our hitters continue to have a relentless approach at the plate, the pitcher will cave before we do."
Today, Bubba Hall ensured there was never a doubt. He retired 10 of the 11 hitters he faced, allowing just a one-out single in the seventh inning. He retired the final eight hitters he faced and finished the outing with three strikeouts and no walks. Since the start of April, Hall's ERA is under 3.00; he's allowed just eight hits in 16.2 innings; he's struck out 20 and walked only three.
"Bubba has been huge over his last few appearances," Rhodes said. "His stuff is electric. It's a plus fastball and the breaking ball has been electric. We've needed him. When he's eating up those innings, that's huge. Today, normally we would go to Trey (McDaniel), and (Hall) was able to finish the game. That puts us in a great position for tomorrow. It's huge to be able to have that player who can stop a big inning and then go out and be dominant for the rest of the game."
UP NEXT: The start time for the fourth game of the series has changed due to forecasted weather and will now start at 11 a.m.