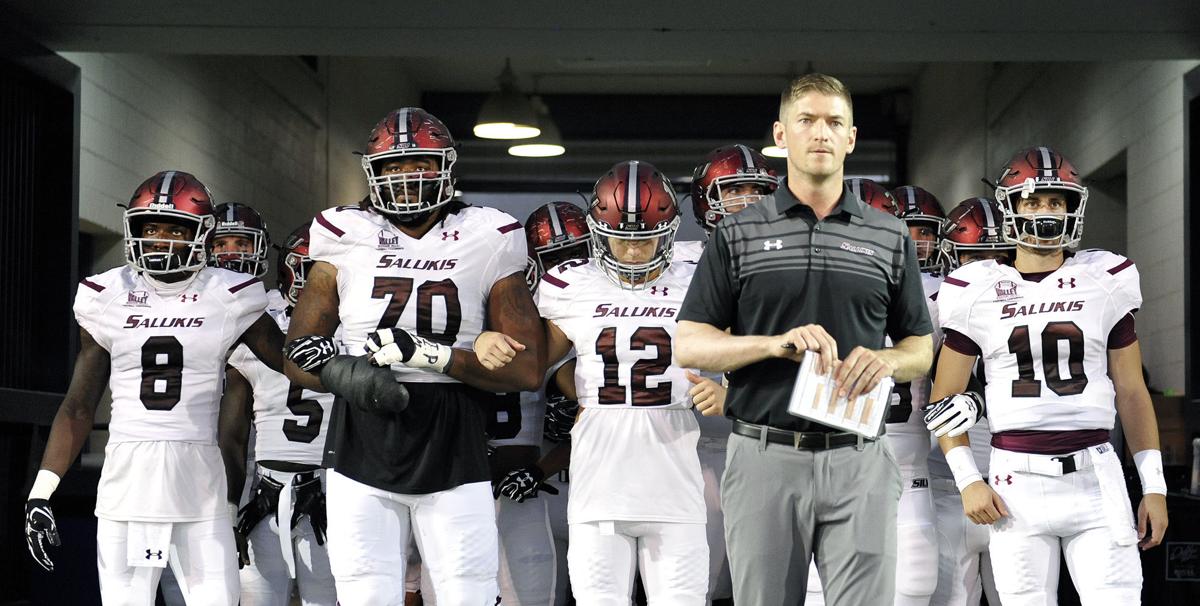 CARBONDALE — For the first time since 1943, there will be no SIU football season this fall.
Two days after losing their road game at Kansas, the Salukis were notified Friday they lost their final scheduled game on the fall schedule. Southeast Missouri State will not be coming to Carbondale Sept. 19, according to a tweet from the SIU Football account, and the Salukis will stop looking for a replacement.
Now the team will focus on competing in the spring, when the Missouri Valley Football Conference hopes to hold at least an eight-game league schedule.
SEMO informed us this evening that they will not play our scheduled game on Sept. 19. AD @LizJarnigan said, with dwindling opportunities to play, #Salukis are no longer pursuing fall games.

— Saluki Football (@SIU_Football) August 14, 2020
The move from SEMO came hours after its league, the Ohio Valley Conference, announced it was postponing its fall sports because of concerns with the coronavirus. The league is allowing its football teams to play up to four nonconference games, but the Redhawks apparently aren't going to try. SEMO lost its two previous nonconference games, a home date vs. Dayton Sept. 3 and a road game at Ole Miss on Sept. 12, earlier this fall.
SIU's decision to stop pursuing a fall football game came hours after the Missouri Valley Conference postponed its fall competitions to the spring because of the pandemic. The MVC moved its fall practice schedules back to Aug. 17 in late July and had hoped to have some competitions in mid-September, but called off its fall sports and fall championships on Friday. 
The OVC became the 13th, out of 13 FCS leagues, to postpone its league season to the spring.  
The MVFC allowed its teams to play up to three non-conference games this fall, but Missouri State and Youngstown State are now the only teams that will try. North Dakota State, the three-time defending FCS national champions and the preseason No. 1 in every major poll this year, tweeted Friday it would not pursue any games this fall. The Bears have a big payday at Oklahoma and added a home-and-home series with Central Arkansas that will give them the maximum amount of games. MSU will play at Oklahoma Sept. 12, at Central Arkansas Sept. 26, and against the UCA Bears Oct. 17 in Springfield, Missouri.
"The health and safety of our student-athletes was paramount throughout this process," MSU athletic director Kyle Moats said in a news release. "I appreciate the fact that the Big XII has appropriately made every opportunity for our student-athletes to participate and provided safety and health protocols for teams to adhere to. I can't thank Joe Castiglione and his staff enough for their transparency, communication and friendship during this time. We look forward to playing Oklahoma on Sept. 12.
"I also want to thank Brad Teague at UCA for his willingness to play home and home in the same year. Their proximity made perfect sense for us to play, and it allows us to be fiscally responsible while adhering to the NCAA guidelines. I'm especially excited that we will get to play a home game on Homecoming."
Youngstown State still has two games on its schedule, Sept. 12 vs. Duquesne and Sept. 19 against Eastern Kentucky.