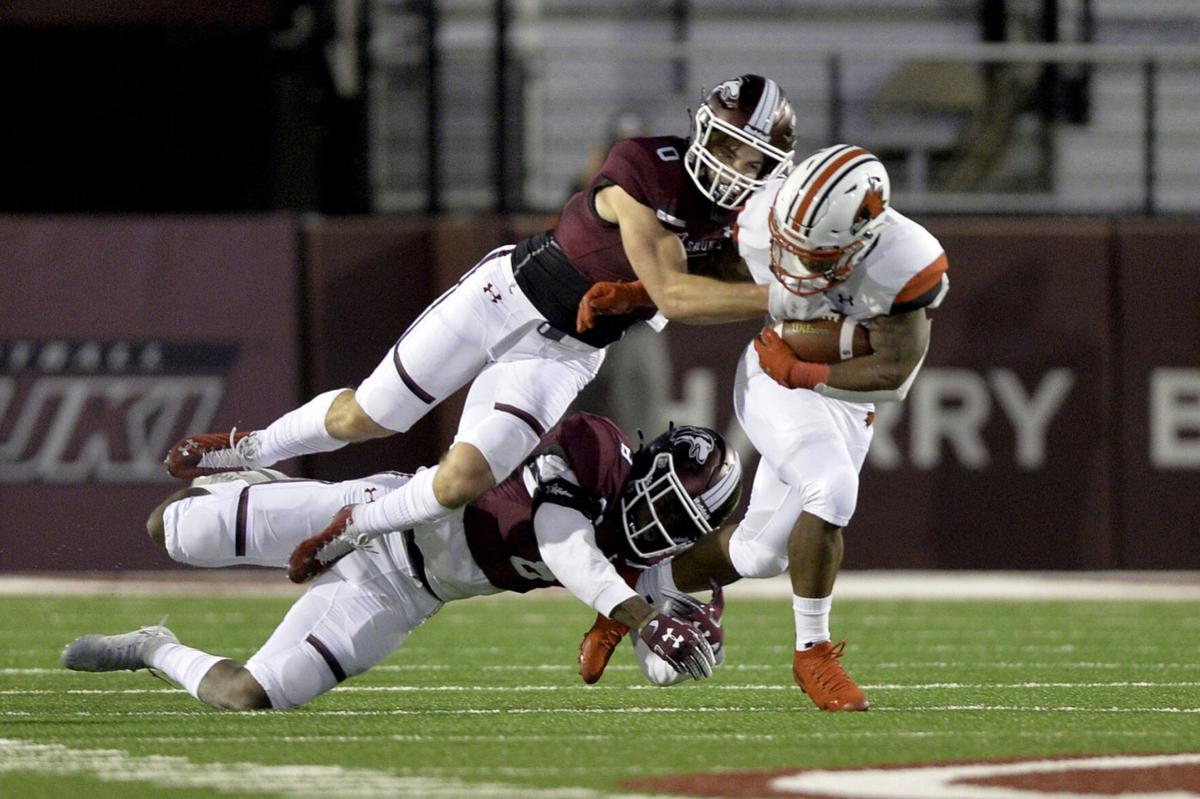 CARBONDALE — The University of North Dakota may be strangers to the Missouri Valley Football Conference, but it is very familiar with the league.
The Fighting Hawks, coached by former Saluki defensive coordinator Kyle "Bubba" Schweigert since 2014, played No. 1 North Dakota State on the road in 2019 and competed against two Valley Football teams in 2017. The Hawks defeated Missouri State 34-0 and lost 45-7 at South Dakota. After two years as an FCS independent, they join the MVFC this year, and open at home against No. 24 SIU (1-0) Saturday.
"They know what Valley Football is like," SIU coach Nick Hill said Monday. "They haven't played a full season yet, but they played in the Big Sky (Conference) – another great conference, but not as good as what we feel like ours is, or the style of play might be a bit different after watching their tape from last season. But they have played North Dakota State and the other Dakota schools. With Bubba spending so much time in our league as our defensive coordinator, and Austin Flyger (former defensive line coach here from 2012-2018) spending some time in the league, they know what the Valley is like. We have to go out there ready to play if we want to come out with a win."
The Salukis were originally scheduled to open at home against No. 5 South Dakota State, which lost the top receiver in the league in 2019, Cade Johnson, to the NFL draft this spring. After Indiana State opted out of the spring season, the league retooled the schedule, and put SIU on the road against one of the biggest mysteries of the MVFC. 
The Hawks went 7-5 in 2019, going 5-3 against members of the Big Sky they played, and qualified for the FCS playoffs. Starting quarterback Nate Ketteringham, who finished his career in the top two in passing completions, yards and touchdown passes? Gone. Starting running back James Johannesson, who averaged 4.3 yards a carry in 2019 and finished his career in the top 10 in school history in attempts, rushing yards and rushing touchdowns? Gone. Top receiver Noah Wanzek, who finished his career top two in, you guessed it, receptions, receiving yards and receiving touchdowns? Gone.
Eight starters are back on Schweigert's 3-4 defense, modeled after former SIU coach Dale Lennon's style that helped the Salukis reach their last two playoff appearances, in 2008 and 2009. 
Regardless of the task at hand, Hill and SIU are ready to play. Anybody, after waiting nearly four months after knocking off No. 25 Southeast Missouri State 20-17 on a last-second field goal by Nico Gualdoni.
"You put in the work and once you get to game day, you trust your preparation and that is what will get you through," Hill said. "You don't rise to the occasion all of the sudden, if you put in the work and you are prepared, you will go out there and play that way. There's an extra sense of 'We finally get to play right here. It's Monday and we play Saturday.' It's an exciting thing to think about. We only got one game day in 2020, so we are appreciative of the opportunity to play."